Just like the tutorial I had to do something quick.
I've recently become very interested in Standup Paddleboarding. Most of you have also seen the gates I built for my brother at his home on Maui. My brothers home is a short distance from arguably the most famous surf break in the world….Jaws. All that coupled with my recent paddle building experience led me to create the Jaws Dining Table.
The creation of the model was very simple. I first created the outline of the wave. Then push/pulled it to 3/4". Each segment was then moved 1/4" in front of the preceeding segment and then each segment was scaled on the blue axis (.995, .99, .985, .98…and so on) to create the wave effect. 1/2 the table top was outlined using the arc and line tools and then a copy was mirrored using the scale tool and typing in -1 while scaling along the red axis. I removed the line separating the top to create one continuous plane and the push/pulled it 2". I had created the paddle model previously as part of my design study for building the paddle so I just imported that model for use here to tie the base together at the bottom. I offset the top to create some contrast and applied walnut and cherry textures.
The table is 12' long. I felt it had to be massive to attempt to match the overwhelming image of Jaws…..see below. The intent would be to build the table top in the same manner as a surfboard. EPS foam shaped and then veneered with wood. The top would weigh only about 20-30 lbs that way. The bottom would be 3/4" plywood, much heavier, providing stability.
View1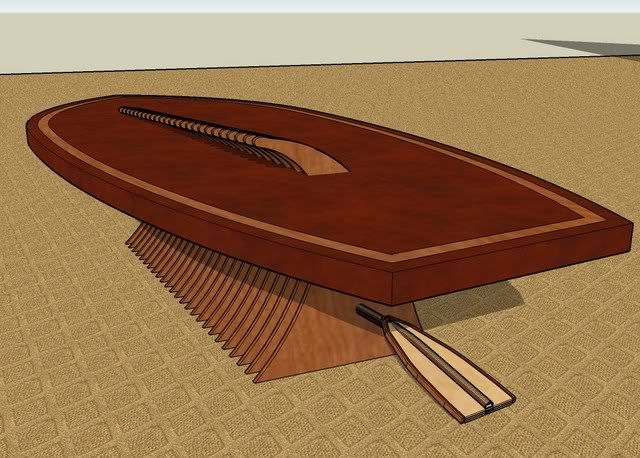 View2

View3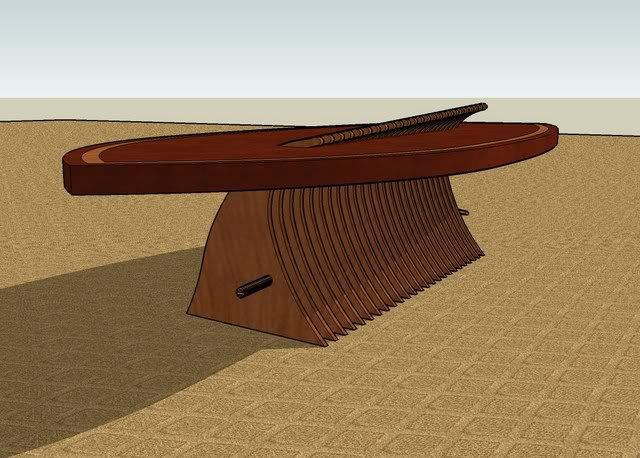 I added this glass/wood version. See comment below.

To get a feeling for the outrageous immensity of Jaws. The table is positioned in the front of this life sized illustration, remember the table is 12' long. Imagine the rush of surfing this monster as a few of some of the best athletes in the world do.

Hope you enjoyed it….Good Luck all…time to get back to work.
I added this view with the duke looking on approvingly.

-- Bob
---