My older brother loves water sports. Lately he has taken up SUP (standup paddleboarding) because it is easier on old geezers like himself. I say that with the greatest respect….I hope I can be half as active as he is when I'm 60+. It is basically a very large surf board with a paddle and (you gueesed it) you stand up the whole time. It's great exercise, easier to catch waves and if no waves…just fun to paddle. If you are interested my brother has a great blog for beginners. http://www.ponohouse.com/ponoblog/?p=158
Here is a picture of the great Laird Hamilton making it look easy on a crazy wave in howling Kona winds at Hookipa Beach, Maui. Photo courtesy of MauiSurf/windsurf forecast, Giampaolo Cammarota

Anyway…back to woodworking.. I decided to make my brother and myself paddles when we started discussing the sport. I'm thinking of taking it up as exercise to try and help my balance problems. A frequent visitor of his blog has similar problems and seems to be able to do it. It certainly helps the core muscles. I'm surprised how quickly its going together. I had a small window of shop time this weekend and got a lot done. I need to get them done by labor day since we'll be getting together at his race in Lime Rock, CT that weekend.
I cut a bunch of 1 1/4" x 1/4" x 8' strips of cedar and a few of mahogany.

I cut one strip of mahogany narrower to accept a spline for the paddle blade.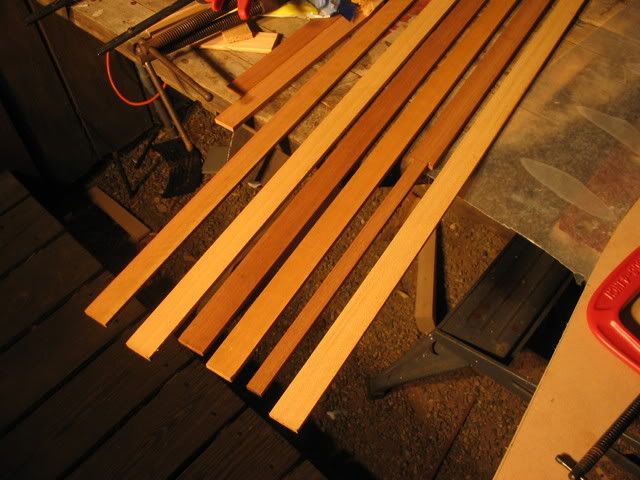 I was planning on steam bending the shaft but is was unnecessary. The standard way is a simple bent lamination. So I made a frame from MDF. The paddle has a 10 deg bend.

Bent laminations…I used West Systems epoxy.

Tough to tell but there is a paddle blade glued up in there somewhere.

Glueing up the handle.

Starting to shape the shaft with my Grandfathers drawknife…I love this tool.

One of the clamps slipped off the block and left a mark..I should be able to fix it.

The profile of the end of the paddle. I'll be tapering the back a lot and the face slightly.

The handle after the epoxy hardened…ugly looking but lots of promise.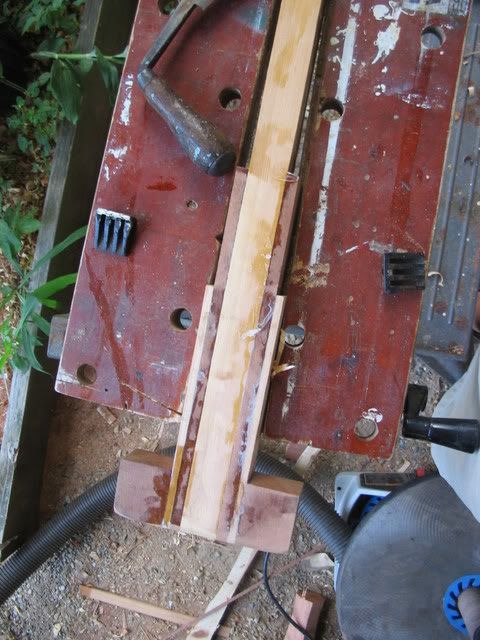 Shaping with the drawknife.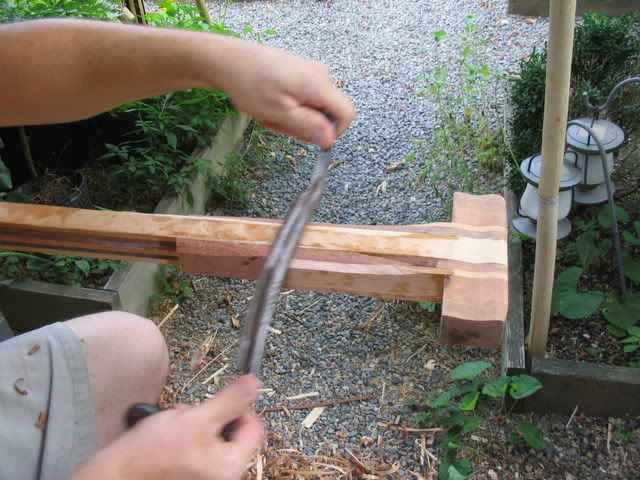 I decided to get creative and add an inlay of a Mako shark into the handle. I figured i'd cut a couple so I cut the slices and taped them together.

One little Mako

Sanding the blade.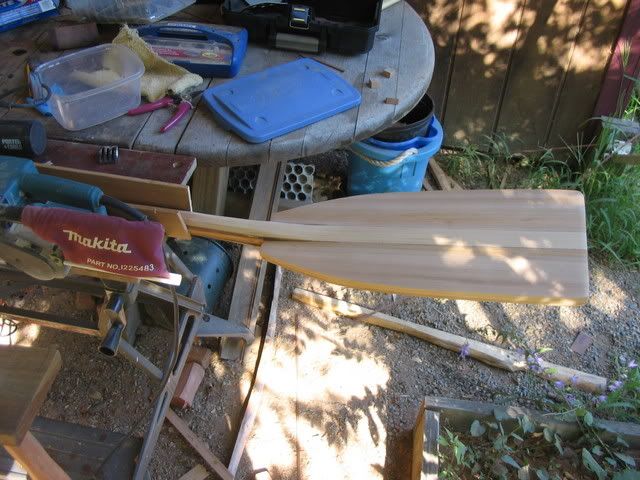 I carved out the outline of the shark and set the inlay in. I was a little nervous since I couldn't really see how it was seated.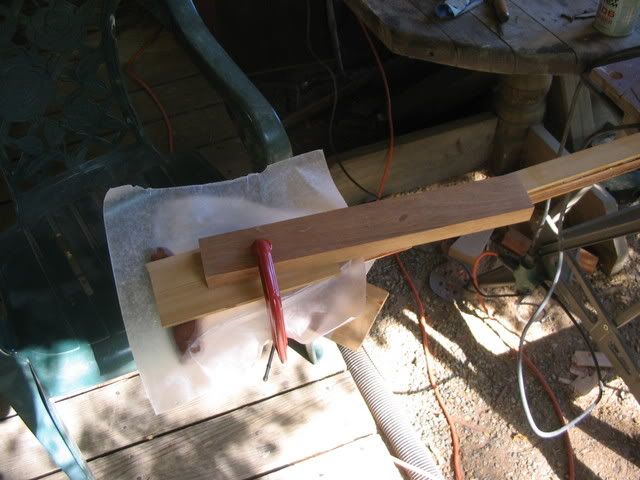 Shaping the back of the blade shaft.

The finished blade shaft will have concentric ellipses running to the bottom.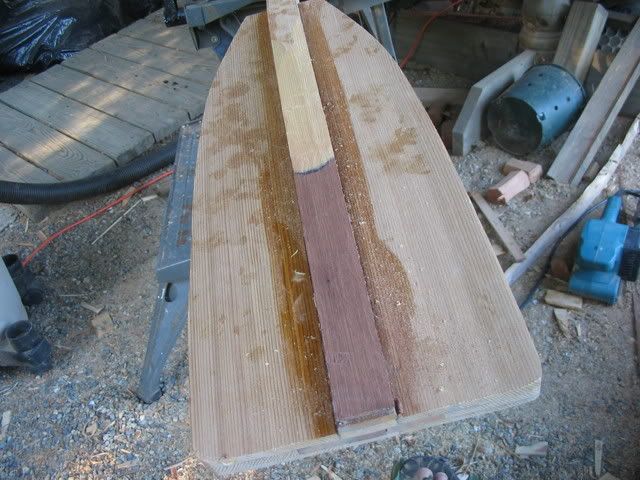 It's looking like a paddle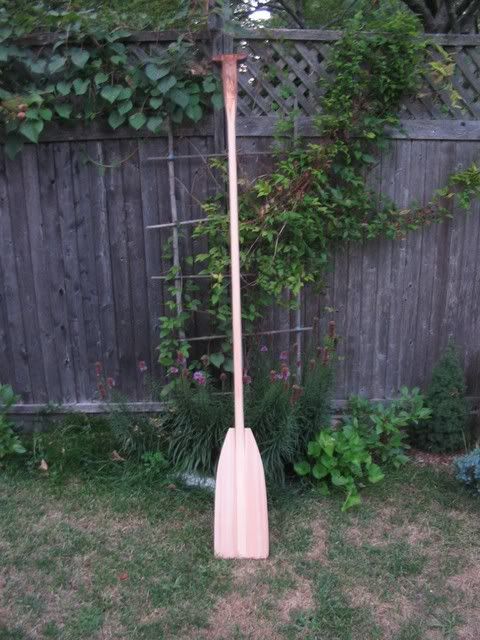 I shaped the handle to fit comfortably in the hand and give a good grip.

I couldn't wait and sanded down the inlay while the epoxy was still a lttle tacky.

Looking pretty good if I do say so myself.

I still need to put a 1/4" mahogany edge on the blade and then taper the blade. The blade will be fiberglassed as well as 1/2 the shaft. I should be able to finish the 1st one this coming weekend. I can't wait for him to see it. I just hope it performs as good as its going to look.
-- Bob
---