This is my challenge. I have been asked to make this Queen size antique headboard into a King size.
My client had asked me to built a head board for her, I was busy and said it would be a few weeks before I could commit to it. She found one on an internet classified add for a lot cheaper than what I could build hers for. The problem is that it was advertised has a King size but is in reality a queen size ( you get what you pay for right). Now $350.00 later she came back to me to see what I could do to "fix it".

When I brought it home my family's first idea was to "burn it!" Sorry not our style.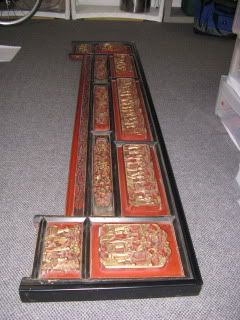 But since the clients is almost always right I pondered my options.
It is 78 inches wide by 18 and half tall.
The average King size bed is 88 wide and the new pillow top mattress are about 24-30 high, you could literally loose the headboard behind the bed ( maybe not a bad thing). There is cool carvings on 10 individual panels which I think was the attraction for my client. I think it ( I have spend a lot of time looking at this thing) tells the story of some sort of ancient king ascension to the throne. The frame itself is weak and of poor craftsmanship. The finish is black and red paint with Gold leaf ?( as advertised) but I would hazard a guess it is just gold colour paint.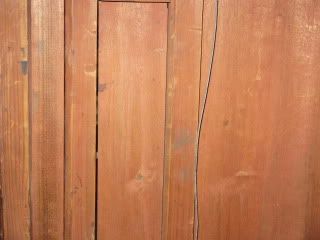 My options are 1.To build a frame around the existing one . This would be a nightmare because the outside edge is tapered. Also this leaves a weak centre frame.
2. Salvage the carved panels and build a custom frame to fit. I really like the second option and will try to convince the client to go this route.
The 3rd is to bring back the frame and tell her I can not do anything. I would really rather not execute my 3rd but will not take a loss on this project ( see previous blog) and will have everything on paper before I even sharpen my tools.
Your thoughts and comments are always appreciated .
Thanks for reading
-- All bleeding will eventually stop.
---