Well here we are week 5 and I am way behind schedule, but whatever I am having a blast and really bonding with other woodworkers.
This week was all about biscuit joints and pocket hole joinery needless to say I tuned out in the first 3 minutes and started to watch the crowed that was gathering outside of the studio.
The shop were this class is held is within a building which houses two auditoriums and there was a dance recital tonight so at the intermission we were the centre of attention . I waved at a ~6 year old boy who I know will be a lumber jock as soon as he get his hands on a tool. His eyes were the size of a dinner plate when the instructor used the biscuit joiner. Then as I was using the jointer and planer I saw him again his nose was pressed against the glass (the studio is fully visible from the lobby) and I could read his look " I want to do that" was what his eyes were saying. Too bad his mom grabbed him and brought him back to the recital… poor little guy.
So tonight once the instructional part was over I got to mill my top and rails to dimension and lay out the tenons. I would have glued the top but one of the resident had his vacuum press on the only flat surface of the shop. Look at the top right of the picture.
I would have included picture of this but I made a promise to the instructors that I would only shoot my own project.
Anyway the resident had four pieces about 12 foot in length by 6 inches with 45 degree mitres at both ends laminated . I can only speculate that it will end up as a frame of some sort. The wood looked to me like walnut and had a really cool inlay about 2 inches offset to the outside. The cool thing about this class is that at any time there are about a dozen projects laying around all at different stage of completion and there are some wicked designs hence the promise not to take pictures.
So ,I am not exactly were I would like to be ,but I am having fun. The grain pattern of the top is quite spectacular in my opinion for poplar anyway. I am anxious to see what it will look like when stained.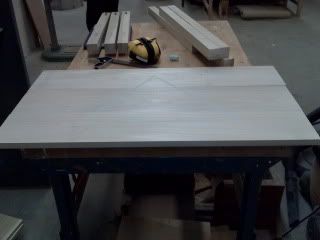 -- All bleeding will eventually stop.
---