When I signed up for this class I had a plan ( in my mind) that would have me 3/4 way done by the 5th class so I could spend the rest on finishing touches. Well what I did not factor in was the wait time for tools. Since I was the first on the jointer and planer last week and many guys did not even get their wood yet, there was no way I could start on my rails and top.
So we spent about 45 minutes going over mortise and tenon jointing at the router table and about 15 minutes on the mortise set up on the drill press. That was fine I had already made up my mind to use the mortise machine anyway. Mostly because dropping wood on a bit I can "not "see going 21000 RPM freaks me out a little. (I would like to hear your thoughts on this actually.)
I was able to cut my mortises and clean them up "somewhat" with the chisels they had on hand. Lets just say they had seen better days and needed a good sharpening. I was kicking myself for leaving mine at home. That fine too because I was able to relax and chip away at the mortises ,chat with the guys ( and one girl, I keep forgetting her) Once my tenons are cut in the rails I will ( with my own "scary sharp" chisels) trim the mortises to fit.
Hey one bad day in the shop is better than two good days out of the shop right.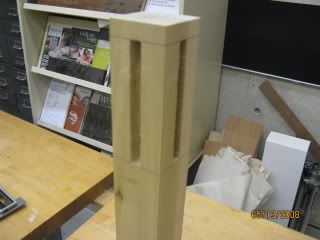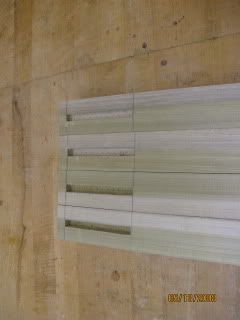 I did not accomplish what I had in mind but oh well the best laid plans right! Now that most people have their legs done I will be able to get my rails and top out of that lumber pile.
Thanks for reading.
-- All bleeding will eventually stop.
---