Okay, the last two things on the "needs immediate attention" list to get this bench initially up and running are:
- Solidify rotten spot in tool well
- Reglue where the top has split (if you don't read the rotten section my feelings will not be hurt, but I would really love to hear you thoughts on this sections so please skip to the bottom)
I took care of one, and I am pussy-footing around the other because it makes me super nervous.
Taken care of – wood rot.
Here is what I started with:
The red circle shows the super rotted area. The lightest touch would leave a finger print.
The green is the area that was beginning to soften. A finger nail was able to leave an indent with little effort.
Remedy:
Lots and LOTS of thin CA glue.
I've use this before to repair cracks in plane totes, but this is my first attempt at this, per a Charles Neil suggestion in his finishing classes (which i HIGHLY recommend).
I just threw some painters tape on the underside of the affected area and began pouring it on. I figured a couple applications and I'd be done. HA! It took the whole bottle + plus some.
The first few applications I would pour it on and it would immediately disappear. I let it sit a few minutes between these. Soon the seepage began to slow down. Good sign! I would pour it on and it would take a minute or so to soak it up. This happened for probably 5 or 6 more applications. Then the green sections stopped absorbing and the glue was just pooling on top. Great. I'm getting somewhere. So I stopped.
Waited an hour or so and then when and poked it again. It was all still soft! What the heck? Two theories: either the wood was soooooo rotten and I had added so much glue that it was like a handful of sawdust in a pool and was just taking forever to dry, or there was still moisture in the rotting wood preventing the glue from hardening.
Either way, my solution: add heat. I put a construction light on it. That thing puts off some serious heat. I use to use it as my shop heater – just moving it around from machine to machine with me.
Once I did this I could see air bubbles starting to produce from the glue – good sign. But in doing this I became very aware of how terrible this crap is for your eyes and lungs. There was a very pronounced toxic steam rolling off the bench. As seen in the pic below:
I opened the garage door and added a fan to the mix. I let this roll this way for a few hours and rechecked it in the morning.
In the morning the green area were rock hard. :) The red area had solidified a lot, but I could still get a finger nail into it. At this point I finished off rest of my thin CA, and let it harden. Still a littler softer than I'd like so I found some regular Super Glue, which I believe is exactly the same thing as CA only in a medium body. I figured since I had addressed the innards really well with the thin stuff, this would just solidify the top. After a few applications of this, I believe I'm in business. The first few soaked up but by the 3rd application the glue started to pool.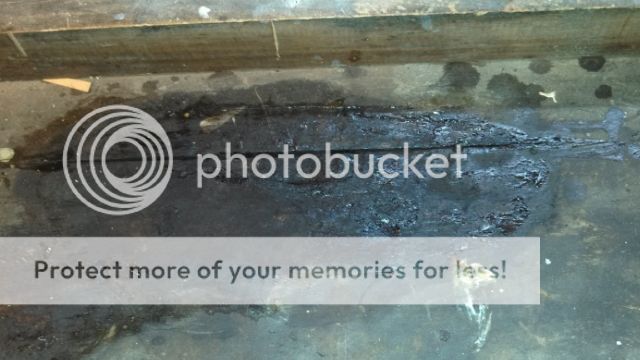 Now, the coloring is A LOT darker than it started out as. This isn't ideal, but I still think that was my best option, and there are already some really dark spots in other areas on the bench. Hey more character is more character. I still need to scrape of some of the surface glue, but I will address that when I begin to think about how much of a restoration this bench is going to get.
NOW FOR THE QUESTIONS
This glue up has me shaking in my boots. If I'm going to F this bench up – here is where it will happen.
SOOOOO.
Quesiton 1: How would you go about this glue up?
The bench has split down a glue line.
But it is still attached to the breadboard/end cap, by a lag bolt.
Option 1 – Remove the lag bolt and fully disassemble
Pros:
Easier to clean the glue joint, and easier to apply the glue.
Cons:
I don't know if when I remove the lag I'll find the endcap glued to the top, as well.
If I take the lag out and glue it up there is a chance I will not be able to align it perfectly again so that the lag hole matches up again, necessitating drilling the hole out, plugging it, and then reinserting the lag.
Option 2 – Leave lag and end cap in place and just reglue
Pros:
Everything will line up easier and I'm not doing more disassembling than needed which hopefully lowers the risk of breaking something
Cons:
This will be a pain in the butt to try to clean the old glue line and harder to add the actual glue
Question 2: Regardless of question one, how would you attempt to protect the table surface from glue to retain the patina?
My fear is that I will have squeeze out, and that the glue will peel away some patina. My current idea is to put down painters tape to the top edge or each surface, glue, and clamp. Leaving me now with the squeeze out sitting on top of the tape. Give it a wipe and then pull the tape off. Think this would work? Other suggestions?
Question 3: I believe the split happened where it happened because of the drastic climate differences between it's mid-west origin and it's current home of Denver. The base is held to the top via two alignment pins. With one side in place, the other alignment hole is about 1/8" off set from the alignment pin on the base.
Part 1: Do you think this is movement of the top, or by design?
I ask about design because the base is just bolted together with lags, if I loosen them, I could most likely fit the pin in this hole, and then re-tighten the base, thus clamping the top and the base together by way of lateral pressure. Does this seem like a probable design feature, or would this lead to more glue failures?
Part 2: If you do not think this is the way it was designed, would you just plug the bench top alignment hole and re-drill it in the correct location?
Any and all feed back on this topic would be greatly appreciated, as I have never done a large glue up, let alone one on an antique, which always seems to make life a little more difficult.
Thanks for your interest and support.
Part 5: Either the actual glue up, or more questions on how to fix it if I screw up
-- I came - I sawed - I over-built
---