Day two: A not too early start, but we were heading to Pleasant Hill, CA, to visit the Rockler Store, where we had arranged to meet Matt (http://lumberjocks.com/jocks/matt1970 ). As we arrived a little early, next door to the Rockler store was "Harbour freight", after spending a good 30 minutes looking around and buying some items on my shopping list we entered Rockler store. You have to remember that I have never had this kind of experience before, we just do not have stores like this – I have shopped at these stores on the internet, but there is nothing quite like feeling the product before you buy it. I could have saved a lot of money had I had this opportunity when I bought most of my main equipment. I may even have bought alternate brands.
I did have a specific reason to want to go to Rockler, I needed some hardware. Unfortunately they did not stock it as a normal item, Internet only, or special request. But I did find an alternative item, now that I am home was probably the better of the two choices. I also picked up a "Hock" blade and chip breaker for my Record No 4. Unfortunately it does not fit the plane 100% correctly (98%) and the results are worse than the original blade – so I can see me making a No 5 or 6 wooden body to fit to the blade (which is really very nice). The really good thing was they only charged me half price for the blade, at $18, I have no complaints.
We then headed off to Dublin, Ca, where were to visit the Woodcraft Store (I had a gift voucher I wanted to use). I found the staff there really helpful and it was not long before I had started to fill my basket with the second part of my shopping list – One thing I did buy, which was not on the list was some "Purple Heart", not too much, just a 4' x 5"x ¾", which they kindly cut in half for me so it would fit in my suitcase. Please note we cannot buy PH in Finland and I had never seen it before watch out to see how I use it!
It was then time to leave and visit Obi (http://lumberjocks.com/jocks/Obi ) – Obi is situated in Salida, Ca, which was not too far from Dublin. Matt took his own car and I continued my travels with Wayne after about 40 minutes or so we arrived at the workshop of Obi.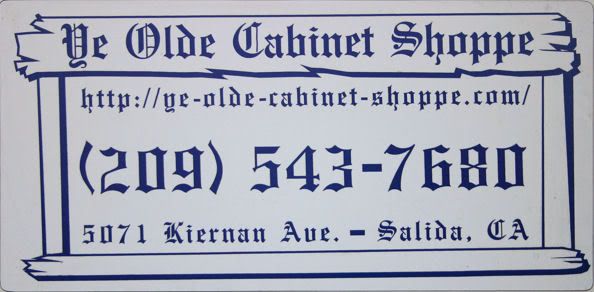 We were greeted warmly and instantly shown the "Finger",
This was a small finger that Obi had been working on (it was extremely realistic), we just wondered when the rest of the body was going to be completed?
It seemed that he was already working on the head, we found a template for the upper teeth.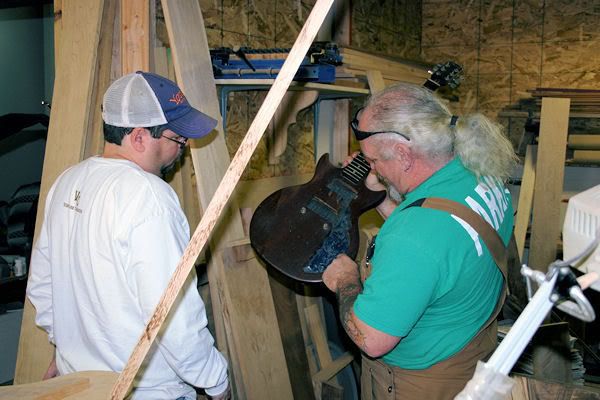 Matt and Obi discussing an old guitar.
After many enjoyable hours of conversation it was time for the compulsory Group photographs.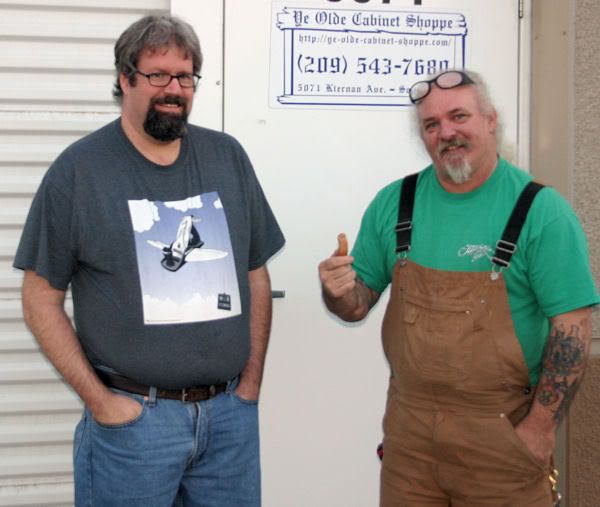 NOTE: Obi is still showing us the finger! And look I did buy a LJ shirt. Wayne's T-shirt also had some significance which escapes my memory at the moment, but I am sure he will enlighten us all some day
I am not too sure how long we spent with Obi; I do know it was not long enough – the time passed too quickly.
Wayne and I said our goodbyes at this point, he was heading off home, and Matt had kindly offered to drop me back off in San Francisco.
Matt and I spent a very pleasant hour or so driving back to my hotel, where our discussion was all too short.
I would like to thank everybody for making my first real visit to the US such an enjoyable and memorable occasion. The warmth, hospitality, and friendship shown were second to none. So please be warned I am already planning a return trip.
-- Tony - All things are possible, just some things are more difficult than others! - SKYPE: Heron2005 (http://www.poydatjatuolit.fi)
---