So the Update in now 85% finished and I think it was worth it. Time will tell, I have to get used to the workbench and the tools being in the new location.
Here are a couple of photographs of the work space T-Boxes, the Unisaw and the workbench. Just need a coat of wax tomorrow morning and is ready to go.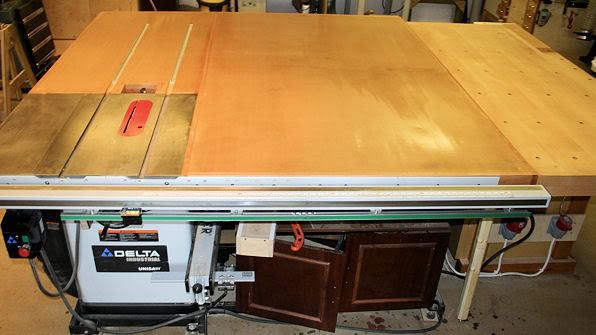 The longest and hardest job – was cutting the extended tracks and fitting the aluminium inserts in the out-feed table. They are perfectly aligned and I get NO binding at all over the whole length. The extended tracks are used for my panel cutting Jig (Left or right side) with a depth of cut up to 80cm.
I have now updated the drawings of the workshop and have added the before and after drawings. I have gained considerable space, the only thing I do not like is the dust extraction piped being on the floor (it is the best place, as I do not want a vertical pipe in the middle of the room).
BEFORE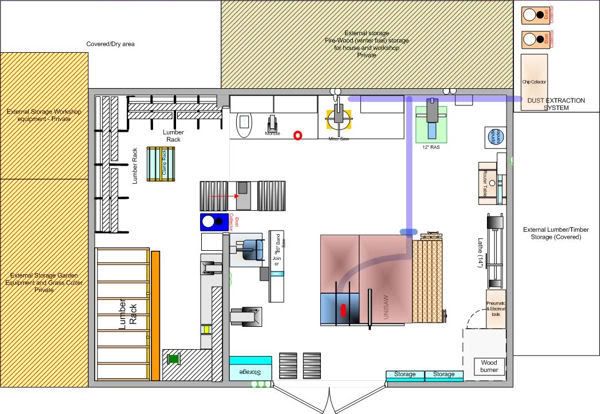 AFTER
Both Joiner and planer are on mobile bases and can be easily moved with a minimum of effort. This update has given me huge perfectly flat work area, which can be used for assembley, Vacuum bagging large sheets and improved the sheet material handling capabilities. In addition I also have a large area behind the table which is totally free space, store partially finished items, such as chairs whilst they are waiting to go to the finishing room.
I hope that this short series will show that with carefully planning you can optimize your working space – the most important thing is "A PLACE FOR EVERYTHING" and "EVERYTHING IN IT'S PLACE". Keep the workshop clean and tidy and you will have more space and a safer place to work.
-- Tony - All things are possible, just some things are more difficult than others! - SKYPE: Heron2005 (http://www.poydatjatuolit.fi)
---