I pushed that orange cart down the main race way of the local Home Depot heading toward the tool coral. There's nothing I really need there, it's just part of the routine I supposed. I bumped into Don who works at the appliance section.
"What are you building now? " He asked as he peered into the cart.
A hedge clipper and a garden hose repair kit was all that's in.
"Stupid garden, really cuts into valuable woodshop time." I replied.
He laughed. I continued pushing the cart as if I was doing time.
My wood shop is evolving slower than I wanted since I discovered the weekend task of yard work along with this new place. But there will be progress as I slowly moved my frequently used hand tools to the wall. I figured I should be able to measure, layout, mark, cut, chop and shave without having to do more than 3 steps. It's part of my philosophy for my new workshop. I should be able to make simple box within an hour at any time. After all , most of what I do is joining small boxes to make big boxes.

Since I store most of my chisels in the tool chest out of harms' way, I needed a chisel holder in front of the bench that would hold different chisels for the different project of the moment. This took a while to figure out as I had a general idea what it need to look like, then I had to substitute the maple push broom head, leather and steal with things I do have laying around, a bunch of card board boxes and left over base boards.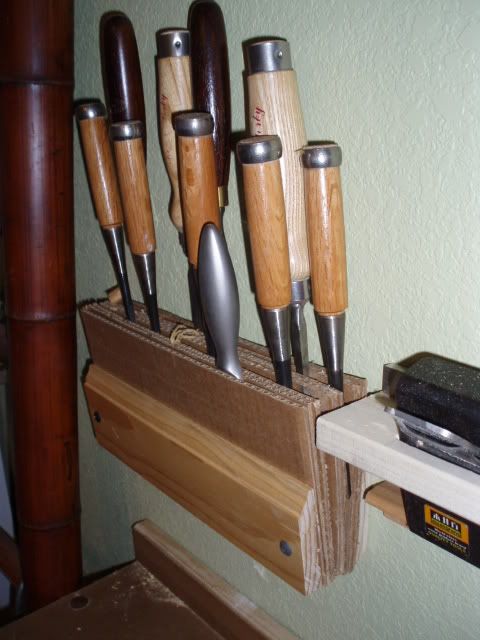 I also started working on storage solutions under the bench. I called it the sidekick as it is mobile and serves as extra storage, and a tool caddy when I am working in the shop or installing baseboard in the house. The back of the cart has storage for my CO2 regulator and my nail guns. Learning from the construction industry, brads and wood glue is the best joint ever*.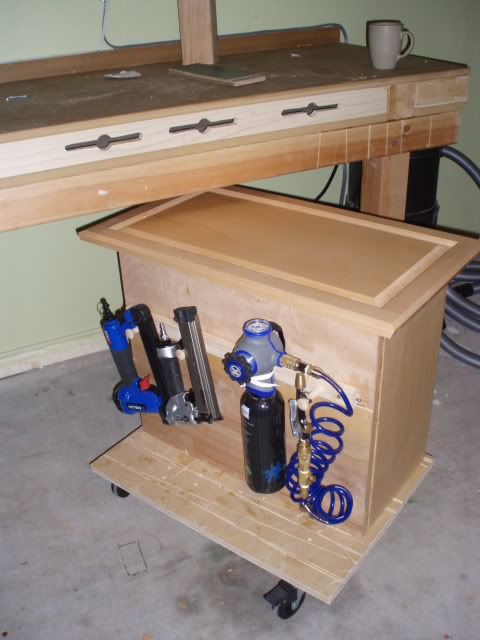 Disclaimer – By best joint ever, I mean for trim carpentry and cabinet installation in comparison to cost and time efficiency, and NOT for heirloom quality furniture, where wood joinery is the standard.
-- Thuan
---