I was able to use my new workbench the other day to modify a cabinet door for a client. I did this favor so that I can test out my new bench. This opportunity gave me a chance to see the workability of the piece and what I need to build or modify to streamline the place. I realized I either need a bigger workbench or, I'm going to get my frequently used tools on the wall.
But I didn't get much shop time today to build my wall organization system. I blame daylight savings time. But then again, I was able to work later into the evening with the garage door open. It was nice. So here's my late entry for the 2×4 stud contest. I should get some sort of handicap since I only used 34" of a 2×3.

This came from a left over piece of lumber from my work bench. I measured, grooved, notched, beveled, then bored the holes to accept the screws. This isn't bad for about $1. The Chinese hand planes I used have these handles that make storing them a pain. That is until it dawned on me to hang them by their own handles. I'll have to give the Shakers the credit for this one as I was going to use shaker pegs, but that would require a trip to the store to buy dowels or a mini lathe. I found a simpler solution with a 2×3.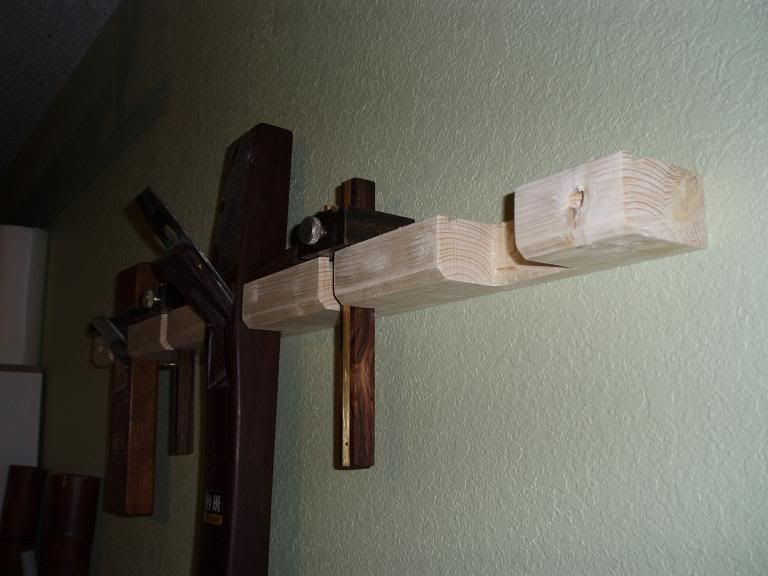 I'm going have to figure out how to hang the chisels, saws and layout tools on this wall. Time to look into the Lumberjocks archive for ideas.
-- Thuan
---