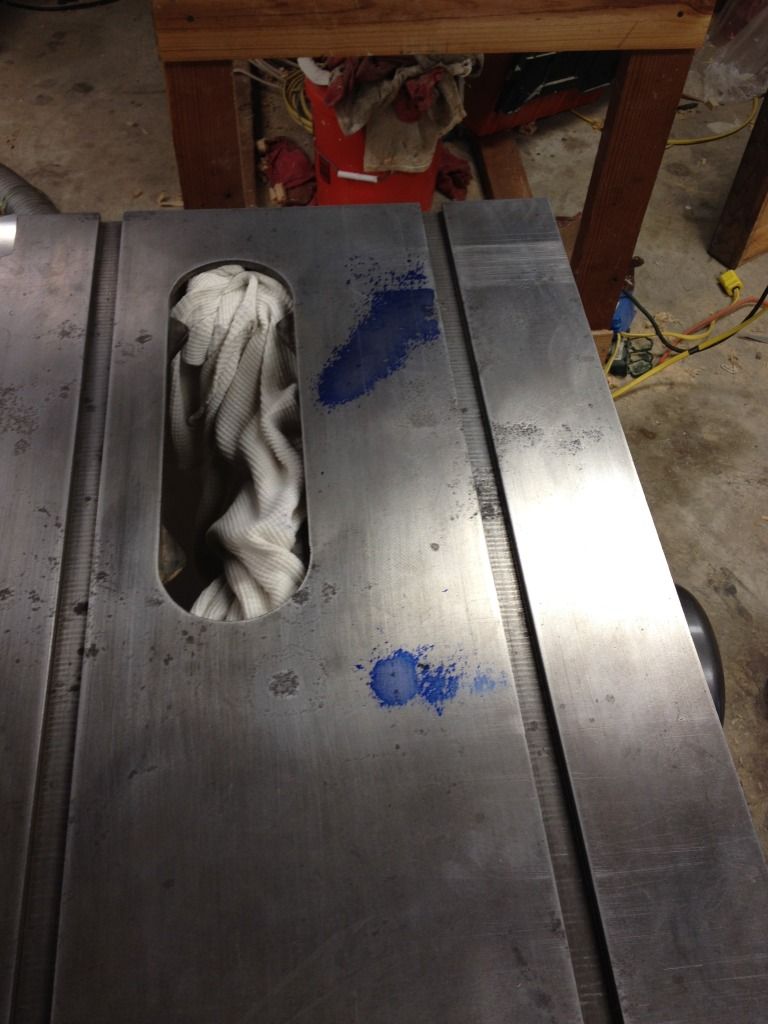 So I traded a .270 weatherby and 300$ for an old rockwell unisaw that was just refurbished by its previous owner. I got it dialed in when I discovered the top was warped when I went to cut some tenons to test it out.
Needless to say, this was a big problem. A machine shop wanted 400$ to surface grind .010 off, but even then the heat could still warp it. There were also no shop with a Blanchard grinder from laffayette to houma to New Orleans with the capacity to do it, that were willing to do it.
So, not having money much less spending it on something that may put me back where I started. I looked into hand scraping it on the cheap.
So I used a piece of plate glass and some high spot blue to see where the problems were.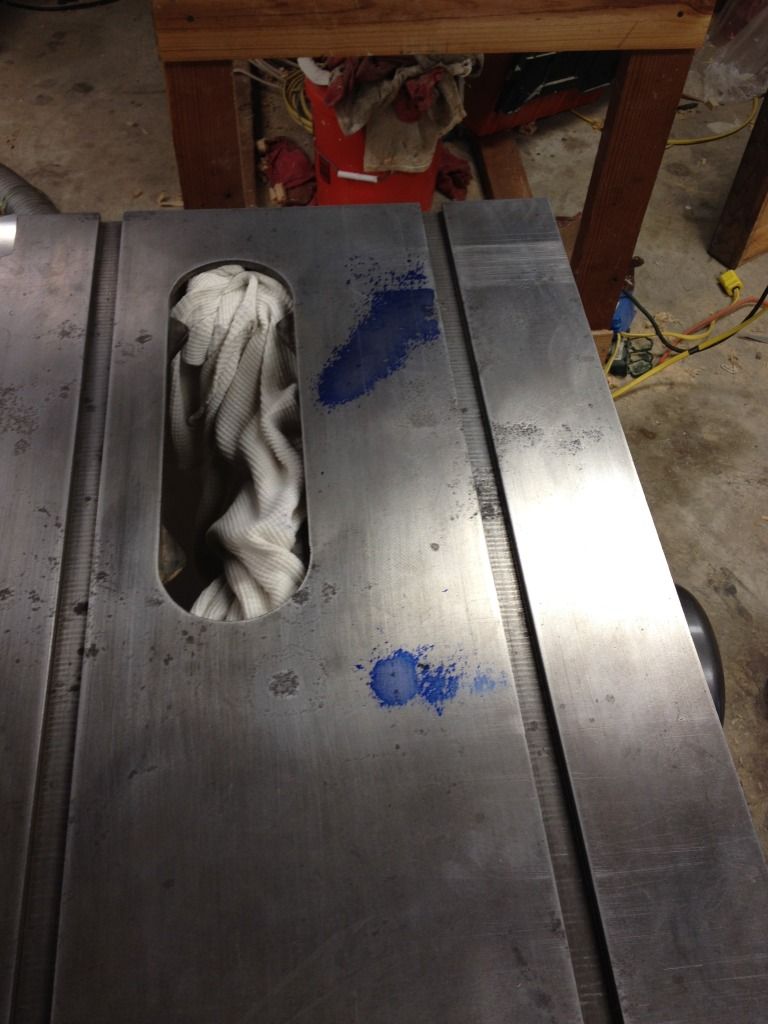 With a straight edge it showed a crown of .010, which was left to right, not including the extension wings and not on the highest spots. It was warped the worst right at the left and right miter slots with a couple bulges to the right and rear of the blade. Looked like a Pringles potato chip really. I tried using a homemade carbide scraper sharpened at 93 degrees.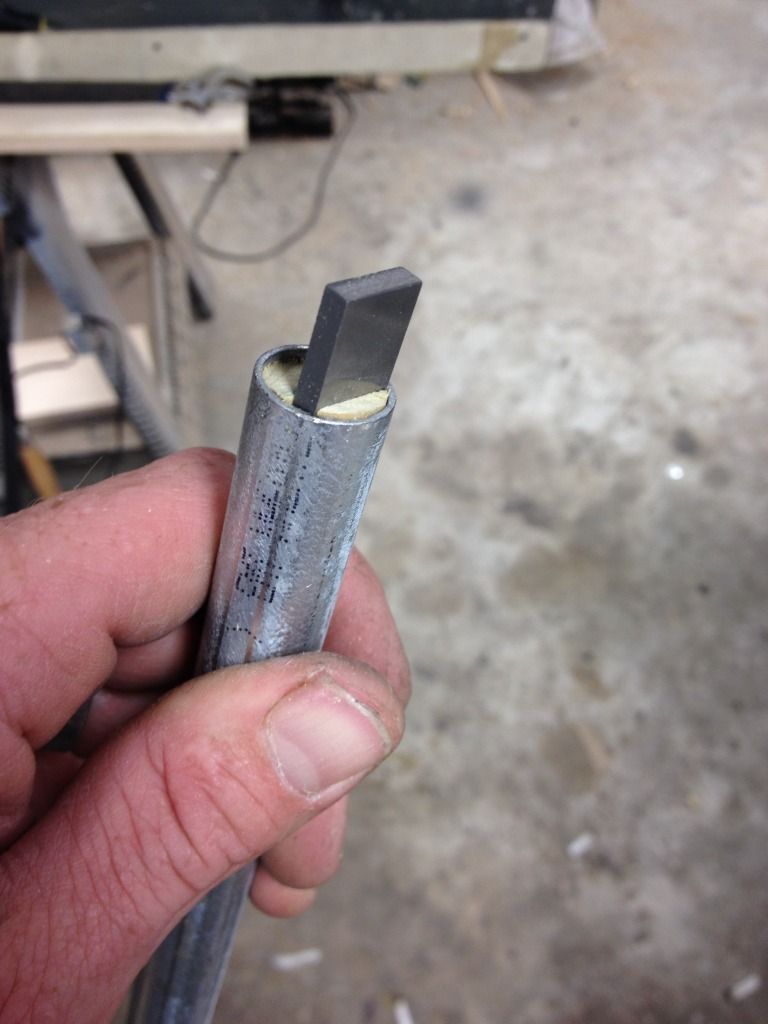 But hand scraping cast iron is best for final passes on precision stuff that typically has a fraction of the surface of a table saw, and it's meant for taking the last thousandth or so and not .010 over 3 1/2 sq ft. So I abandoned the scraper and picked the dremel with a diamond wheel. While not as consistent it did take off more material at a time.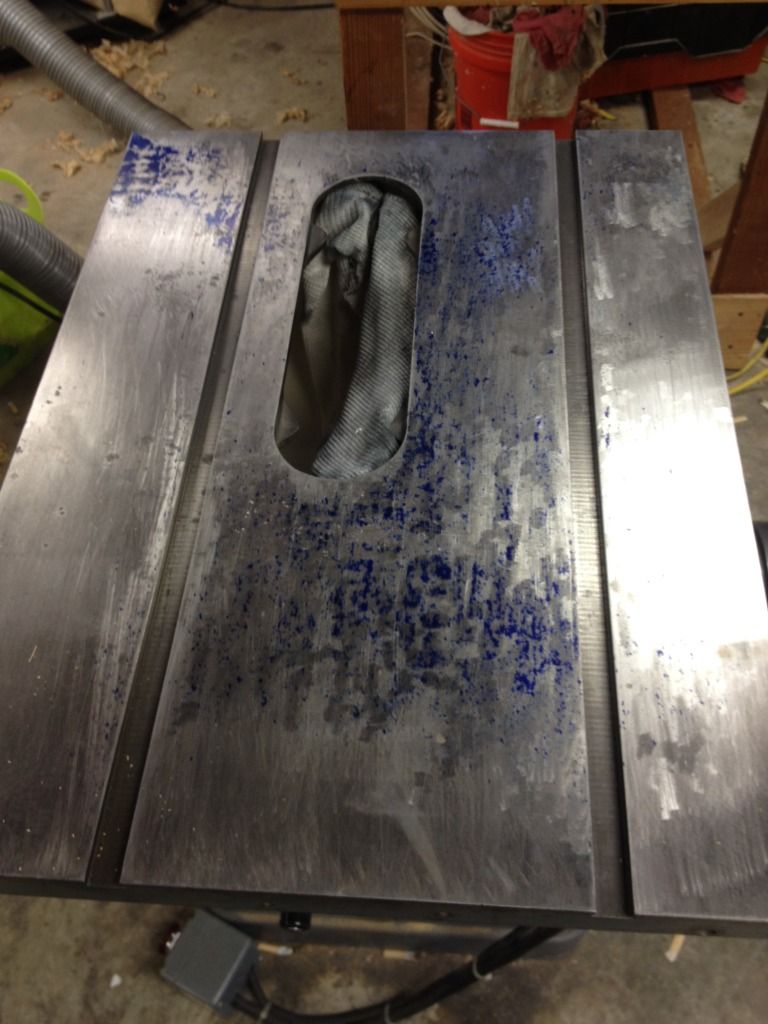 It was a lot faster than a scraper but still a huge amount of time involved. I ended up doing a lot of research to find out if I could just use router and a variable speed control. Some guy in Canada was the only person I could find that actually tried it to make a ledge for an insert for an old Oliver vertical sander or something like that. They forgot to machine the ledge so he went through the same process I did and eventually just gave it a shot.
I started with some 2×6x10s cut in half. Jointed 2 sides.
And bolted 1 to each side of table. Didn't have a machinist level so I put the plate glass on the rails and used shims as feeler gauges to get it pretty close.
I then used a straightedge on diagonal. Measuring from the same spot in the middle of the table to get less than .002 twist. It was a huge PITA to do this step and keep the proper depth for both sides.
I put the other 2×6s across this and nailed a pc of 1/2 birch ply a hair bigger than my router between in. Then I used some 3/8 all thread to mount the router base.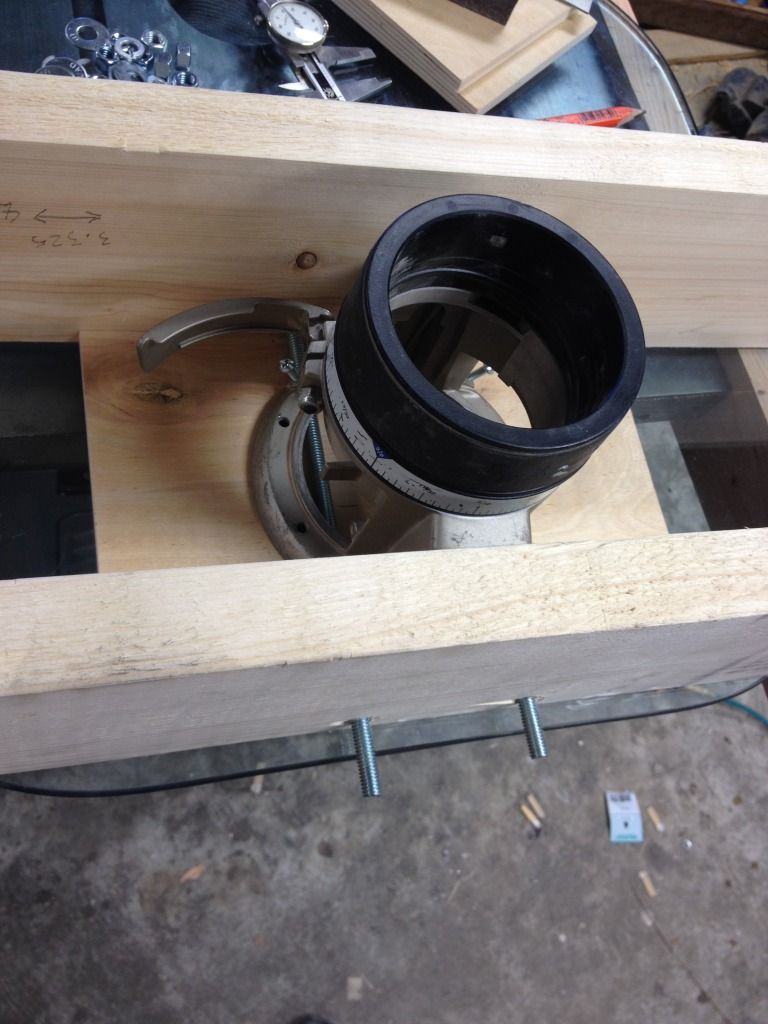 Nailed some more wood on top to brace it and gave it a go. I used a 3/4 straight bit on the first full pass across the table. It was slow and tedious. Especially at the edge where I should've cut a rabbet in the 2×6s to provide a little room for the bit to work. It kept digging in and throwing off the depth and the angle of the bit. So I settled for working the edges super slow and making a full pass to take out the huge bumps in the table.
I made it through the first pass after a couple weeks of working on it whenever I had the chance and decided to change bit size after it was done. The 3/4 was prone to dig in and required too much speed and torque, constantly knocking the depth or angle out of whack when it bit in. It worked as well as it could have though, considering it was designed for wood. I only sharpened the carbide a few times and dimond stones chew through stuff. So I settled on a 1/4 straight bit with carbide inserts that I already had. So that being settled, I had been using a large speed square with some quick clamps as a fence. I'd just eyeball the bit to make half passes on the first go round. On the second, I taped about a dozen or so .010 shims together to use a consistent spacer to move my speed square fence out. I also waxed everything so I would slide smoothly. I always checked every thing with a straight edge for starting a session, and even had to card scrape a slight bump after a rainy day or two.
So I set everything up with the 1/4 inch bit and started making passes.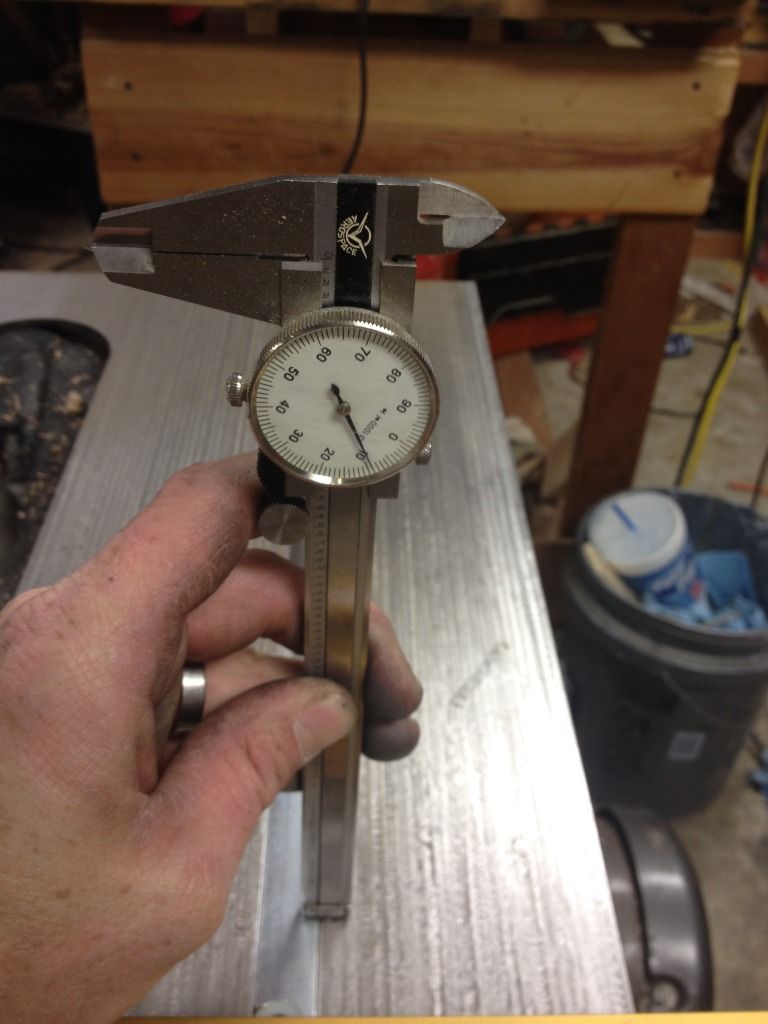 I went with about .010 off the top in 2 passes.
Halfway done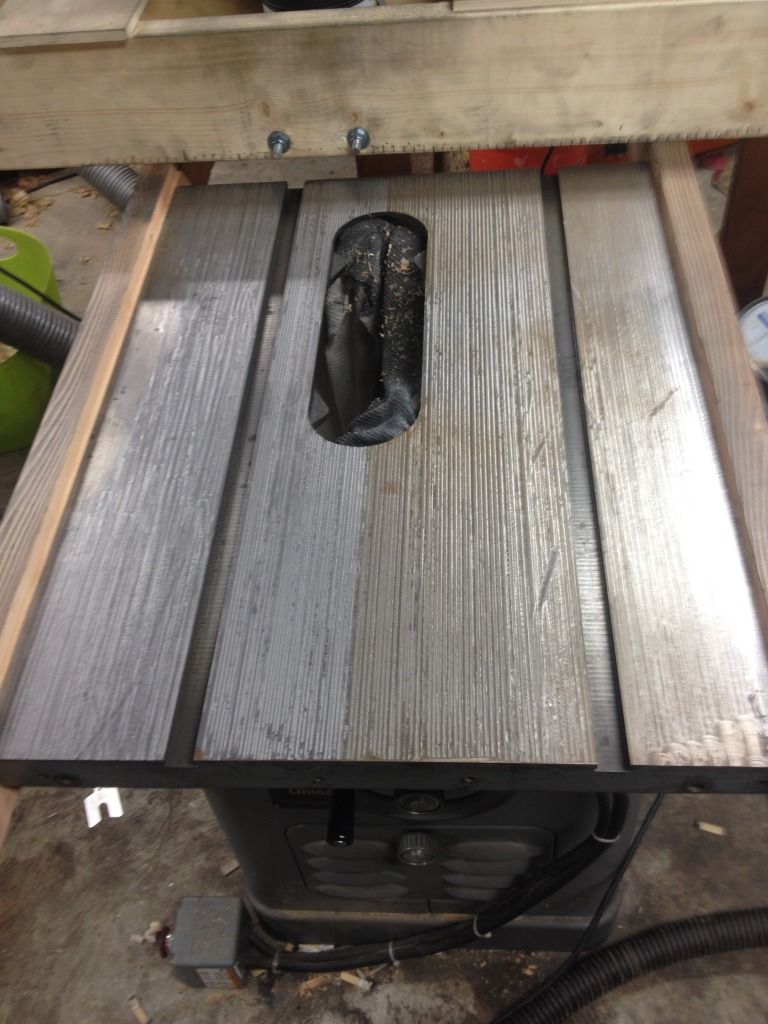 And done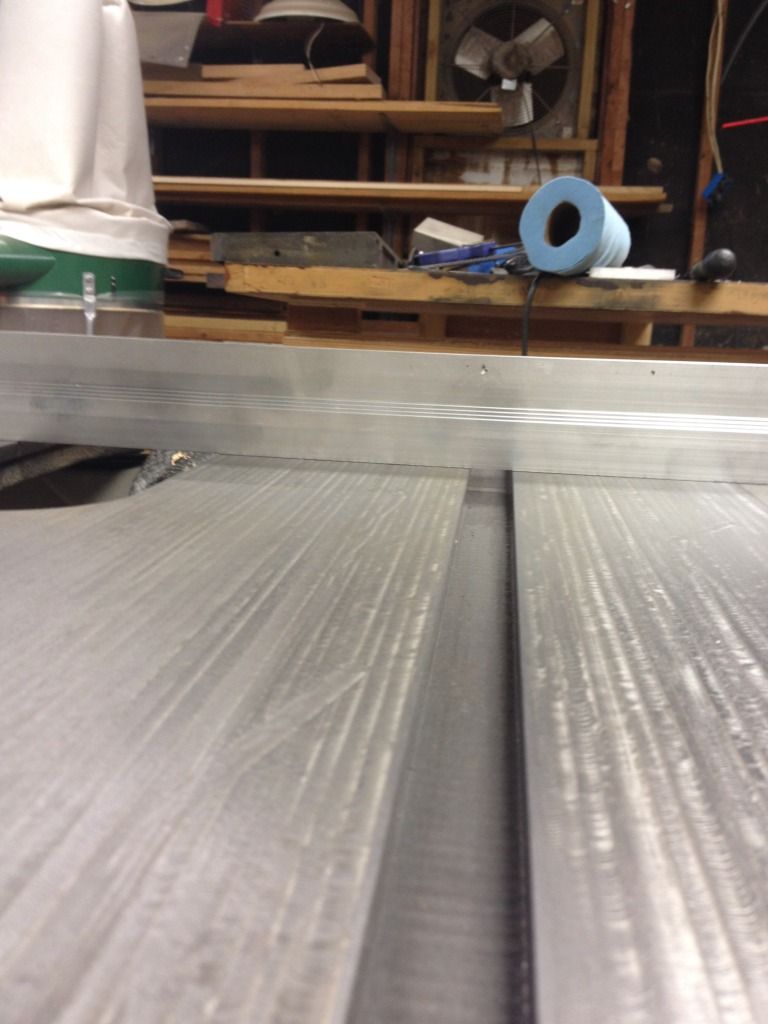 It's not the prettiest, but it's functional. The bit dug in a little bit more on the right than the left. Enough for it to barely catch on the fingernail, but after all the playing with it. I let it be. As long as it's consistent throughout, it doesn't affect accuracy. Gonna try hitting it with a belt sander to get it smoother because it still could scratch wood up, even after using an orbital sander to deburr it.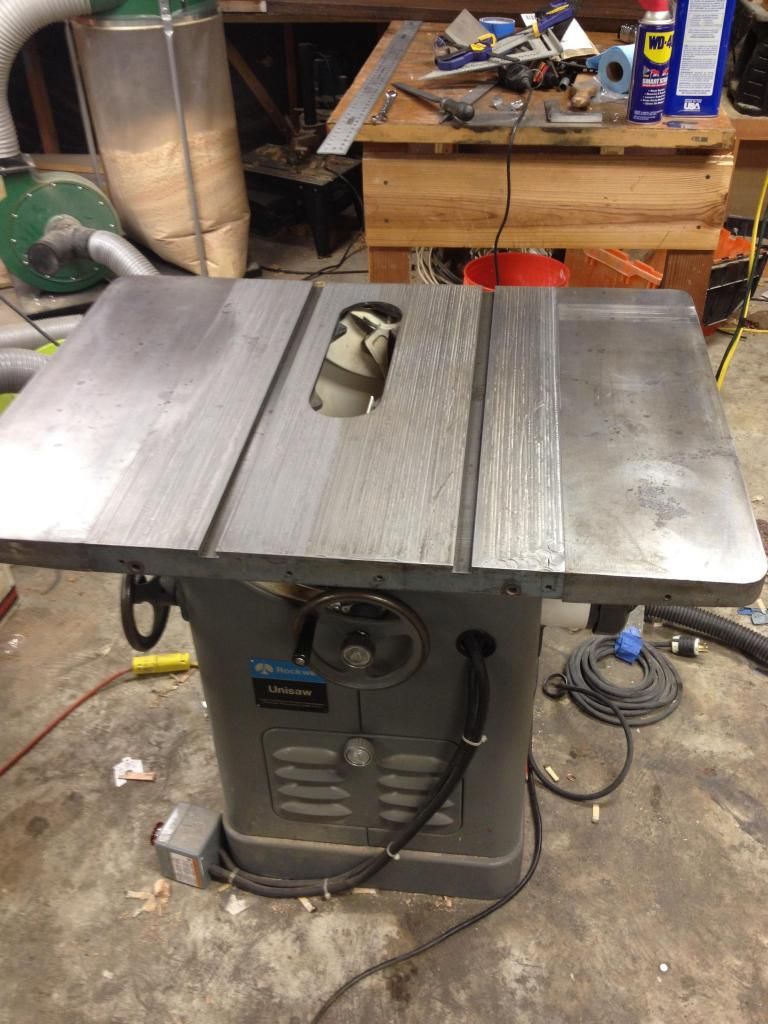 All in all, I'd say it was a huge success for me. The HF variable speed control worked great and it was free. I had the router and bits. A couple 7/16 FT bolts, some 2×6x10s, and 2' of 3/8 all thread with some hardware was all it took.
It still has a dip to the left of the blade and on the left and right extension tables, but it shouldn't affect the performance at all. Not mention I didn't really want to cut any more off than I had to. It was actually fairly easy once I got it going. At .005 the cast iron will only let you feed it so fast, with virtually no heat when spinning at 500 rpm or less if I had to guess. I think if I had time to build a much stiffer carriage for the router and build something to get the angle dialed in, I could get it to look like it was out of a machine shop. But I didnt. Function over form for now I guess.
thanks for looking. Wish I would've taken more pics. And my miter slots were a tad shallow. Now they are more so. I'll take care of the when I get the fence back on.
Thanks again.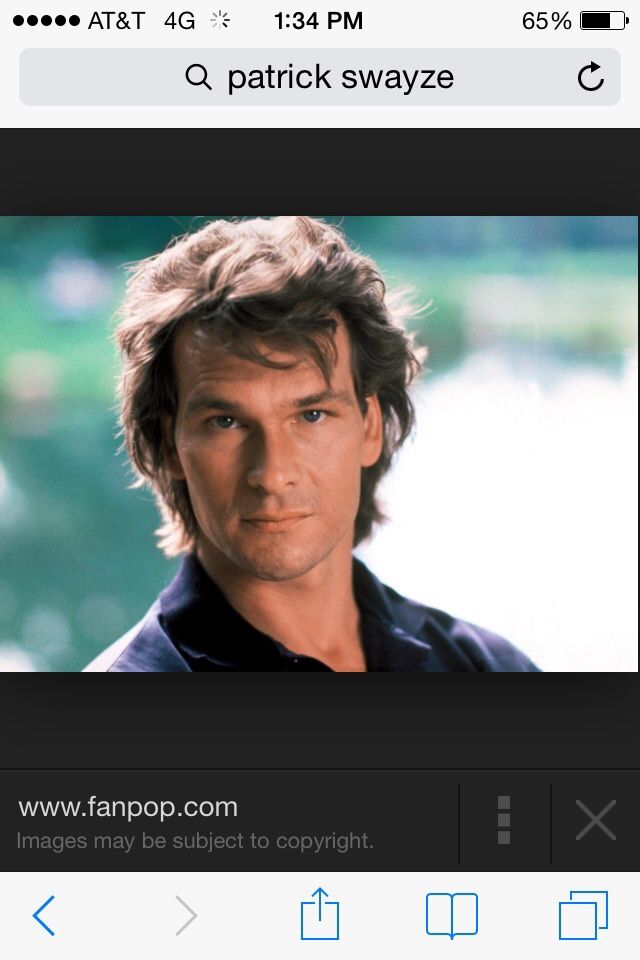 -- Shooting down the walls of heartache. Bang bang. I am. The warrior.
---