I appologize in advance for being long winded here, just kind of the way I write.
I recently installed a dust collection system in my basement shop and discovered through trial and error, this was not going to be as easy, or as cheap, as I thought. It is installed it seems to work; but if I had the time, money and patience, I would probably tear it out and start over. I have too many fun projects to take care of first.
History – About 6 months after moving into our new home and new basement shop, I volunteered to "help" build some cabinets and bookshelves for our church's new offices. The "help" was that my son and I helped the pastor load up my truck at Lowes with all the lumber to take our home so I could build them. After completing the first set of shelves, I discovered that sanding in the workshop was a mistake. Although I have a dedicated workshop, it is not airtight and dust was over half the basement. The daily ordeal of dragging out (and tripping over) the shop vac to attach to the equipment and the daily cleaning of the shop was also getting old. I also discovered that the shop vac filter clogged up quickly. My wife only goes into the basement to get dry goods stored there, but she was still sympathetic and agreed that a dust collector would be a good idea. She liked the idea of the kids and me not breathing in all the dust.
Dust Collectors (DC) – I purchased a Penn State 1-1/2 hp "Dustroyer" DC2V3X. I had not discovered Lumberjocks yet, but did as much research as I could on the internet. I was looking for something inexpensive but at least 1.5hp and a 1 micron filter. I made my decision to get the Penn State and called in the order. I intended to get the base model but after discussing it with the rep, or was talked into it, I upgraded to canister filter. The canister replaces the upper cloth bag and it comes with 10 thick clear plastic collection bags replacing the lower cloth bag. In hindsight, I think it was a good move. The canister is fairly easy to clean with paddles you rotate against the inside of the filter but needs the occasional thumping to clean it off good. The plastic bags make it easy to see when you are getting full – lesson #1 learned later. I am not a heavy user so they will last me a few years. The dust issue in my shop (and the rest of the basement) has drastically diminished since I started using it, which is one of the big reasons I got it with the 1 micron filter. The DC seems to have sufficient vacuum. I only run one tool or hose at time to ensure there is sufficient vacuum but it could probably handle two. When I run my planner, there are no chips left over. On the flip side, the canister seems to be a bit of an afterthought in the design. The engineer in me would have come up with a better system to attach it. The lid on top of the canister is not secured down (despite what the instructions show). I had trouble with it partially lifting off and getting dust everywhere. This may be because the filter was getting clogged or the collection bag was getting too full, or ….. Lesson # 1: Now I make sure I knock the dust off the canister regularly and empty the bag when it is no more than 1/3 full. I also keep a weight on top just in case. (I have to store my tenon jig somewhere.) The design for attaching the collection bags is a bit rinkydink, but it works. The support poles holding up bag/collection port/canister could be beefed up. It is a little wobbly but, as I did not need to move it around much, and is now permanently in one spot, it has not been an issue. The installation instructions suck. Overall – for the money, I think it will serve me fine for several years.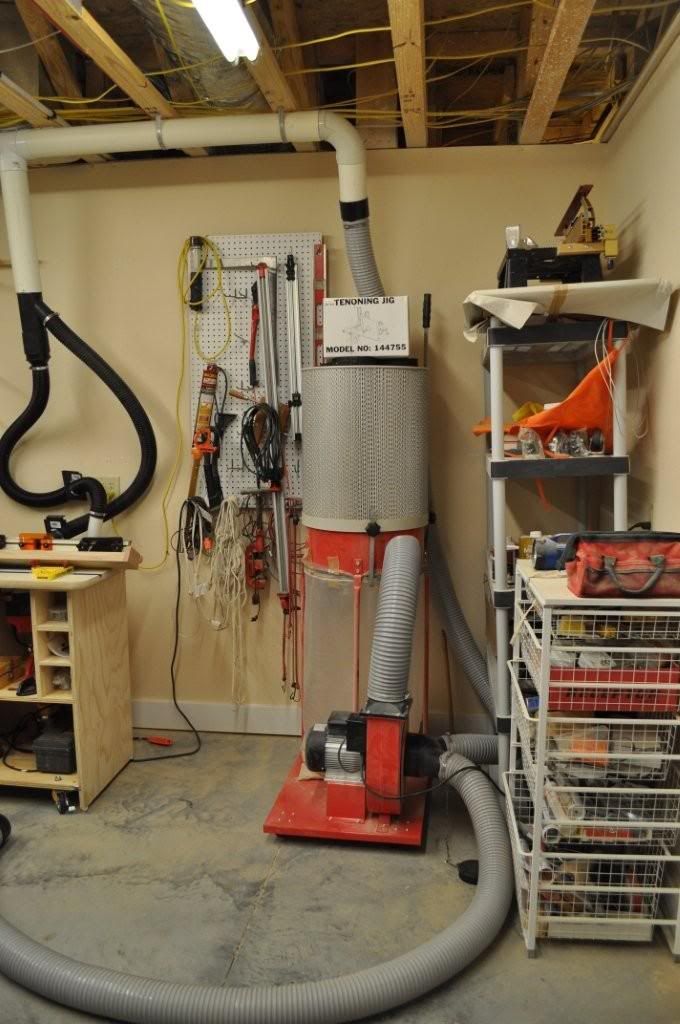 Starting The Research – Now I get to the main purpose of this blog. After completing the church project, I was already getting tired of pulling 4-inch hoses and the DC around the shop, so it was time to build a collection system. This is when I discovered Lumberjocks. I looked at a lot of shops to see how other members set up and constructed theirs. I found a couple of threads on PVC piping that were helpful (see pvc pipe sizes in forums). Two workshops that had good examples and photos of a DC system are gene and Patrick Jaromin .
PVC Pipe and DC Fitting Sizing - Over time, I have collected a handful of hose fittings and reducers for my equipment to attach to my shop vac. Even then, I was discovering that it sometime took two or more fittings to get it up to/down to the size I needed. Some of my equipment have 4-inch ports, 2-1/2-inch ports, some have 1-1/4-inch ports, and my band saw is some weird size. When I got my DC, I purchased a Multiple Machine Dust Collector Set from Woodcraft with two 4-inch hoses and several fittings and ports, which was a good start. When I started my research, I was discovering that most people were going with schedule 20 PVC. Metal pipe sounded nice but way out of my price range. Now, I am not going to get into the grounded or not grounded discussion, as there are several forums on that already. I went down to Lowes and Home Depot and priced out PVC. I had originally looked at schedule 40 pipe and was glad to discover the 4-inch thin walled PVC at about half the price. However, what was schedule of this pipe? Nothing was stamped on the pipe. The thin walled 4-inch PVC pipe is labeled sewer or drainage pipe (in both green and white). Is this the right stuff? Hence the search into the PVC pipe forums. I am still a bit fuzzy on it, but believe that this pipe is the schedule 20. Great – I have found a, simple, inexpensive way to pipe my DC system – NOT. Onto the internet – how do I get from the PVC pipe to the 4 inch DC hoses and fittings. After a little hunting on a the wood craft supplier sites I found there are ready made fittings to get from PVC pipe or schedule 20 pipe to the DC fittings (depending on which site you are on). Great – I just need to make "a" trip to the local Woodcraft store and pick up what I need to get started – NOT. Fortunately, I took a PVC elbow with me to compare. After holding, fitting, and tinkering with the different display pieces with the PVC fitting and the other DC fittings, and a lot of head scratching, I was quickly discovering this was not going to be easy. Nothing really fit as I would have expected, especially the PVC to DC fittings. The clerks tried to help but it was obvious they did not have much experience in this either. I purchased a handful of fittings and adapters and hoped for the best. Lesson #2 – not all fittings are made the same.
Shop Layout – I went through several iterations in designing my DS system, both on paper and in my head. My final design ended up much different from where I started. The final configuration ended up as trial and error in the placement of the power tools. What I thought would work well in one place did not necessarily fit physically or functionally. As much of a pain as it was, by moving the equipment from one spot to another I came up with a design that works ok, for the moment. Now that it is installed, I would still probably change it around if it were not such a pain in neck.
PVC Pipe Installation – I then went to Lowes or Home Depot and purchased10-foot sections of 4-inch PVC drainage pipe, elbows and tees. This is where things got interesting, or frustrating. Starting at the dust collector, I ran a 10-foot flexible hose from the DC to the end of the PVC. I discovered that the PVC adapter fitting would not fit. In this case, the connection between the flexible hose and the "4" dust collector hose to 4" PVC pipe" adapter fit fine. The opening that is inserted over the PVC pipe was too small. I had to sand the PVC pipe down to size using my belt sander to get it to fit into the adapter fitting.
I hung the 4-inch PVC pipe along the exposed rafters of the basement ceiling. At designated locations, I installed PVC tees for access the individual tools. Hanging the pipe using the 4-inch hangers from Woodcraft worked well. I didn't have any section over 4 feet long but it would have been a whole lot easier if I had another hand to hold it up while I screwed them in place. Consequently, it is a little sloppy looking.
Connecting the Stations – My router station has two ports, one for the fence and one for the cabinet. I was originally going to run two lines from the 4-inch PCV line but had a DC 4-inch Y-connection to a 4-inch and 2-1/2-inch ports in my collection and decided to use that instead. Because my PVC to DC adapters were on back order, I thought I would try to connect directly to the PVC from the Y connection. The Y connection was smaller in diameter so I used a large dose of silicon and two screws to hold it in place.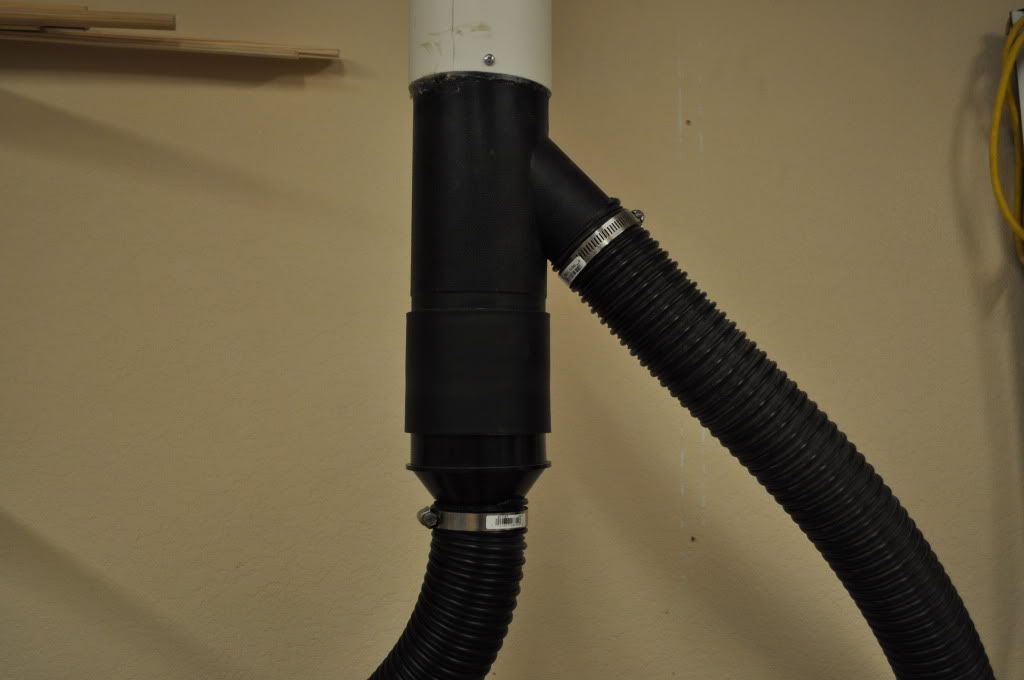 I connected the router cabinet to the 2-1/2-inch port and the fence using a reducer at the Y. Here I ran into two problems. I purchased black rigid flex collection hose for all my connections. This hose is less expensive than the standard flex hose and will work fine in places that the hose has little movement, but does not work well on equipment that will be moved more than a few inches. This is going to be a problem with the router fence. Actually, I have this problem at all the tool locations as they are all semi-mobile. Lesson #3 – In hindsight I should have spent the extra $10 per 10-foot section and purchased the more pliable hose. My next problem was connecting the 2-1/2-inch hose to a 2-inch schedule 40 PVC pipe on the back of the cabinet. The outside diameter of the 2-inch pipe is significantly smaller than the hose and 2-1/2-inch PVC is too large. My temporary solution has been to wrap the pipe with heavy felt and seal it with silicone. This I am planning to redesign this when I finish my cabinet.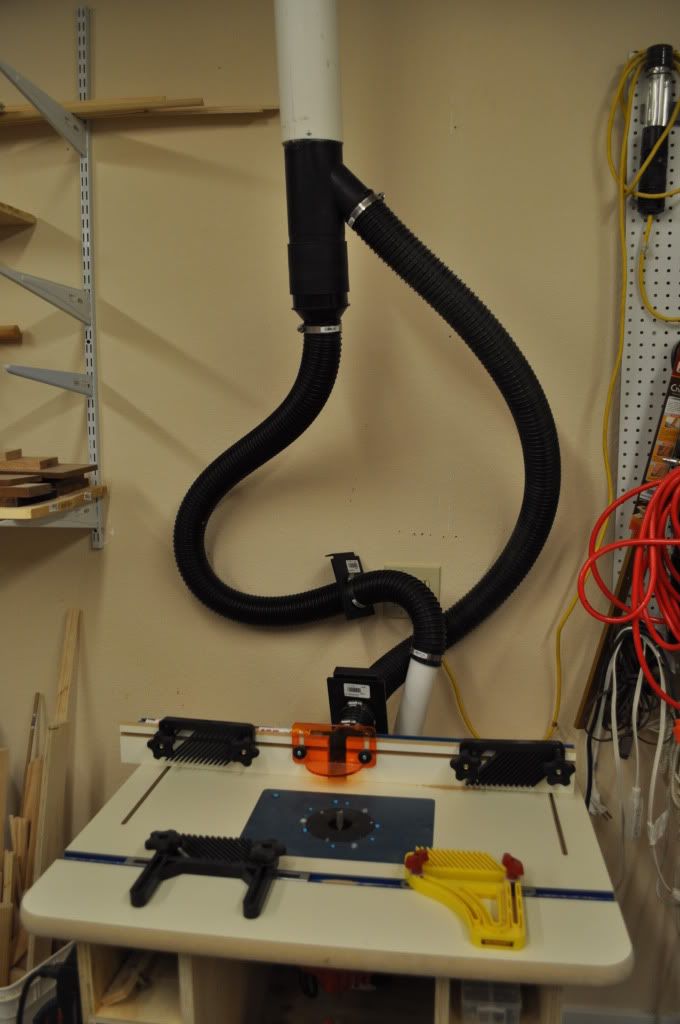 The second connection is to a workstation over the bench. Right now, I am using this as an exhaust hood when I am sanding. This works ok when I am sanding smaller items, but I will continue to do my major sanding outside. I also installed this station so I would have a port in the center of the workshop for future growth. Again, out with the belt sander to make the fittings fit. The schedule 20 – DC fitting did not quite fit so I sanded it down in order to slide it into the PVC. Here is where I ran into my next conundrum, not all DC fittings are made alike, even when they all come from the same store (see lesson #2 above). When I was at the Woodcraft store playing the different fittings, I noticed some did not quite go together, either too tight or too loose. From the PVC-DC fitting, I used a male-to-male adapter and had to sand one end down to fit into a blast gate.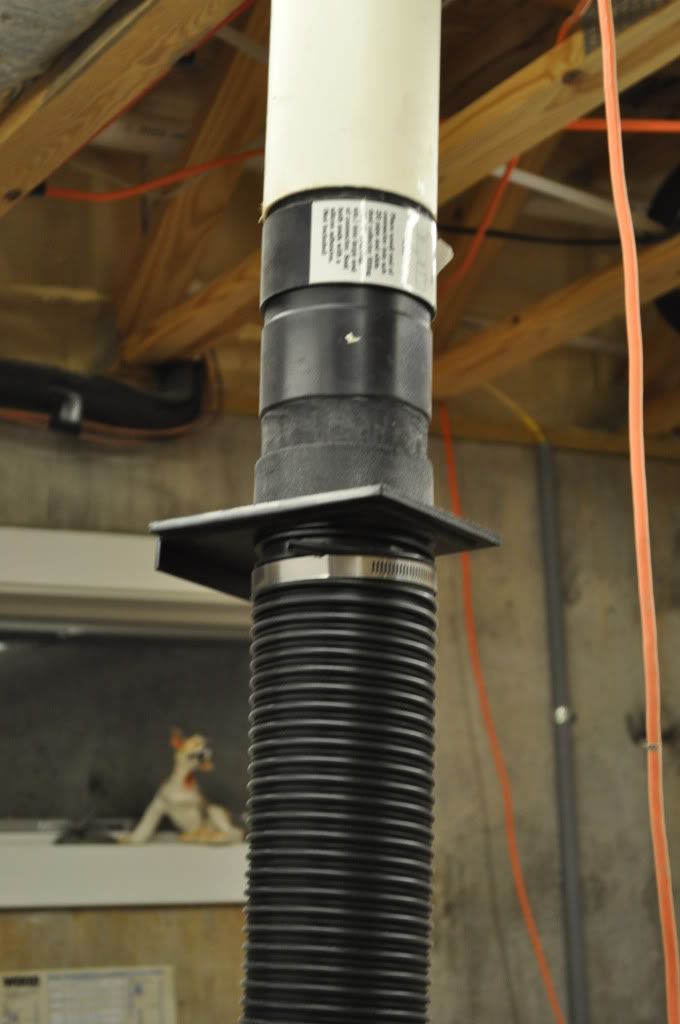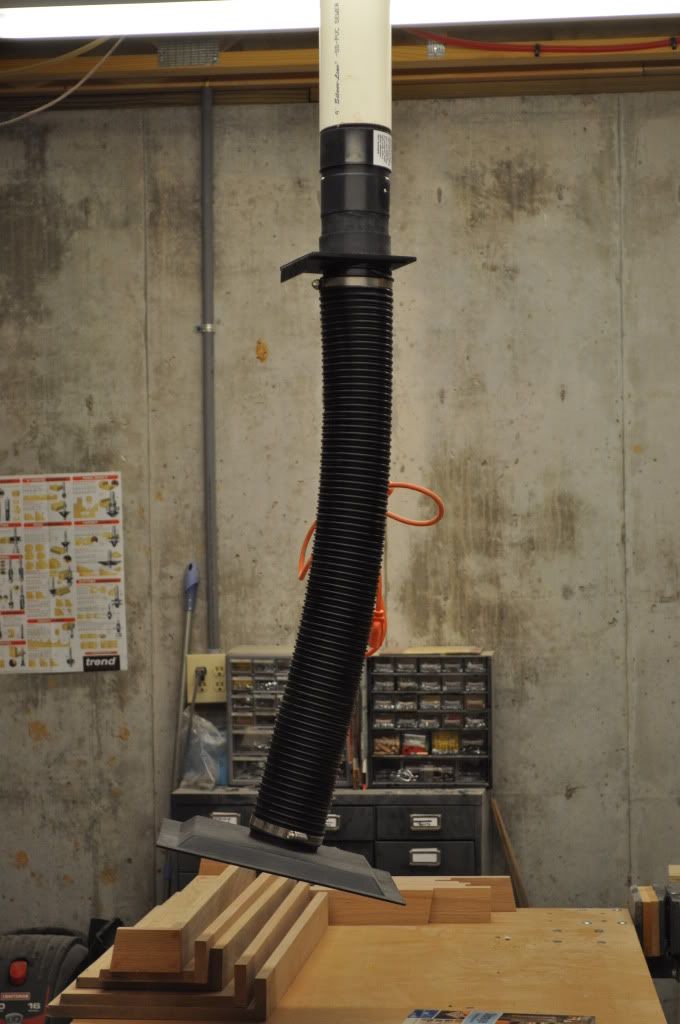 The third station is the band saw. My band saw has kind of an odd exhaust port size. Somewhere in my past, I came across a 2-1/4-inch to 4-inch reducer. A universal connector/reducer would not work. The 4-inch back flex hose would not fit onto this connection so I reduced it back down to a 2-1/2-inch connection connected to the 2-1/2 back flex hose. From here, I connected it to the PVC pipe via a reducer, female-to-female fitting, blast gate and PVC-DC adapter. Again, I sanded down the adapter to fit the PVC pipe. Seven fittings at $5 to $9 each, this ended up being a very inefficient and expensive run.
My last station is the miter saw. This station configuration is an experiment that I plan to change when I build the miter saw cabinet. I got tired of waiting on the back ordered PVC to DC adapters so I heavily siliconed the blast gate into the PVC pipe and screwed it into place. Attaching the Y fitting to the blast gate using a female-to-female adapter, I have one hose going to a 4-inch dust extraction hood and a second running to a 1-1/4 inch hose to the miter saw. Here again the DC fittings did not connect snugly and I had to use copious amounts of glue and silicone on both ends of the reducer.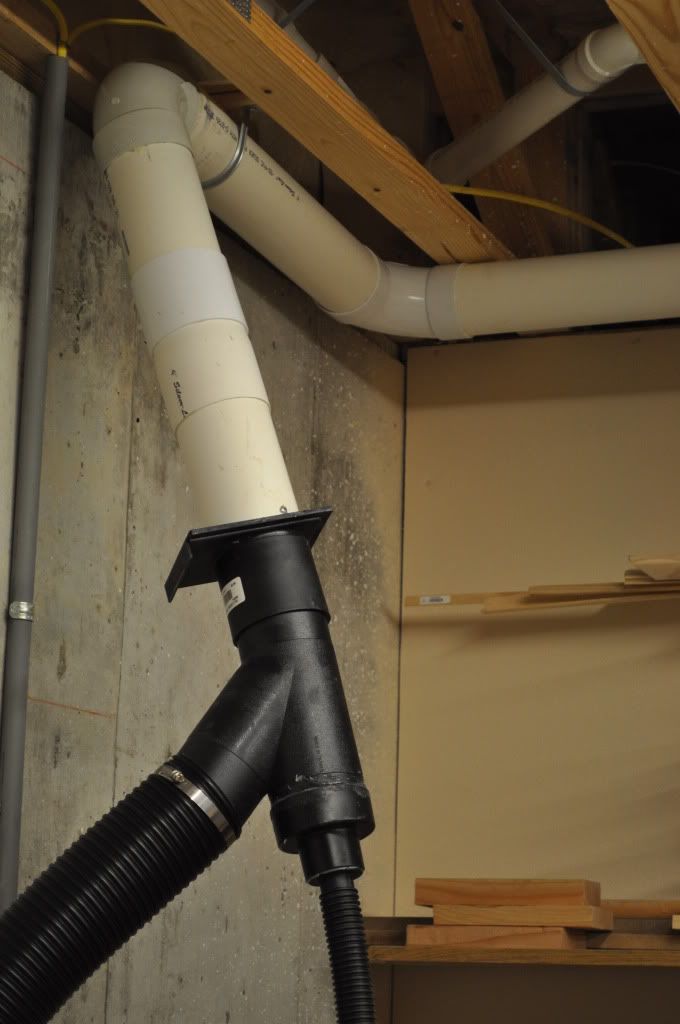 Leakage – As you can see in the photos, I have blast gates on all the hoses at each station. There is some air leakage around the blast gates which I cannot do much about, and some leakage around some of the fittings, but the leakage seems to have minimal affect on the overall efficiency of the collector and system. I will tighten up the connections as I can as I become comfortable with the final layout. I usually only open the ports to one station at a time but the collector could probably handle two ports open at once.
Portable Equipment - The dust collector has two 4-inch ports. I attached a 4-inch, 10-foot long flexible hose to the second port for my portable equipment like my contractor table saw and my planner. I connect the hose when I need it and curl it up with the blast gate closed when I am on the other trunk. When I move up to a real table saw (someday), I will add another station to the system.
Conclusions – Ok, so now that you have clawed through this overly long dissertation with watery eyes, what can you conclude from my experience?
1. A well planned out system is key to the design. Drawings are great but actually placing the equipment where you are going to use it is the most useful resource.
2. Selecting the dust collector for your system is important, but there are too many variables and better recourses out there to discuss it here.
3. Plan your layout with all the fittings in advance. I made too many trips to Lowes, Home Depot, and Woodcraft purchasing one or two fittings at a time.
4. Test all the fittings at the store if you can. See what will fit into what and where you will need to become creative. I ended up having to use too many connections and fittings. With better planning, I could have saved time and probably $100 in fittings.
5. The thin walled PVC (sewer/drainage) pipe and fittings are relatively inexpensive, around $8 for a 10-foot length of 4-inch pipe and around $2 to $6 for the various fittings. DC fittings are more expensive, around $5 – $12 for the various fittings and $20 – $40 for the 10-foot, 4-inch hose. Better planning on my part would have saved me money. I did not keep track but I am sure I have at least $300 (or more) in pipe and fittings.
6. Use the best hose for the application. If you are going to move the tools around, get the most flexible hose you can. Stationary tools can use the move rigid and less expensive hose. Pay the extra for flexible hose for your mobile stations, even if you are just moving them a foot or two.
-- Jim, SE Tennessee, "Don't spare the kindling Dear, we have plenty"
---