In my last Blog post about Bare Essential Woodworking I described the basic overview of rough cost to get into this hobby for a future woodworker on a Low Budget. Using those steps you should be off to a good start. If you have bought something to cut and cut with you are probably starting to feel like this.

Credit to Nick Offerman and his inspirational wood shop.
I am going to skip by the Idea/Plan phase of a project. The inspiration for that was well described in the last post but if you already forgot. Here it is again. I know I would have forgot by now too.
Idea/Plan: I usually think these up in my head, find them online or in stores or the biggest motivation is the Honey Do list. Then I jot them down. I really LOVE Google Sketchup!!! I repeat. I really LOVE Google Sketchup!!! Its Free and as mentioned in one of my reviews if you can navigate to Lumberjocks, with at little patience you can learn Sketchup Make and Cutlist. Youtube Jay Bates. He will give you an excellent foundation.
I looked through a couple of Jay's videos and found a good starting point. Link Below.
https://www.youtube.com/watch?v=h1pMe_fXdoM&index=29&list=PLoEggaYbboJEVR_uRhSO4LfiSpp41dXn_
Moving on the the Cutting and Milling for Beginners. I will preface that I am not trying to make a specific suggestion on tool choices as much as showing that my last blog was actionable.
I mentioned that you could pickup a handsaw for about $13. I had a few minutes today and went through the BORG. I luckly don't have to adjust my estimate much because I found…
Boom!!! $13 handsaw. Does it work and have I used it? Yes. Is it a work out? Yes!!! Will you be able to build your first project with it. Again, yes. If you are currently brushing the sweat off your eye and your arm is tired. I suggest you read on.
My next recommendation is a corded circular saw. If you know before hand that you are going to be making curved cuts on your first project you need a jigsaw. Otherwise the Circular saw can be very diverse and accurate. Plus a corded tool is usually very sturdy and will last you a life time under normal conditions. I have killed one budget circular saw but that was far from normal conditions. More about that at a later time.
If this is your first power tool you will need to be very careful. VERY CAREFUL!!! It is a tool that is very efficient at cutting a material that is much harder and denser than you. It will not bog down when cutting you. Consider yourself warned.
The first time you walk down the saw isle it looks a lot like…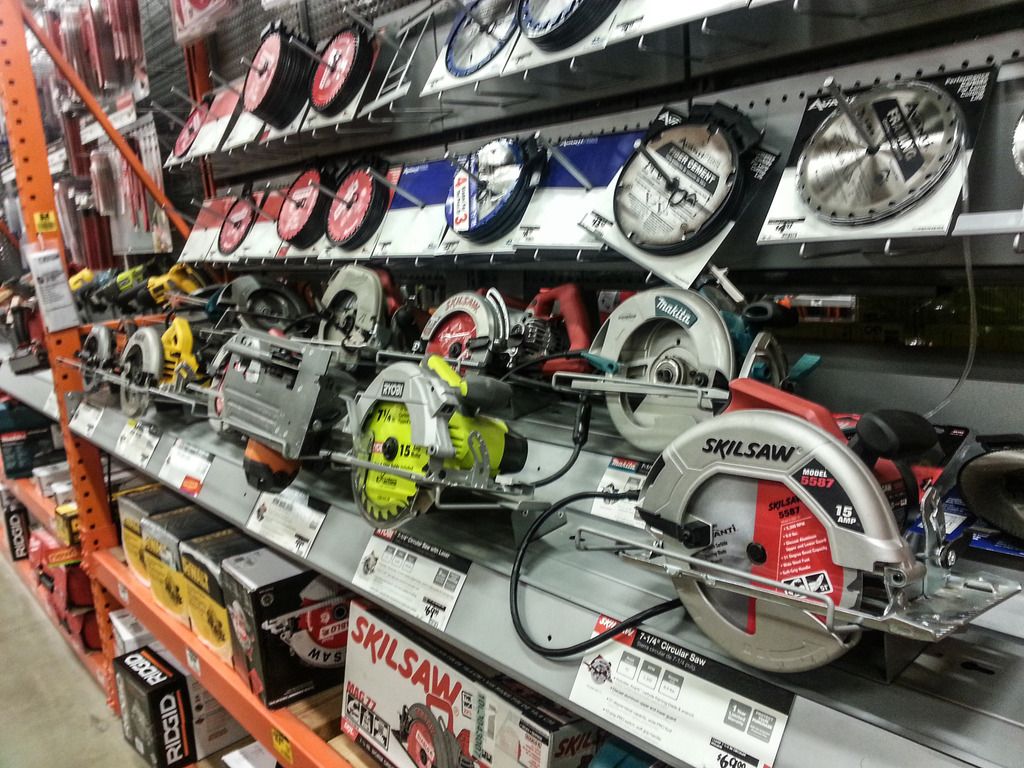 The BORG has saws ranging from $40-$250ish. There are worm drive and direct drive. There are different AMPs, blade sizes, RPMs, and BLAH BLAH BLAH!!! .... I'm a sleep. For what we need those hardly matter. (Trolls Input here)
Do they ALL cut? Yes. Will you need the contractor saw that can be dropped off a roof a dozen times and survive or building houses for a living. I am thinking no. Are they nicer and more powerful, Yes but you will be paying a pretty penny for them. Well out of my class and if you have read this far probably yours too.
I previously estimated that you could buy a corded circular saw for $40 to get you started at the BORG. In my short trip to the BORG I did see that to be true today. And in the best Dumb and Dumber Jim Carrey voice, "Here you go." The Blue BORG had a very competitive price on the budget tools.
To still bring the price down more Craigslist, yard sales and Flea Markets should be the place to find the right tools. If you can find the metal body ones, they are built incredibly strong and have lived one life with someone else. Its probably still ready to live another one with you. Again, if it last at least a few projects, at that point you will definitely know more of what to look for and what you want.
If you have another $10ish dollars. I recommend getting the red 7 1/4" 40 tooth blade for your new or used saw. That will give you a nearly finish ready cut ripping and cross cutting. I have one in my table saw and circular saw and its great. If you don't have the extra money, the factory blade will get you down the woodworking road NO PROBLEM!!! Honestly I would just use the factory blade until you have some experience with the tool. Again, it cuts and thats the goal when you are on a tight budget.
If you have any questions, Lumberjocks is a great resource. I am purely trying to give you a pushing off point for the Day 1 beginner thinking about getting their feet wet. If you have read this far. I thank you and most of all.
Be Safe!!!
-- Travis, Virginia, www.facebook.com/CreativeWoodworksHybla
---