I want to thank everyone again for giving me so much help with SketchUP!
Shopguryl, Brad_Nailor, Will Stokes, Don "Dances with Wood" Butler, and especially Rance: I can't tell you how many times I read and reread your posts. They helped enormously. I'm sorry I couldn't respond to each of you individually.
And I have to say, I am very quickly becoming a SketchUp convert. I've probably invested at least 6 or more hours into learning it and I can say with all honesty that my skills are increasing at an alarming speed. I'm really excited about the possibilities.
Anyway, I am just going to copy and paste my post from my personal blog here. I have a very specific question and have no doubt that I will get answers on LumberJocks!
••••••••••••••••••••••••••••••••••
After an immense amount of help from readers, watching countless how-to videos, and mostly just spending a lot of time experimenting, I am beginning to get a grasp on SketchUp. I really like it and can feel myself improving and getting faster. It's pretty nice to be able to move elements of a project around without having to get out a new sheet of paper or doing a lot of erasing.
The entertainment center is giving me a lot of SketchUp practice. Bear in mind, this is a really crude drawing, but it's my first attempt. After a lot of evolution, I have boiled it down to a design that I kind of like, and is very minimal. The idea here is that a small shelf on top will hold the TV, and the two lower shelves will hold the components. The rear support (leg) is for cord management. I think I'll include a power strip inside. I might turn the front legs, but for this illustration, I've just got cylinders.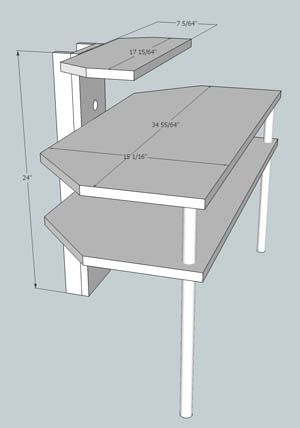 I haven't included any joints that will hold the backs of the shelves into the rear support. (It took me long enough to get to this point!) I'm thinking possibly dados, or even just small cleats beneath. But it's the top shelf that I'm not sure how to deal with. It needs to support the TV, which is pretty light…maybe 30 pounds, but I don't want front legs (dowels) that would interfere with the components on the large shelf.
So right now, the top (TV) shelf is just magically floating there. Any ideas (in the real world, with actual wood) how I can make that shelf sturdy enough to support the TV, yet only attach on one side? I suspect that's not really practical.
-- Entertainment for mere mortal woodworkers. http://www.WoodworkingForMereMortals.com
---