I've been working on this wall slat system for a couple days. I only had a couple hours to mess with it today. One of the things that I made was a cam action hanging saw holder. I got tired of storing my saws flat against the wall on a nail. It's inconvenient if you store more than one per nail, then you end up with saws on the bench that you aren't using (getting dull every time something bumps into them).
I made this hanger to solve that problem in my shop. I know, it's not pretty, but I made it out of scrap material that I had. The hanger works fantastic. You can use it for anything with a flat blade, like saws or squares.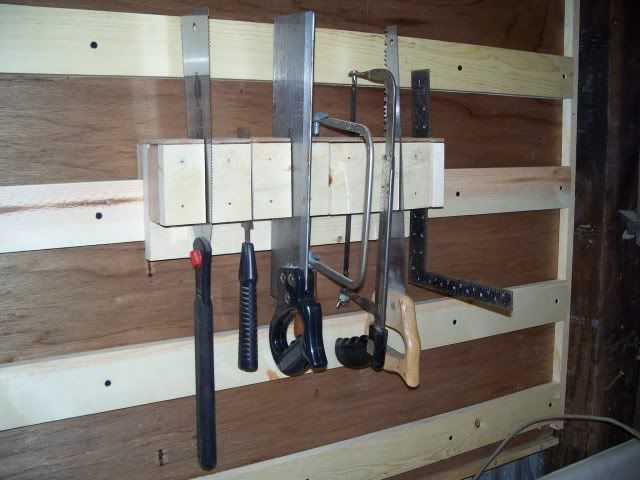 The entire holder is 16" long. It's made up of short pieces of 2×4 stock- 2" wide. They are cut 90 degrees on one side, and 11 1/2 degrees on the other. If I made another one, I think I would use 15 degrees. Inside the unit are little cams that keep the saw from sliding out.
At first, I was worried that the cams wouldn't hold the saws and the first time I went to beating on the bench, one of them would fall to it's demise on the concrete floor. However, I beat and beat on the wall after I put them up, only to find out that the vibrations seat the saws more securely.
The rubber cams are made from 5/8 outside diameter fuel line hose (because that's what I had laying around). The inside diameter is 3/8. I cut them 1 3/8" long. I cut the heads off some 3/8 diameter bolts and inserted them into the hose to give it a little weight and rigidity.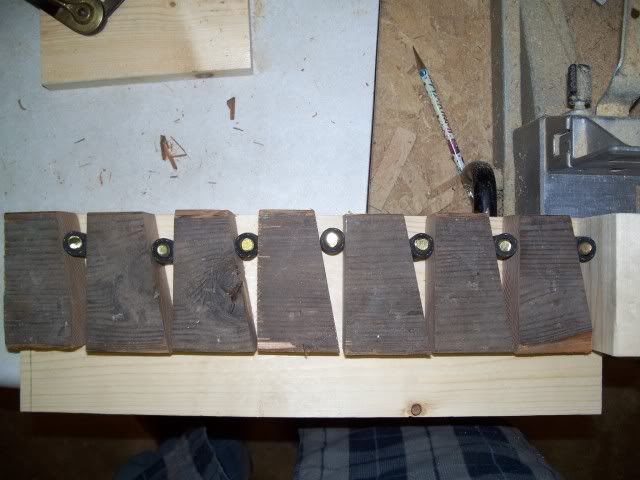 When you want to store the saw, you put it in from the bottom of the saw hanger first, then when the rubber cam rolls over the blade, you just tug down a bit and the saw is stuck. When you want it out again, you just push up about 1/4 inch and pull it out.
Here's a pic before I enclosed it.
I had just enough time left to knock out a couple more simple tool holders for the wall.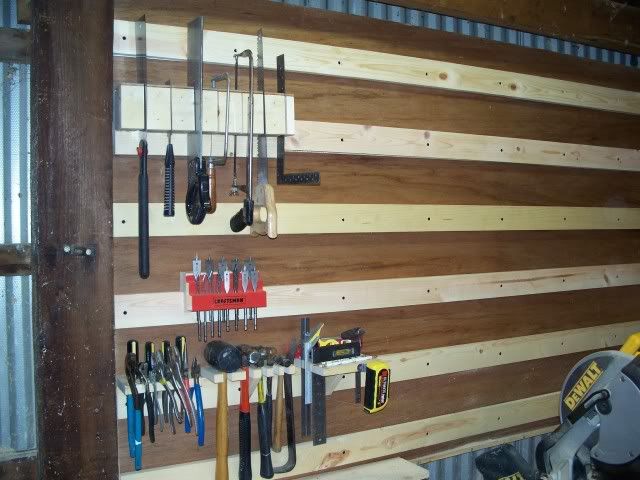 Then, I had to call it a day!
—Steve
-- As iron sharpens iron, so one man sharpens another. (Proverbs 27:17) †
---