OK. Let me start by saying that my shop is a disaster. More like a DIE-saster. You walk in and it's much like a bad natual disaster, or war zone- and it's actually gotten dangerous. I've lived out of those bucket buddies for years, and quite frankly, I just have never quite been able to get organized.
I like to do things with a certain amount of frugality… recycling everything I can and not buying new stuff. If I have it, and can use it, and it works, I'm OK with that. It doesn't have to look brand new.
So, I came across an old American Woodworker mag (#125 Nov06) not too long ago, that had this idea for a wall slat system. The thing I liked most about this system was that he made his entire shop modular. He had this hanging slat system on workbenches, assembly carts, tool boxes, etc. Everything was able to be put on his assembly carts and organized, and then back on the wall for storage. I liked the idea of having a system with universal hanging capabilities, because that would keep my workbench clutter free from tools and hardware (at least so I think… lol!!).
Anyway, I started putting this up in my shop yesterday. I had everything I needed on my woodrack, so this project didn't cost me a dime. If I had to buy it all new, it would have been in the ball park of $80 or so. I used some 5/8 ply for the backer, it was a shipping crate at one time. I found a good piece of paneling that was unfinished, so I slapped some tung oil on that to seal it up a little. I was lucky to have some 3/4 pine laying around, so those turned out to be the slats. I just got the system up on the wall yesterday, it'll be a little bit before I can continue with all the orgainizers for it. I'll make them as time goes along and more scrap wood is produced.
I made one "quickie" just to show you how it hangs on the wall, then ran out of time.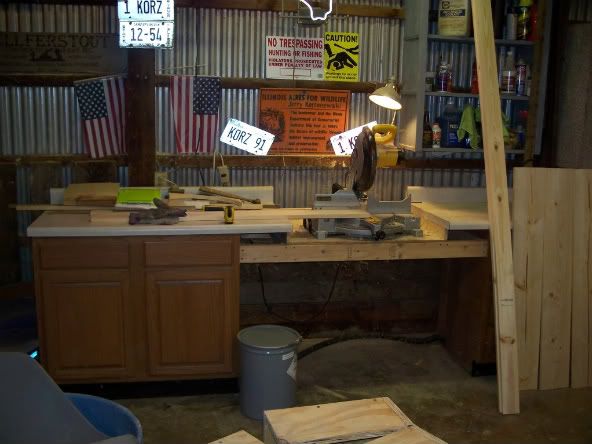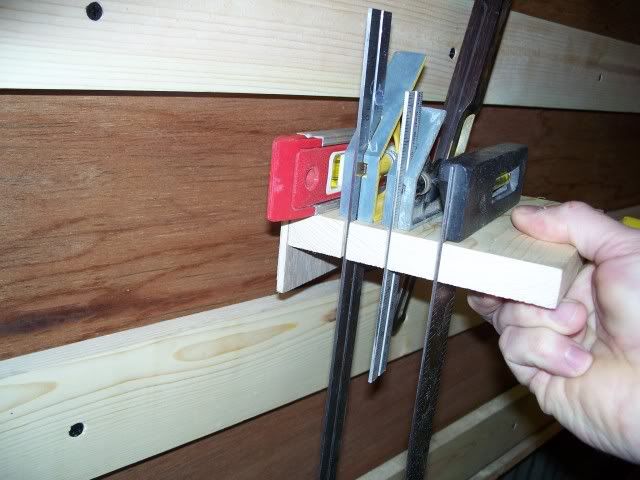 -- As iron sharpens iron, so one man sharpens another. (Proverbs 27:17) †
---