I've always loved collecting small boxes. Don't have too many of them, maybe 20 or so that folks have picked up for me in their travels and a few that I picked up in my own limited travels. Maybe 30 years back (3 wives ago) I was in an antique store in Louisville, Ky and saw a couple of small boxes that seemed pretty cool to me.
One box had a hidden drawer on the inside that when a sliding dovetail was engaged you could extend the outer drawer and the 'smokes' were gone. Both boxes had inlay or marquetry on the outside and I believe both were fashioned during the war (II I think) as one box has an 'army guy' on it.
This box, instead of a secret drawer, has a little button that you push and it releases a mechanism that launches one of the smokes out of the top of the box… about an inch or so making it easy to grasp. I dismantled this box (as it was drying out and wanting to come apart) to see how it worked and my plan was to make some 'copies' of it.
Well, life happened and I never got to it but I think that with today's Incra jigs and the precision that some of you guys work with, it would be great to see this little box be of use. It would be easy enough for me to glue it back together but I feel that since it IS apart that someone might get a kick out of making one (or more).
In my mind the outside doesn't even have to be inlaid or veneered. It could look really good with a nicely figured piece of thin stock. And of course, the sliding dovetails would probably appear more invisible than these originally were.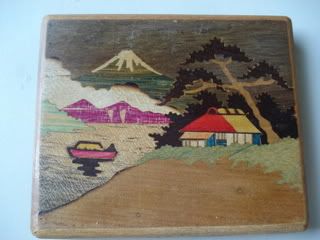 If you look close there are a couple of non wood items as part of the design. A couple of small pieces of bamboo, one very tiny spindle and a sliver that is wedged into the spring loaded part and that is used as a 'stop' which catches on the little ledge. Of course there is the spring and a little plastic piece that is used for the release 'button. This could easily be made from wood on a lathe.
All those little parts are combined to make a cool little novelty box. Below you can see sort of how it goes together. Pretty straight forward but you might need 7 fingers on one hand to hold it all in place before gluing back together.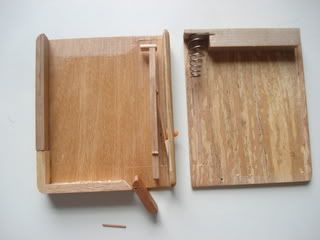 The box is approx. 3 1/2" x 3" x 1/2" thick. The covers appear to be somewhere between 1/16th to an 1/8th inch thick.
So anyways, I don't reckon I would be opposed to giving this to one of you fellow Jocks, but my only request is that whoever gets the dang thing will actually make a copy and NOT do like I have and just let the thing languish in a sandwich bag for years. Someone wanna fool with this?
-- I just got done cutting three boards and all four of them were too short. (true story)
---