My current project requires me to have an arch on the base of the cabinet, but Santa didn't bring me a bandsaw again this year. I could have made a template and made the arch on the router or used my jig saw, which I've done in the past. However, I really want to start using more hand tools. I have 3 awesome Veritas planes, but they wouldn't really do anything for me. I found a cool little compass plane on the Japan Woodworker site, it's called a Sori Ganna. I have no idea what that means but it looked like it would do the job for me. For $88 I figure I'd give it a try.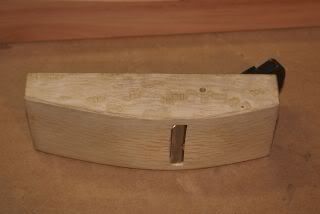 First of all, this plane does not, big emphasis on NOT, come ready to use right out of the box. The plane iron was so tight that I was afraid I would split the wood had I forced it. However, the instructions, found on the website, were clear as to how to condition your new plane (hint: you will need a small wood file). After an hour or so of conditioning I figure I had to sharpen the plane iron. The plane may not have been conditioned, but the plane iron was sharp. I did run it across an 800, 1000, and finally 4000 grit stones a few times which gave me a scary sharp edge.
This was my first Japanese style plane so I watched a few youtube videos and I found a hand tools and techniques podcast which was really informative. I played around with the plane on some scrap walnut and everything seemed to go pretty good. I then started on the real piece. The pieces I'm using are lyptus which is harder than oak. I figured I had a real workout coming.
My garage shop isn't heated, but here in California it isn't anything like y'all have back east (which can be just about everywhere). It was chilly today so I had a on a tee shirt, a long sleeved sweat shirt, a scarf (which I got as a Christmas present), and a short sleeved sweat shirt. I was ready!
I put the first piece securely in the workmate and I was off. It took a little time to find the "sweet spot", but once I got going it went pretty good. Off came the sweatshirts and scarf. I was getting a workout, but totally enjoying it. I started in the middle thinking that's where I have the most wood to remove. It didn't take long till I was getting too close to my line and I still had more to hog off on the sides. So, I had to try a different technique – short pulls along the sides. It all worked out well and here are the results.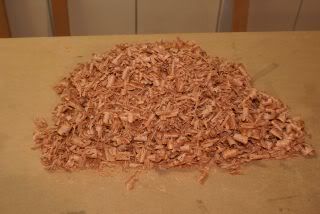 The first piece took me about 30 minutes to complete. The 2nd piece, which I started on the ends and worked towards the middle took only about 15 minutes. Then with a little tap-tap-tap on the back of the plane I took the final pulls which gave me an ultra smooth finish. To get this finish you start at the ends and work towards the middle being careful not to pull back up against the grain of the wood which would cause some tear out.
I have 3 more pieces to do on this cabinet and am actually looking forward to it. I sure has heck wouldn't be wanting to do anything like this in the middle of summer when we get temps up in the 100s. I won't be making any bandsaw boxes yet, but for now this works just fine.
-- Don
---