The 3 pieces for the lower surround are finished and installed. The cabinet on the right will hold the components for the surround sound. As luck would have it, I temporarily placed the speakers where they were going to go and it just took away from the Arts & Crafts look even though they were going to be hidden. Totally bummed me out and my wife agreed. After a trip to the local Best Buy, we solved that issue with a new Samsung Surround Bar that will actually be placed above the TV leaving the mantel clear for other wood working items.
The wood is red oak finished with 3 coats of blonde shellac followed by 1 coat of tinted garnet shellac. This was done to slightly age the look of the wood. The resulting high gloss was buffed down slightly. The finish on the black walnut insets was described in the previous blog.
Next comes the mantel.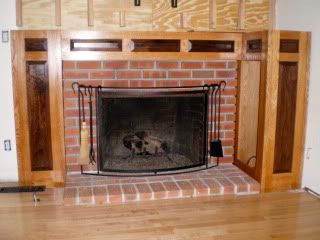 -- Don
---