I was trying to find a good article/link about popping the grain in black walnut but didn't find one that really explained it for me. There are many articles/links dealing with maple though. As luck would have it, our woodworkers club in association with the local adult education was going to host a few classes on finishing. These classes were mainly dealing with "old school" finishing techniques including French polish. Although not actually going all the way through the French polish procedure I took pieces and parts of the technique and applied them to my black walnut raised panels that I am making for a fireplace surround.
The process I used was:
After sanding to 220 I applied boiled linseed oil (BLO) to the piece and kept adding additional oil if needed (where it soaked in – end grain). I let that sit for 15 minutes+- then wiped it off and sanded lightly. Then added another application of BLO, sanded with 320 to create a slurry to fill some of the pores. Let that sit and then wipe it off. I then put the piece out of sight (out of mind) for 5 days or so to let the BLO cure.
I brought the piece back out after 5 days and put on a 1 lb cut of blonde shellac. After that dried (30 minutes or so) I sanded with 320 to get any grain that might have raised. Then I added 2 more coats of shellac and let it sit over night.
After curing overnight the piece had way too much gloss which I expected. The gloss wouldn't have worked on an arts & crafts, craftsman style that I was going for. However, I did want it smooth as silk and have a reflective sheen, which is not to be confused with gloss.
I knocked the gloss down with one of those hand sanding nylon sanding pads then brought it back up to the sheen I wanted with a woodturners micro mesh sanding kit which includes grits from 1500 to 12000.
Anyhow, here are the results: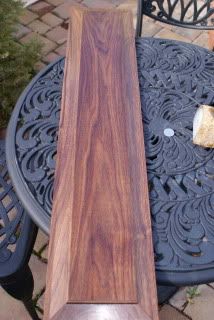 Love those flames!!! The piece is as smooth as silk and you can even see some reflective sheen on the end grain.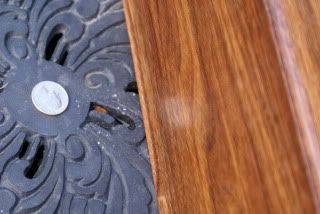 And to prove it I put a quarter next to the piece and you can make out the reflection in the wood.
-- Don
---