I didn't really listen and I should be spanked!!! I am now going to stain the sewing center. I knew I had to actually condition the wood because it is poplar. But instead of doing the 50/50 mix of shellac and denatured alcohol or as I read on a can of Zinsser Bulls Eye SealCoat (which is shellac) a 3 parts denatured alcohol to 2 parts SealCoat mix, I thought I save myself some time and just condition the poplar with MinWax Pre-Stain Wood Conditioner (the yellow can – they also have a blue can for under water based stains).
NEVER EVER AGAIN WILL I USE MINWAX PRODUCTS!!!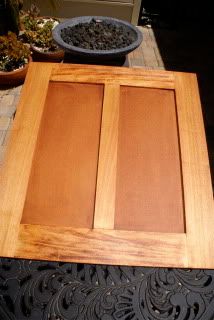 You can see the streaking and blotching on the rail pieces. But, I thought it was strange when applying the wood conditioner, the rails seem to absorb more of the product then the stiles and muntin. I figured OK, I'll add more and waited a bit longer to allow it to soak in, but not longer than the 15 minutes suggested on the can. Well, you can see the result.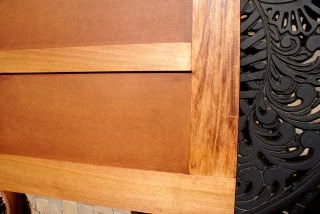 I do find it strange that MinWax states in step #3 "the stain should be applied within 2 hours of application of Pre-Stain Wood Conditioner." What happens after 2 hours???
To make matters worse (and where I need a good kick in the pants) – I tried it again on the other side!!! Again, I followed the directions TO THE LETTER and even added more coats of the product. But ended with the same result.
I have since removed all MinWax products from my shop.
Well, at least I get to now try out my new belt sander. Then re-do the conditioning and staining as suggested here on LJs and by woodworking instructors.
-- Don
---