I decided to try and take on bigger and more intricate projects. My wife wanted a sewing cabinet for all her sewing supplies, including the sewing machine, which are now kept in a bin in the garage. Each time she wanted to sew something, I had to get the bin in from the garage and she would have to dig through all the stuff and eventually she'd start her project.
I decided to make it out of poplar for a couple of reasons. First – she wanted to try painting it with some decorative design. Second – if it was a total failure on my part I wouldn't have spent a whole bunch of money on more firewood.
Then came the "this is nice but …" moment. I found some plans on the Wood Magazine website that looked good. However, she had a few changes – she wanted/needed the depth of the cabinet to fit her machine. She also wanted the cabinet to be multifunctional which eliminated the sewing machine lift. She also wanted the cabinet to look good from all sides and she wanted it to be an arts and crafts look. I was OK with her not wanting the fancy lift, especially, if I did screw it up I wouldn't be stuck with that thing staring at me for the rest of my life. But just adding a few inches to the depth totally made the plans just a guide. I had never really made anything "on the fly" like that.
So, here's where I am so far:

This is the front. It pretty much looks like the plans except for the locking casters which was another change. This cabinet needs to roll around. The drawers were a challenge because they are all different sizes.

This is a side. The plans called for just plain plywood sides. As you can see they are now mission style. The inserts are 1/4" MDF.

This is the back. I had a piece of 3/8" oak ply that I used on the back. To get that mission look I just planed down a few pieces for the muntins and glued them to be flush with the plywood. It would have looked dumb from the front, inside the kneehole, to see off center muntins.

Another change. She wanted full extension drawers. The plans called for wood guides and then matching dados on the drawers. It took a bit of measuring, but all worked out fine. I purchased a joinery system from Woodline USA a few years back and never used it. It's called the Router-R-Joint and it worked very nice. I'll be using it again.

This is a look inside of the drawer. My wife is a watercolor artist. We have a lot of these panels from the back of frames that she can't use with her art. They are 1/8" thick hardboard. I knew I'd find a use for them.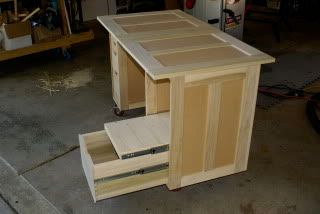 The sewing machine will sit on the slide out tray.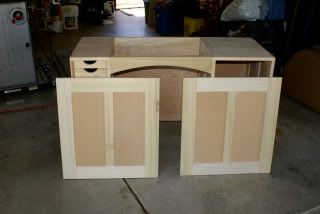 I just finished the doors today. I think they look pretty cool. The best part—- they are square and flat!!!
-- Don
---