Hi all,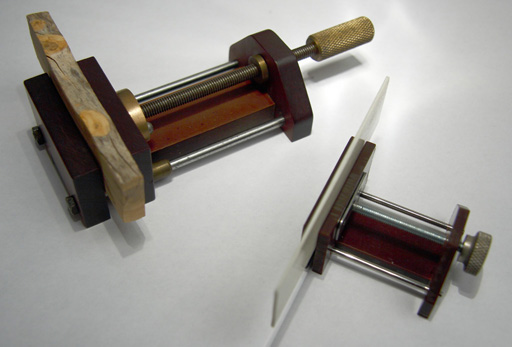 Here is my first copy of this great design from the 30's. I won the original (left of the picture) on ebay some time ago, and after cleaning it and trying it out I decided to make copies of it, mainly because my sister is studying to become a jeweler and bakelite is great for silversmithing and goldsmithing since it's rather soft.
I used this vise for cutting rather delicate scrollwork into horn and bone flats, with very nice results. The only thing that the original lacks is a clamping system.
So I had this small electrical-grade bakelite board around, with several mounting holes. I scaled down the original design to fit my stock – actually two units could fit, but I lost several parts to the Screw-Up Fairy by trying to cut them with my jeweler's saw instead of waiting to be at the parents' and use my bandsaw with the metal-cutting blade. Oh, well, prototyping, you know?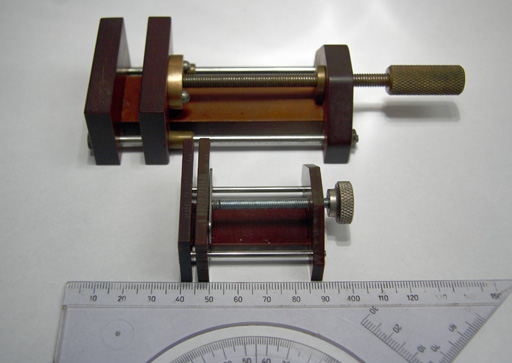 In the end I had the parts required for a single one, that I glued with slow-curing epoxy. The hardware is salvaged steel rods and brass parts from Gawd knows what, probably floppy drives and related computer hardware – I have a BUNCH of that stuff, neatly sorted out actually.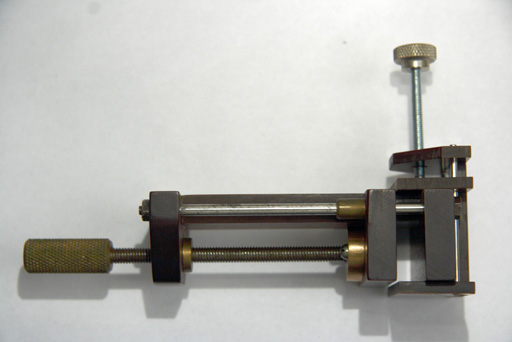 This first prototype came out rather nice, if not for a problem that I hadn't foreseen before actually building it: on the original you can see the brass linear bearings that ride around the shafts, well the length of these isn't that random: actually, when using the adjusting screw you're applying pressure to the top of the movable jaw of the vise, hence producing a rotating torque. My very short sleeve bearings aren't long enough to compensate for that on my version, so I have to manually compensate for that torque by keeping the jaw parallel to the fixed side to avoid jamming of the rods in the bushings. Well, I won't make that mistake again. Once the piece is clamped, it doesn't move anyway, so I consider this a partial success. Next ones will be better!
Thanks for watching.
-- Thomas - there are no problems, there are only solutions.
---