Hi all,
Last year I posted about the work done by the restorers at the C2RMF and the finishing recipe they have devised. Meanwhile I made a year-long experiment again with the wood stained by Chlorociboria, and I actually had the time to dig into the data we had collected about the behaviour of this recipe with the usual marquetry woods. Although this hasn't been published yet, I can confirm that their recipe is indeed super stable overtime (we did both an accelerated AND a realtime aging series of experiments). Contrary to what was the case "back in the day", nowadays we have a very strong and effective knowledge about chemistry (real chemistry was born in their days, remember Lavoisier? He's the one that started it all). Boulle and the others had no clue what they were doing, chemically speaking, but they sure did experiment, and deserve all our infinite gratefulness for their phenomenal legacy.
Well, after a full year of toasting green-spalted wood in the sun, I can confirm that their recipe is indeed the most stable to be found, and it can still be enhanced by adding a small percentage (~1%) of molecular silica sand (the fluffy kind you can find at top-level painting suppliers, where I source mine anyway). The silica absorbs UV without casting any color, and the molecular size prevents blurring of the finish. Since it's the UV that causes color shift in woods, well, you need silica (silicon dioxide, SiO2, quartz, you know)and a slightly acidic finish, which the recipe from the C2RMF just is.
AND, contrarily to what I had observed the first time in really harsh conditions, under real-life conditions (full sun exposure all summer long), the woods stained in green by Chlorociboria don't lose their color at all with either compound of this finish or any combination of them, let alone the finish itself.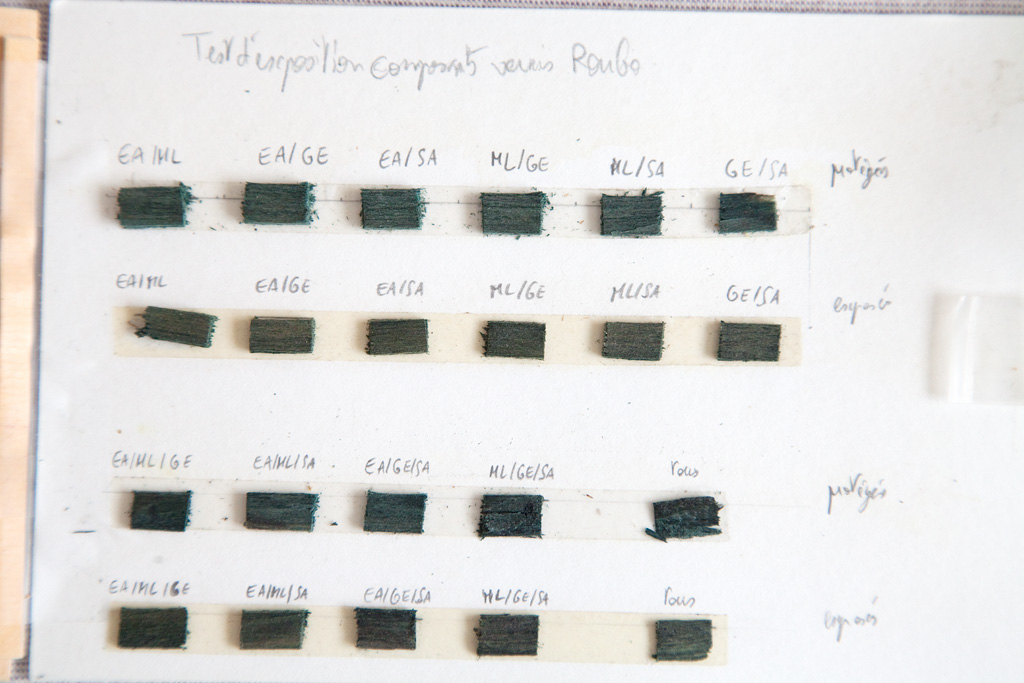 Top line is hidden from light, second exposed, third hidden, fourth exposed. I tested all possible combinations of each one of the components of their Roubo finish. As can be seen here, with freshly dissolved products and a freshly mixed, er, mix, there is no discoloration due to chemical reactions. The solvent was Butanone like in their recipe. By the way, the top coat has most of it replaced by Isopropanol to avoid full re-melting of the first layer (only 10% to have a slight re-melt and make sure the two layers bond).
Since this was the only "wood" that we had observed severe discoloration with, my conclusion is that by using their quite oldish flask (it had been sitting for months) instead of a fresh batch, I wrecked my own boat : freshly-prepared "Roubo" finish as per the recipe devised by F. Leblanc at the C2RMF (see previous post for the link and recipe) is indeed one of the best finishes that you will be able to give to any piece of fine furniture or marquetry. It can be waxed if needed if you don't like the super-high gloss the Sandarac gives. The wax won't make it to the wood and won't alter the acidic conditions that reign in there, and won't also react with the tannins and discolor them (think "oxalic acid" here).
Again, this recipe has been elaborated by our top three professionnal restorers, with the chemists staff of the lab underneath the Louvre, tested for protection and for chemical evolution. To date, this is the Nec Plus Ultra and what is applied to every single piece of ancient furniture in the museums country-wide. There is of course always room for experimentation, but if you're really serious about this stuff, I very highly recommend you getting in touch with seasoned chemists with an open mind (the combination of both is really hard to come by, believe me…) and test your recipes for chemical evolution, namely pH (which requires an FTIR spectrophotometer), and UV absorption at both fresh and aged stages. If any of you happen to do so, I would love to read about it, so please don't hesitate to chime in, I might be very slow at posting these days (working on a HUGE community website project) but I do get my LJs notification e-mails immediately.
Thanks for reading, and cheers!
-- Thomas - there are no problems, there are only solutions.
---