I've managed to squeeze a few minutes' time into the shop, which was long enough to complete a couple of sub-tasks on the PowerShop Bench (PSB). Which also made me think to do a quick update to this blog series. At this point the PSB consists entirely of five ribs and two struts and is structurally able to stand on its own. No glue or screws yet, just dry-fit; as I've mentioned, DW102 didn't come with build instructions or narrative.
When the seven pieces I've made thus far are supposed to be fitted and permanently fixed into place, in other words, is unknown. So with that said, what next? I think it's the two plywood bottom pieces.
I collected a used and slightly abused 5/8" sheet of plywood from inventory and laid out cuts that would avoid an area of blowout on the stock and get me both bottoms. Cuts were made with a circular saw (the Black and Decker Sawcat of the late 80s is an awesome tailed apprentice, BTW) on a pair of horses, with additional trimming done via RAS. Processing sheet goods is not my favorite activity – where have I heard that before- but with the stuff was cut to width, notches had to be cut so the bottoms could trace around each inside rib structure. Those notches were traced against a 1×6 cut-off and completed at the bench via handsaw.
At that point this first, smaller bottom was ready for fitting and it went well!
Repeat the process for the cuts on the larger carcase bottom and I'm good to go, right? Well, in theory, yes. A bunch of measuring had to be done to the elongated carcase bottom shelf in that it's not on the drawing; that side of my build is essentially twice the width of DW102 but not exactly. The first piece was true to the drawing and progress on that one was quick. Well, the second went quick too, only it was wrong. Shouldn't be in a hurry to make a mistake, I guess.
A Diversion
At this point, an error surfaced because I used a certain 1x cut-off to mark the notches shown in the previous pics… You see, I'm what some might call a hand tool junkie. I wouldn't go so far as saying I'm a galoot, because I wouldn't want to be associated with a group that would consider folks like me for membership. But I do like hand planes and have been known to grab the odd piece of scrap, clamp it up on the leg vise and take a few passes with the jack, jointer or block just to hear the "schhhh-k!" sound it makes. Well, it was just that piece of planed scrap that I used to mark the second of the two cabinet bottoms.
So when I finished the notch cuts and did a test-fit, there was a disconnect. Argh. Unaware of the true cause, I measured the distance between the ribs (front-to-back) and cut the front slot longer. AND, to make matters worse, the front extended beyond the cabinet's intended face by the amount needed at the back. Argh again.So I pulled the piece, ripped it again and here's what I'm left with: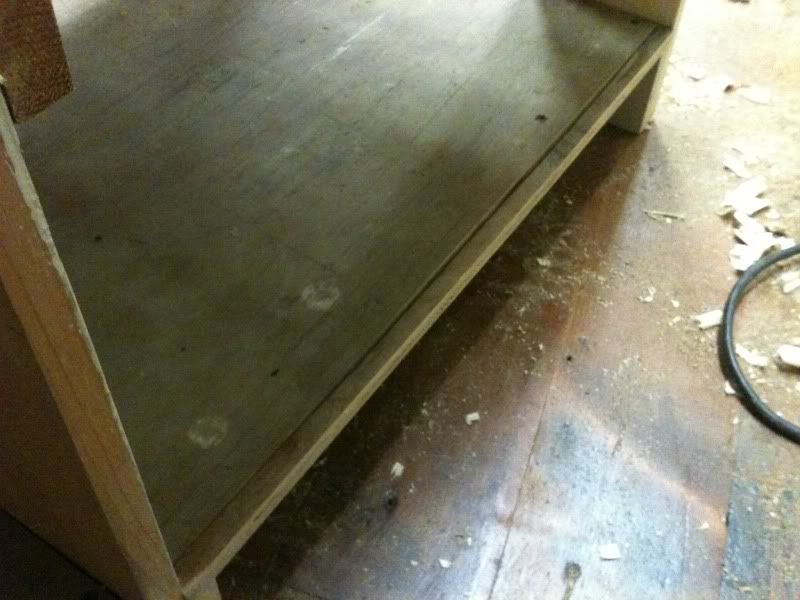 I'll glue and pin nail these before the back of the carcase is put in place; no impact and no one will ever know. Well, except for y'all. And now back to our regular program…
Back on Track
The other piece of progress was on the shelf runners. DW102 spec'd these to be ¾" stock that was cut to length and 1 ¾" wide. Well, that's too much for shelves (I said) so mine were ripped to 1 ½" and cut to length via bench hook and backsaw as several rib components had been earlier. As a matter of fact, here is the same picture you've seen before of those cuts…
Next Time…
What next, then? Glad you asked, because I've been wondering that myself. Until then, as always, thanks for looking.
-- Don't anthropomorphize your handplanes. They hate it when you do that. -- OldTools Archive --
---