Last installment of Shop Stuff showed Grandad's bench as it moved out the shop.
The wood floor is done now, and it's time to move stuff back in. The bench was no exception, and it found new life as the base cabinet-like piece for my not-a-Wall Hung tool cabinet.
But, long story short, I just didn't like that it was so much deeper than the tool cabinet. The aesthetic was wrong, and I need the depth when the workbench comes back into the space. So I debated a mod to Grandad's bench, to make it a long-term fixture in the shop that I love vs. one I feel obligated to keep as is.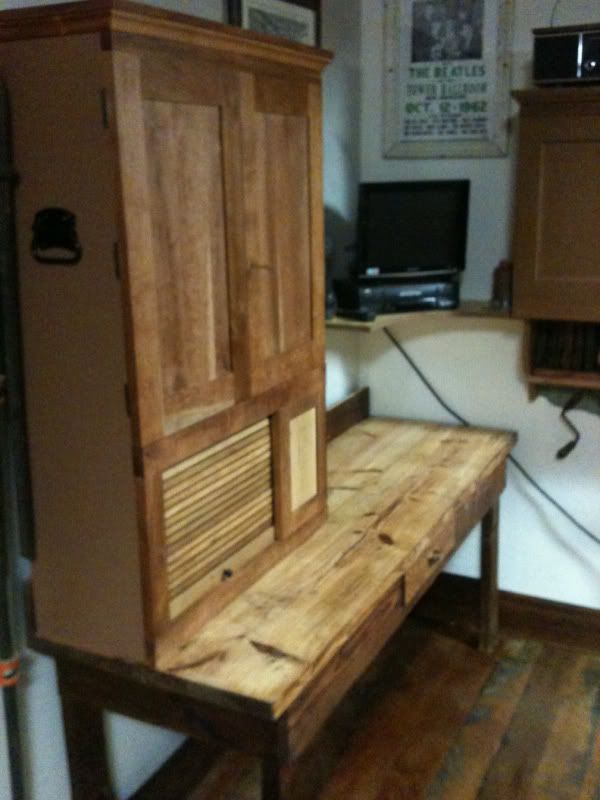 I opted to mod the piece, in the Depression-era mantra of Make Do or Do Without. Nine inches was the number. I'll re-use the nails, keep all the material, etc. The bench is nailed together, not glued, so the knock-down was quite easy.
Time to cut the top. One pass, then a second pass with additional depth, and it was done.
A few more cuts for the drawer…
Hammered a few nails through the piece to get them ready for a new pounding; these drive through the back stretcher and into the drawer runners.
Here's the ones that were used.
Replaced the backsplash, shortened the drawer and set it in place. Love it.
This part of the shop move / setup is done, thanks for looking.
-- Don't anthropomorphize your handplanes. They hate it when you do that. -- OldTools Archive --
---