EDIT: Updated to eliminate PB BS. Smitty
Oh, yeah, it's time to stop cutting bait and 'fish' for a next-level assembly with this project. In other words, this carcase has been apart and together a bunch of times for marking, cutting, and fitting rabbets and dados. All of those shelves and partitions are at the ready; there's nothing more do do with the carcase apart that can't just as well be done while it's together. In the meantime, I have T&G back-cabinet material as well as face framing that needs to be done with the carcase is in a single, assembled form.
The mini-bank of inside drawers has been glued up.
Here's the sum of the parts as they sit at the beginning of this process:
I've placed a number of clamps and cauls at the ready to keep things moving once the half-blind dovetails at the top of the carcase are glued up.
From there the bottom 'shelf' will be glued into place along with the stopped dado middle shelf that divides the bottom of the cabinet from the doored top portion. A concern is ensuring the case is set square by the end of all clamping. A prelim measure tells me one diagonal was 55 7/8" while the other was a bit longer than that: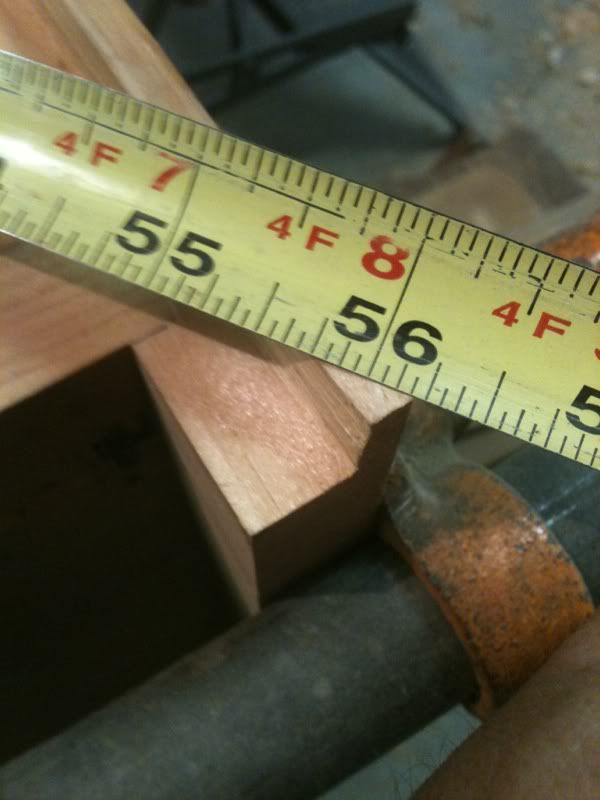 So ready the long bar clamps, then, to draw up the diagonals as required…
Gluing the half-blinds:
Then glued up the much-less exciting bottom and middle shelf pieces. The Titebond woodglue has a setup time that I've learned to take advantage of – there's time to get things set where I want them before applying clampage. Lots of clamps, including a single bar clamp to pull things into square. About an eighth inch was all that was needed. I ensured the shelves were totally flush with what will be the front of the tool cabinet (which is the bottom as the unit sits on the assy table).
Wiped all joints with a wet rag, all is set and ready for the second round of adhesive work: Adding the inside-the-cabinet small drawer bank to the assembly as well as setting the vertical partitions that define the spaces for the twin jack planes.
-- Don't anthropomorphize your handplanes. They hate it when you do that. - OldTools Archive -
---