Let me just start by saying…I hate to rout MDF!!!! Thank goodness for the respirator, air cleaner, and dust collector. That stuff is nasty to cut, but routing it definately takes the cake on the least favorite things to do list.
Anyway, when we last left off, I was about to install the table into the table saw. Because of the location of the hold in my TS rails, I needed to use screw inserts.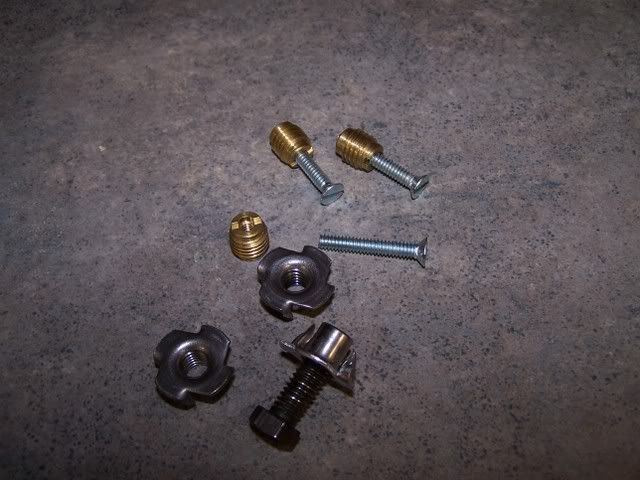 I friction fit the router table into the TS and supported it from below to keep it level. Using a punch set, I marked the hole locations. I then drilled for the fasteners. I used two different kinds because the front rail needs a countersunk screw so the fence operation is not hindered. I couldn't find any bugle head bolts in the 3/8 size that other inserts used, hence the little brass one you see in the photo. I also used a forstner bit to drill out the footprint of the insert so it would sit flush to the table edge once screwed into place.
Then I put everything in place and tightened it down.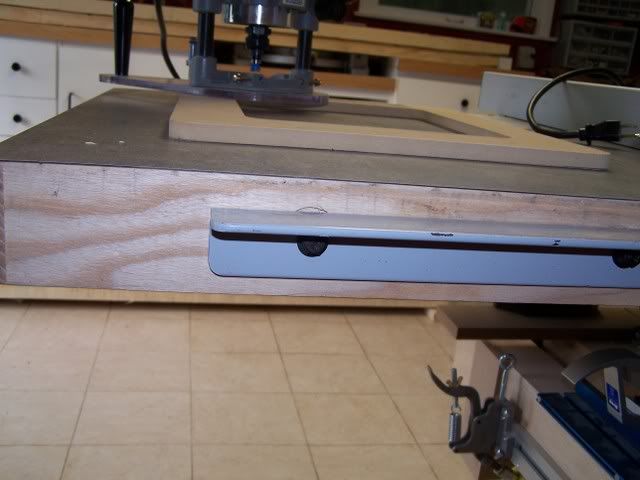 I got a JessEm template to rout the opening when I was at my local Woodcraft. They had it sitting out on the bargain table and I got it for $5! This definately saved me some time. Here I have double stick taped it in place and am ready to rout.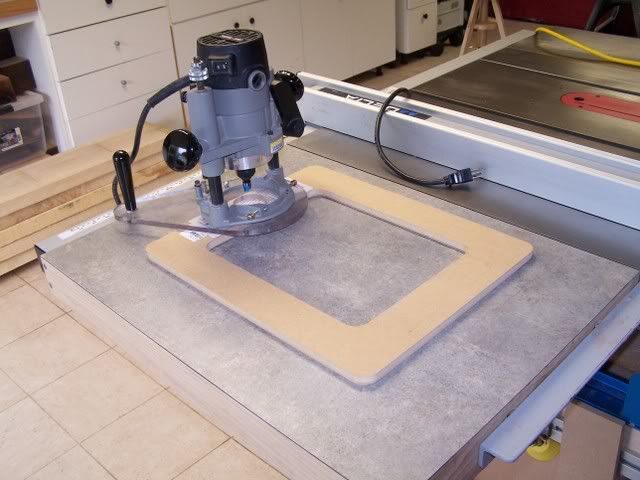 I took several passes to get to the 3/8 depth of the plate plus a little extra for shim room. Then I drilled out corners for my jigsaw blade in order to cut our the rest.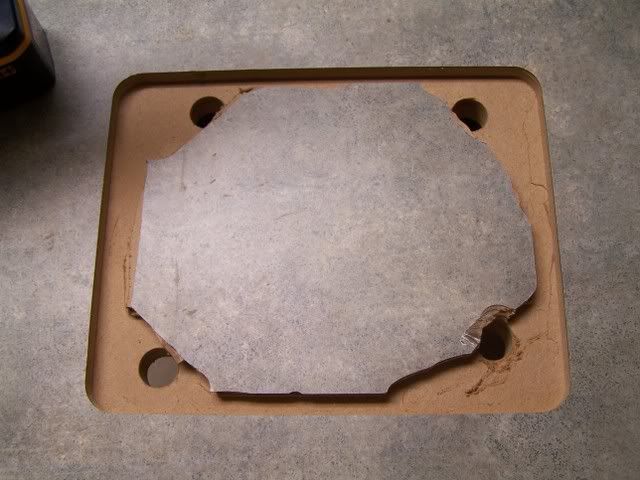 Here is where I realized my error. I have routed the recess just a touch too deep and had over estimated the leveling capacity of the screws set into the bottom of the router plate. I needed to put some shims in place. I had some White Oak and Padauk edging laying around so I ran it through the planer to get it down to 1/8" and glued it in place. I figure if nothing else, this will allow for more wear and tear on the ledge the plate sits on.
Everything clamped up and drying. Next I will build a couple of bit drawers that I can mount to the underside of the table for some on board storage. I am also thinking of building a box around the router to put in some dust collection. I haven't figured that part out yet.
-- The Hand Tool School is Open for Business! Check out my blog and podcast "The Renaissance Woodworker" at www.renaissancewoodworker.com
---