So, this is less about what I am trying to do or what I've learned how to do, and just more about the amazement a (very) novice "woodworker" is experiencing when viewing others work.
Simple Joinery
So, I love joinery. I always have loved the look of it and the concept that a structure is essentially supporting itself with increase surface area made to fit, I mean, can you get any more efficient AND effective?! I've even built a box joint jig that works pretty well. It's for 5/8" box joints which I think is a little bit big, but I still think my reasoning is sound: the "planks" on pallets – which are a great source of free wood for someone who encounters a copious amount of errors – are about 5/8" thick, so it makes a nice square box joint.
I haven't done anything for dovetail joints, but that's next on my list. They're like an advanced box joints: same amount of cuts, just a little angling of the ol' table saw blade. I still consider dovetail joints to be "simple" but as with anything they're less simple if you're trying to master them.
I just learned of the term "rabbet", I've always just called it a "ledge". And I don't even know if it counts as a "joint" because it doesn't seem to be "joining" anything on its own (is that necessary for a "joint"?). I like these because they are a part of my (planned) box building. They allow for a smoother look and that's what I'm going for.
Crazy Joinery
Honestly, how did anyone even come up with some of these?!!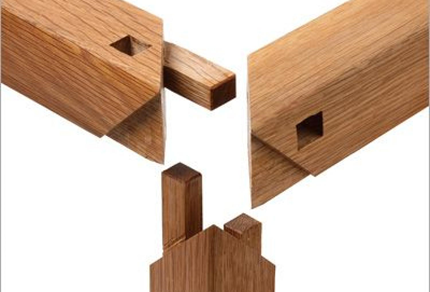 Is this the beautiful result of what humans can do when we're not all staring at screens? What are the principles that are used to build these? Is it as simple as ensuring symmetry exists for the cuts to fit together? Then maybe if they don't hold, add a provision for a dowel? Whatever it is, when I look at some of the joinery that is out there, it's just…amazing and intimidating to see what real woodworkers and craftsmen are able to do. And its a testament to what can be done when engineering and design come together, something that a lot of today's manufacturers seem to struggle with.
Oh, and "now software" (http://https://hackaday.com/2020/10/23/complex-wood-joints-thanks-to-new-softwares-interactive-features/) is going to make even crazier joinery? Is that even fun?
Some day I hope I'm able to make something more than a dovetail joint, but for now I'm happy with focusing on doing that really well. Hopefully I'll be able to shift focus from shop improvements to actual projects that allow me to show off the journey of learning joinery to everyone here.
Cheers!
-- - making a mess...the fun way
---