I found some more time to work on the bench. I glued up the base stretchers. I used the draw pin mortise technique where the dowel pin holes through the mortises were slightly forward of the holes through the mortises. When I tapped the dowels through, they pulled the stretchers tight against the posts. One of the nicest things about this is no clamps while the glue is drying.
I was working alone on the top, so I was unable to do the "glue up three and send a batch through the planer technique". I just kept gluing one 4×4 to the next, waiting a half hour, and continuing. The only way to smooth it at the end was with a hand plane. It went way better than expected, probably because the plane arrived pre-sharpened.
I was just playing around with the face boards and clicked a pic. That is maple for the front and walnut for the end cap. I believe they will be trimmed to about 5 inches in width.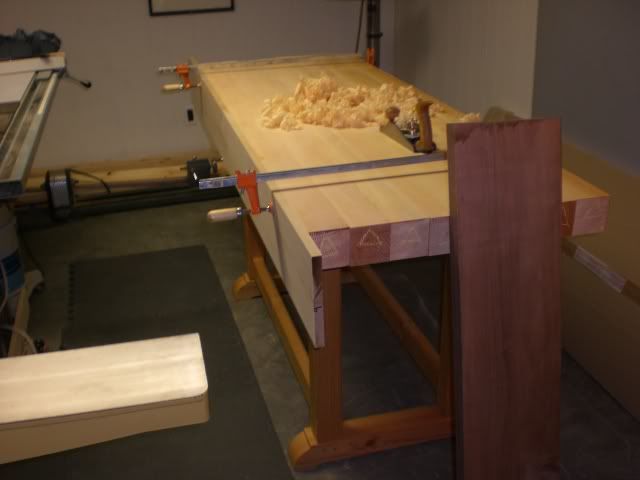 Making a mess using a router for the tongue for the end cap. Clamped a straight edge and routed from the top, flipped it over and repeated for the bottom side.
The new top after some clean up.
Take care,
Steve
-- -- I'm no rocket surgeon
---