I made two large sets of Lincoln Logs for the grandchildren. This is how I did it. There are a few steps involved so I used indexing stop blocks and such to make it more safe and repeatable.
I basically followed some of the same techniques as this post on the web but changed a few things and added roofs. http://home.comcast.net/~pocket83/site/ Also I decided not to stain my sets as we kind of liked the clean pine look, and this is also completely non-toxic (and easier to make).
I put together two houses to see how it all worked. This is using less than one set:

.
First I bought a few 1×6 by 8ft boards at Home Depot. Actually I saw this pine there for not very much money and could not pass it up when I saw where it was 'made'. I went through 4 of these by the time I was done with the two sets (and yes, they are 1×5s). They were $6 something each.

.
The main dimensions for all the parts are a 3/4 inch groove, spaced 3 inches apart, starting 3/8 inch from the end, and 3/16 inches deep.

.
To fit 4 grooves on a board requires a 10.5 inch length of Swedish pine. I really like this technique of cutting 4 groove boards and then cutting them up later into 3s, 2s, and 1s logs. By doing it this way, a lot of custom cutting and thinking is actually reduced. Seems safer too, and a good length for cutting, routing etc. I set a stop block on the miter saw and cut nine 10.5 inch lengths out of each 8 foot board using a thin kerf blade.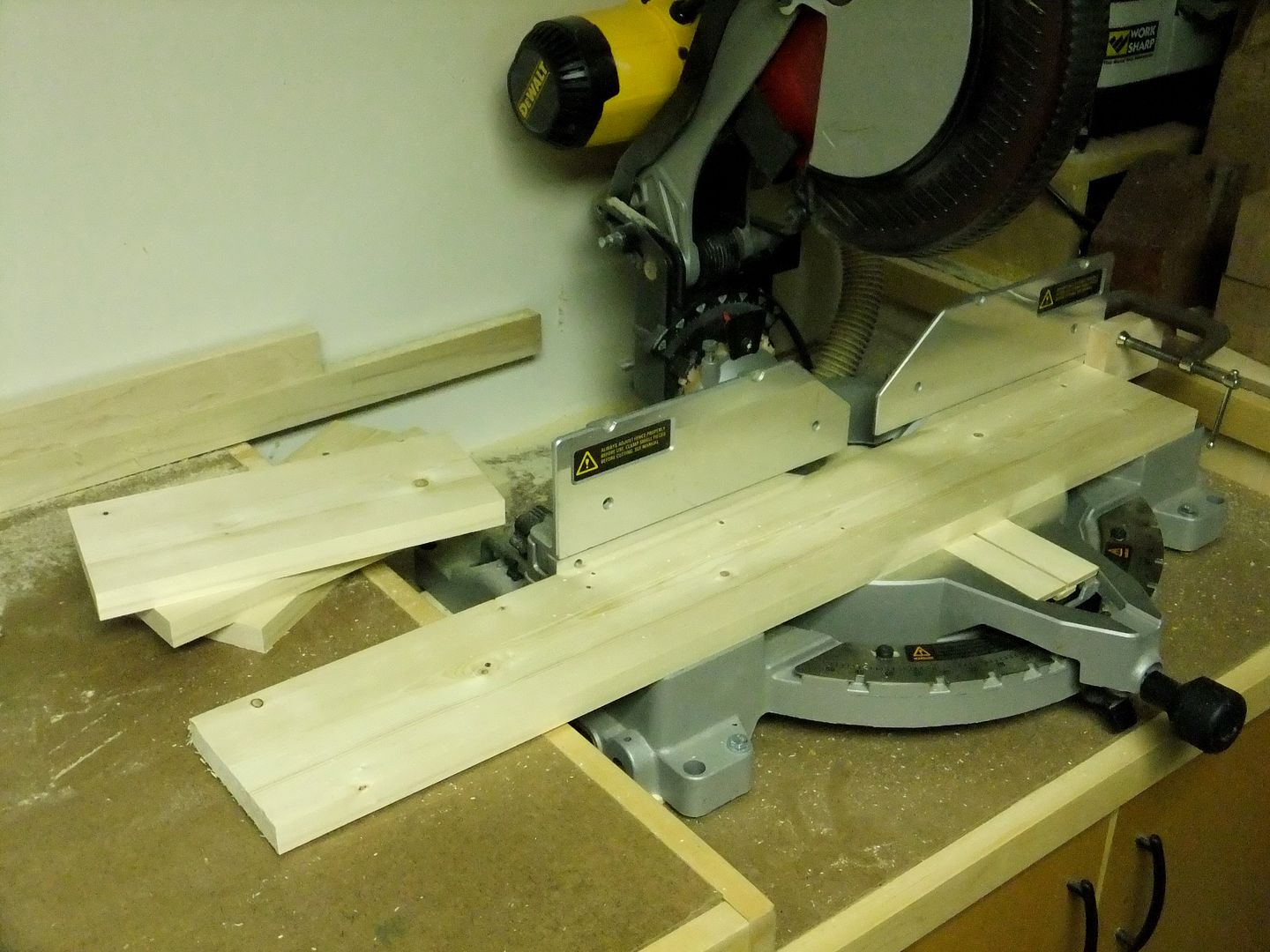 .
I then set two stop blocks on my miter gauge and installed a 3/4 inch dado blade. One of the stop blocks gave me the outside groove that leaves 3/8 inch, and the other flip stop block was three inches from the first stop block. Flip and repeat. Each board gets 8 grooves. I took my time setting up these stop blocks – they must be set accurately. I used scrap to test them to make sure that all the groves were on 3 inch centers.

.
I also grooved a few extra boards on their sides while the dado and stop blocks are set up. These will be used for making roof gables.
Then a quick sanding. This was all the sanding I did – yay.

.
I ripped these Swedish boards into 9/16 inch logs. Making the logs a bit skinnier than 3/4 inch leaves a little play in the logs to allow easier house building. A sharp blade made cuts that I did not have to sand.

.
Then to the router table with a 3/8 inch round-over. Each log received four round-over edges.

.
I stacked them in a tower to make sure that they worked. I threw ones that I didn't like or ones that had knots into the bucket. These ugly ones were cut up to make 3s, 2s, and 1s, so they were not wasted.

.
I selected a few of the logs and split them in half. These will be used to start a house on the odd sides. Some of these get cut into 3s, 2s, and 1s.

.
Time to cut most of the long logs into smaller ones. I readjusted my miter fence so that the dado groove notch was 3/8 inches away from the saw blade. I then glued a thin 3/4 inch stick to a scrap of wood and inserted it through this opening. I then clamped this scrap to the miter gauge. I now was able to load up several logs that would straddle this stick. I used another scrap to make sure that they did not jump up and then I cut multiples of the 3s, 2s, and 1s.

.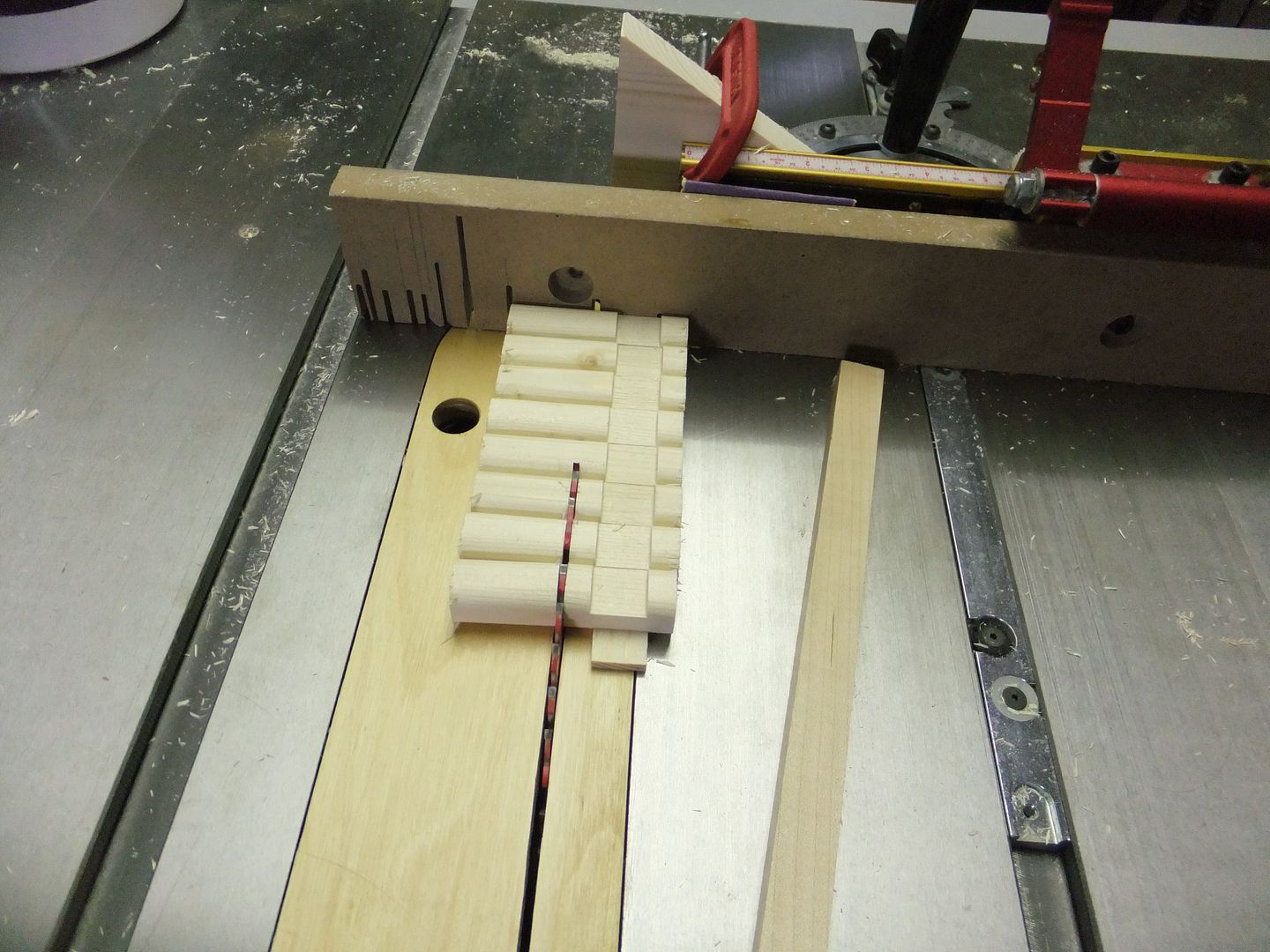 .
I decided to make roof gables too and used the boards that I had stood on their edges when I routed grooves in them. First I reduced the thickness of these boards to 9/16 inch so they would fit into 3/4 inch grooves. To give an idea of how they are cut up, I drew lines on two of them. The top one will make two 3s, and the bottom one will make two 2s, and a 4 – so two bottom boards were cut per set. Not shown is the unused part of the top board can be used to make chimneys – two per set. I rough cut all these on the bandsaw.

.
I then tilted my miter gauge at 60 degrees and clamped a thin 3/4 inch stick vertically to it near the blade. This allowed me to slide a gable onto the stick and cut, flip and repeat. This felt very safe and the results were very nice. I used the same stick position for all three sizes of gables.

.
I ripped some boards into a whole bunch of sticks for use as roofing. Some of these were cross cut into 2s, and 3s. I ended up making a lot more of these sticks than in this picture.

.
I glued some little sticks to the gable ends. When the glue dried I sanded them smooth and did a round-over on the router table. These will help hold the roof boards up.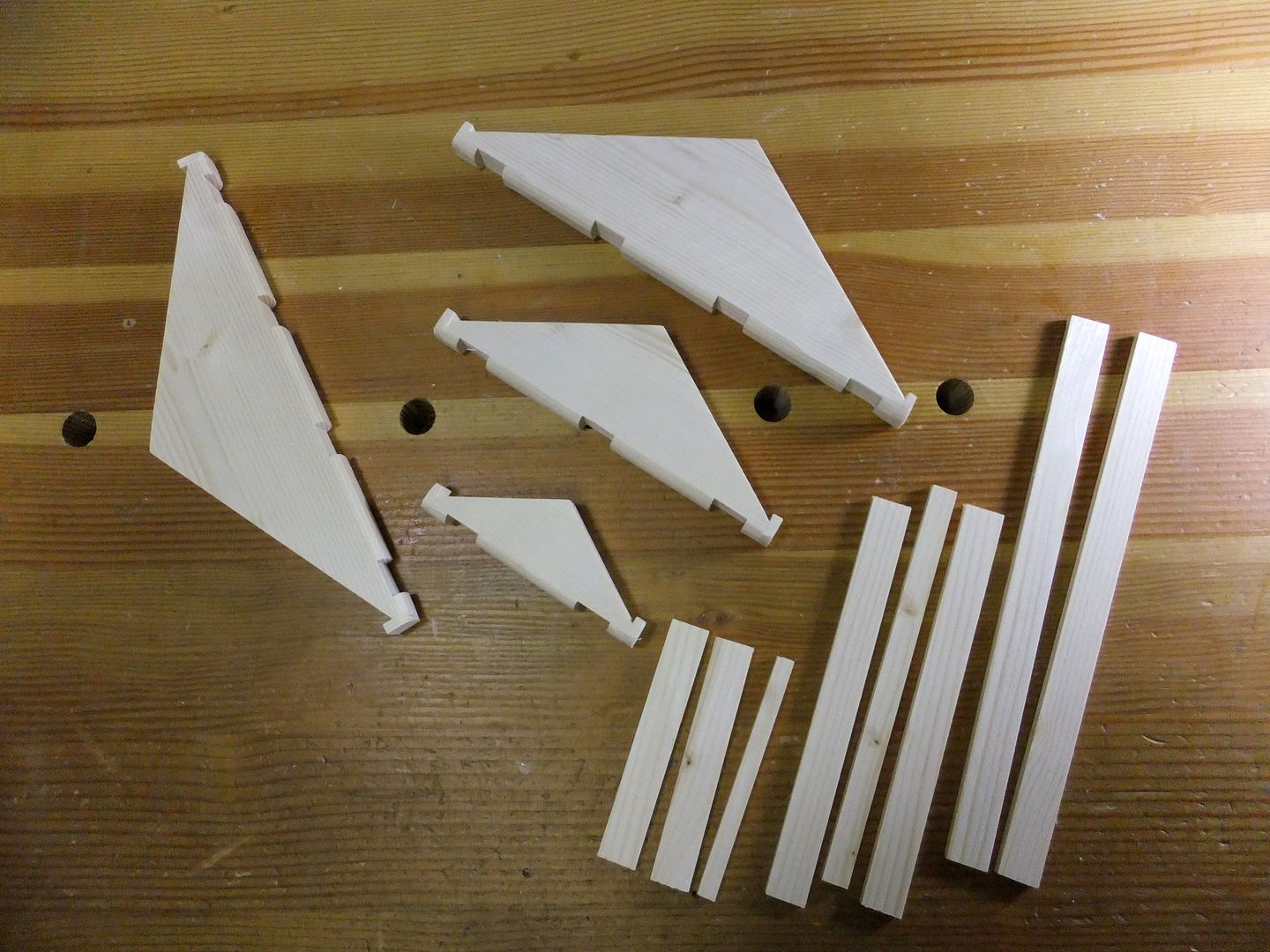 .
Done. One large set fits nicely into a plastic storage bin.

.
Thanks for looking,
Steve
-- -- I'm no rocket surgeon
---