Or maybe I should call it Two and a Half Steps. Anyway, I cannot believe that I am building another one of these, but heck, they are so much fun. This is a continuing saga of endgrain geometric boards using three contrasting woods. A light color, medium color, and dark wood selection are jointed and planed to the same thickness.
I started by tilting the blade to 60 degrees and ripping an edge on all three boards. I then moved the blade over about an inch and ripped again creating a small parallelogram – move and repeat one more time. I then used a ripping sled with hold-downs to do the remaining cuts, creating trapezoids. The height and width are not as critical in this design, but all of the trapezoids must be the same size. I ripped twice as many trapezoids as I did parallelograms.
.
Using the ripping sled.


.
So I ended up with pieces like this.


.
And the whole collection looks like this.

I took three different woods and glued them into sticks. Note that I let the parallelogram hang over the edges. There were two sets of three different arrangements.


.
I then did a possibly controversial operation. I moved the ripping sled to the left side of the blade. This is potentially not a good idea, as the part being ripped may become trapped between the blade and the fence. But since I was using the sled, I found that I had large handles to hold and was able to complete this operation without any problems or safety concern. This allowed me to trim the three piece assembly into a perfect parallelogram. This was a really cool feature of this build. The size of this parallelogram is not important as long as all the sticks are the same size. Again, no measuring. I found that a rough rip followed by a paper thin rip produced the best results.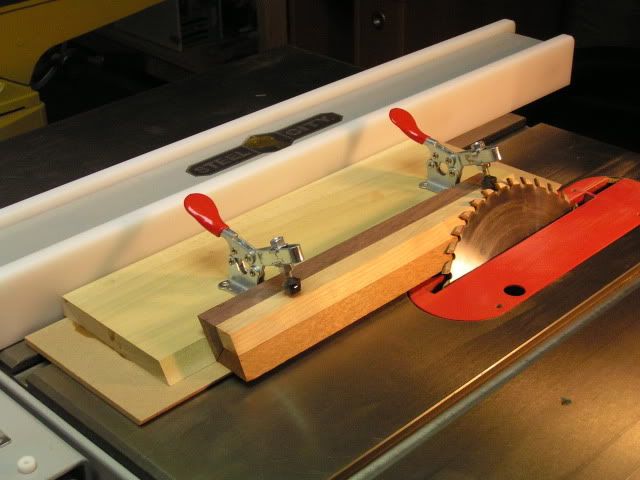 .
I then glued a stop block and an old cut-off on the ripping sled. With my miter gauge I now used it as a cross-cut sled. I cut the sticks into about 1.25 inch blocks.


.
Seeing a complicated glue-up ahead, I did a small bit of subassembly work. My thought process was that I would only glue two pieces together, as this would introduce a bit of randomness into the glue lines that were bound to appear. Not sure it worked, but that was the plan. I also cut four pieces in half so the pattern would end correctly.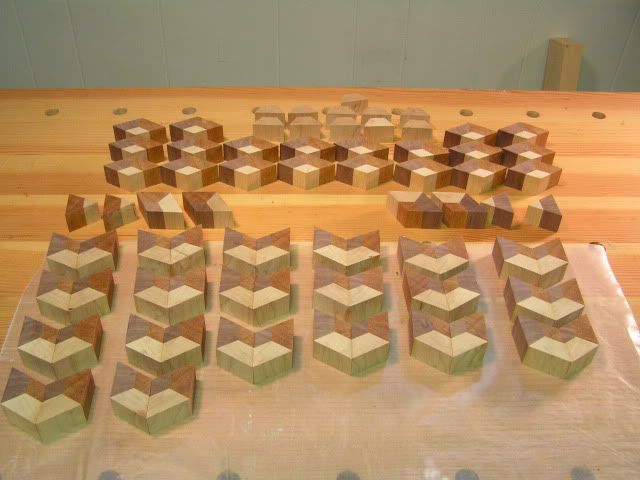 .
And here it is. It has a very rough sanding job and a wipe down of mineral spirits. But I just had to share.


.
I will post it to the project section when it is all cleaned up and oiled.
It is now Posted Here.
Steve
-- -- I'm no rocket surgeon
---