This is a new style of cutting board (at least new to me). I was thinking about 3D designs on the way home from work last week, after Martyn's Blog and Steve's Video. So I came up with this. Kind of Sinister, kind of Tumbling block. Once I drew it out, it reminded me of Staggered Stairs (which are kind of cool), and reminded Karen of the Steps on the Row Houses in Baltimore. So that is how the name came about.
I started with 6/4 walnut cut into 10 inch strips. This small length makes it easier to glue up. These were jointed in one corner and this corner was marked with a big 'L" marking the perfect 90 degrees. I thicknessed some cherry and maple down to half inch. I ripped these with a miter to be a little wider than the walnut.


.
By using a foam roller, I was able to apply a very smooth layer of glue.


.
This allowed me to glue up the sticks with a near perfect miter with minimal clamping.


.
When dry, I lightly passed the mitered corners of each stick over the jointer to reestablish the 90 degree corner. Then I ripped the raw sides to be equal widths on the bandsaw. Then sent them through the thickness sander to clean them up.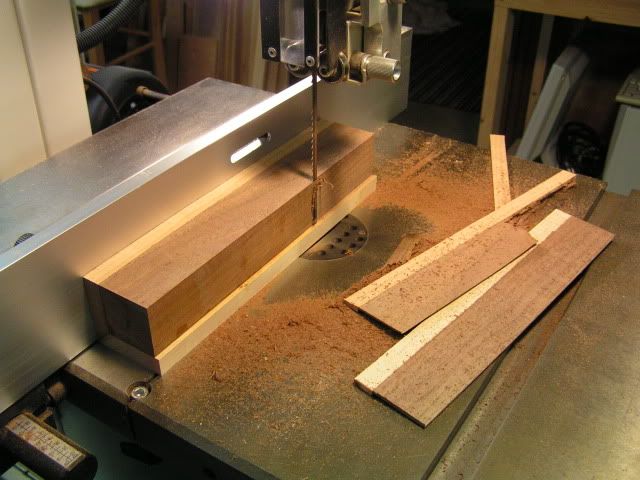 .
Now to cut the notch. I used the router table, making several passes with each stick.


.
To get the design to come out with equal rows on the top and the bottom, I had to make sure that the notches were half height. I kept raising the bit until one of the sticks when held upside down, would fit into another.


.
Now crosscut the sticks to the thickness of the cutting board.


.
I tried a dry fit to try it all out. Figuring out the vertical cut point for the sides is a bit tricky, and depends on the depth of the notches.


.
I glued it up (Yikes!), sanded it, and applied the first coat oil. It looks great. After I get some more coats on it and buff it out, I will post it as a completed project.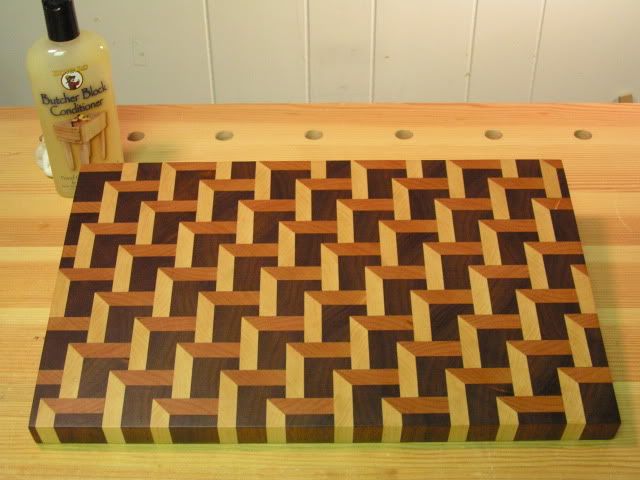 .
Steve
-- -- I'm no rocket surgeon
---