Hello all. Being as our second child is due on Sunday, and my wife is feeling that she may be early, I figured I'd better get this in ASAP :)
I am new to Sketchup, and far from a "SU guru", but I hope I managed to do at least a passable job on this…forgive me for any errors.
This bookshelf is inspired by Japanese Shogi Screens. Built to be very open and "airy", the design allows it to be used both in the center of the room as a divider (Like a Shoji Screen) or in a traditional location against a wall. Built in my preferred style, it looks complex to build, but in reality it is an intermediate project. The frame is a combination of 1" maple (legs) and 3/4" cherry, and the (optional) doors are simple 1/4" maple ply set in stopped dados in 3/4" cherry frames and inlayed with 1/8" cherry stock to form the "grass" (Although veneer would work just as well), and have decorative square maple pegs. The inlay in the plywood panels and walnut "tree" in the top are simple router-inlays and are scaled to use one of the 1/8" router inlay kits available at woodworking stores. I've also considered replacing the 1/4" ply in the panels with actual Japanese paper, as a real screen would be made of. If I went that route the only change would be that the rails only would recieve a dado, and the top and bottoms of the paper would be wrapped around 1/4" wooden cauls that would fit into the dados.
All four doors are "hinged" with pieces of brass rod sunk into the tops and bottoms of the outside portions of the "H", and either/both sets of doors can opened, or even be eliminated all together if a more open look is desired.
The joinery is a little unique in that it uses the end of a half lap to form a tennon that passes through the leg mortises, but this step can be eliminated all together for those who want a simpler build. The M/T can be replaced by a biscuit joint, dowels, or (gasp!) screws with contrasting cherry tapered plugs.
The shelves add to the open feeling, and are just simple half-lapped maple grids sunk into 3/4" cherry stock. The center groove in the shelves are just accents cut with a 1/8" saw kerf, and the inlay strip in the front is just a 1/4X 3/8" maple strip set into a dado cut with the tablesaw.
Thanks for looking!
Ryan Shervill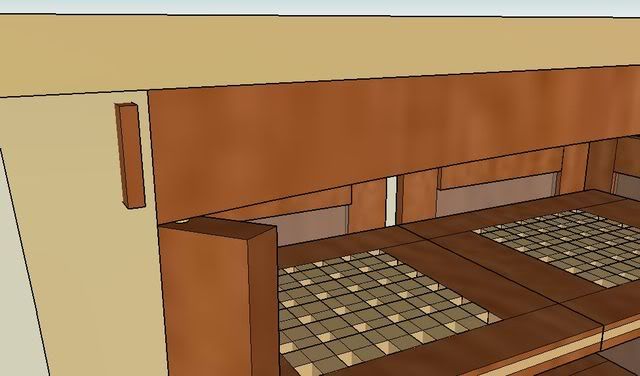 http://www.box.net/shared/j4zztv6ogs
-- Want to see me completely transform a house? Look here: http://forum.canadianwoodworking.com/showthread.php?41055
---