Update:
OK…it's going to happen….I'm going to finish….I'm SURE of it! Geez …after the two weeks of figuring out how to actually bend the stuff, the rest of it is a walk in the park :)
I do have a hint though…..take a look at this pic of a table and sculpture I did….theres a hint in this pic as to what I'm building ;)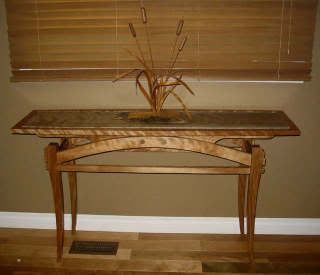 Everything will be revealed tomorrow!
Extra gratuitous pic of the sculpture….you may see this pic on the Lee Valley cover in the near future.
I built this to donate for the Rosewood Women's Shelter auction. It's titled "Wetlands", and I am happy to say it brought in a sizeable amount for Rosewood.
-- Want to see me completely transform a house? Look here: http://forum.canadianwoodworking.com/showthread.php?41055
---