It's day 3 of the 30 in 30 challenge and things are moving along. So far, I've finished a pine wheelbarrow planter.
These are pretty simple and go together rather quickly.
The next is a cherry box for the wife of my lumber supplier. She asked for a box and this is what I made.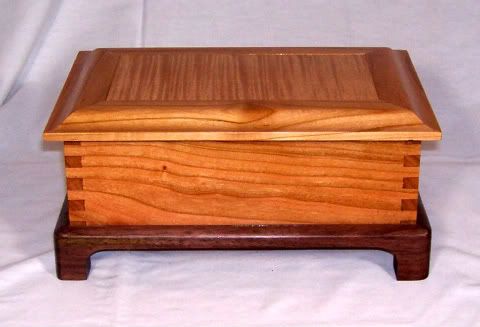 I also have a LongWood Pen and a LongWood Pencil made with Ebony, but I haven't taken any pictures yet, so those two don't count yet. (No pictures, didn't happen if I recall correctly) But they're coming.
In process is a spalted maple and walnut jewelry box, a cherry topped sofa table, and I have some leopard wood resawn and glued up waiting to be a box top. At this point, I've run out of milled lumber and will have to start cleaning up some in order to continue.
All in all, I'm feeling pretty good about my progress. The trick will be coming up with different things to make, but I've got all month, right?
-- Working at Woodworking http://www.VillageLaneFurniture.com
---