So, we have a small house….and unfortunately, a lot of stuff, so while watching some home improvement shows with the girlfriend, I decided to dust off my circular saw and build a shelving system for the small walk-in closet in the master bedroom. Of course, in my head, all of this seemed like it would probably only take me a couple days…..
It's been probably 20 years or more since I've done any actual wood working. I used to love making shelves and things in shop class. I was a pretty badass wood turner for a 15 year old kid, and knew my way around the scroll saw better than most…but I only ever made one piece of cabinetry….it was a night stand that I designed myself. the whole thing was made of cheap wood that eventually warped after a couple years, but man I was proud of that thing. I'll have to check with my parents and see if it's still bouncing around their house somewhere.
Anyway….20 years is a long time, and although I've done tons of home improvement work over the years, building a wall is much different than building a decent looking cabinet, so this was going to be a challenge.
I took some measurements of the space, and sketched up some crude drawings, but before I could make myself buy the lumber for the first cut, I beat myself up for about a week on measurements and uncertainty about space constraints. I bounced a ton of ideas off a buddy of mine who does a lot of stuff like this, borrowed some of his tools, and ended up buying a bunch more of my own…..
I stumbled on some Google sketchup videos, and decided to download the program and give it a shot. After several days trying to figure out how to use the program, this is what I came up with.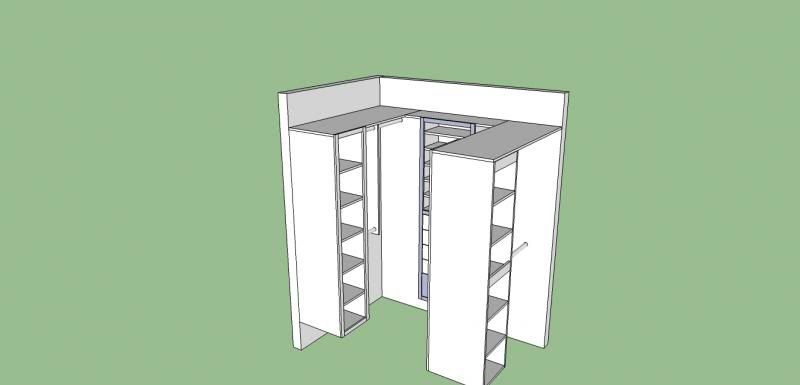 The closet is 52" deep by 75" wide. The front and RH side wall are hidden in those drawings. The closet door is unfortunately an inward swinging 24" door, which blocks off half of the right side of the closet. In order to remedy this problem (and make up for the lack of space to open the door outward), I'm removing the door and replacing it with a 24" bifold. The bifold has been disassembled, and instead of using it as a bifold, it will be hinged on both sides with ball latches at the top. This allows me to swing two 12" doors outward without taking up too much space.
The front two cabinets are 16" wide by 20" deep by 72" tall, and will have 5 completely adjustable shelves (maybe more….haven't decided yet). The Kreg shelf pin jig is one of the best tool purchases I've made…..it really made drilling all of those holes a snap.
The back cabinet is 22" wide by 12" deep by 72" tall. The bottom half of this cabinet is going to be inset drawers with floating undermount slides. The upper half of the cabinet will be closely spaced adjustable shelves for shoes/purses/whatever else the little lady can shove in there. I'm going to build a full length mirrored door for that back cabinet so when you open the closet doors, you're staring at a 6' mirror.
The shelving units float 10" off the floor, and a 20" wide shelf will run all the way around the top. The right hand side is double closet rods from the cabinet to the rear wall. On the left side, there will be a short divider halfway between the shelving unit and the back wall….the front half of this will be double rod, while the back half will be single to allow for dresses and other long items.
I was originally going to use MDF for the units, but due to the weight I went with 3/4" birch ply for the boxes themselves, and faced the cabinets with 1×2 maple.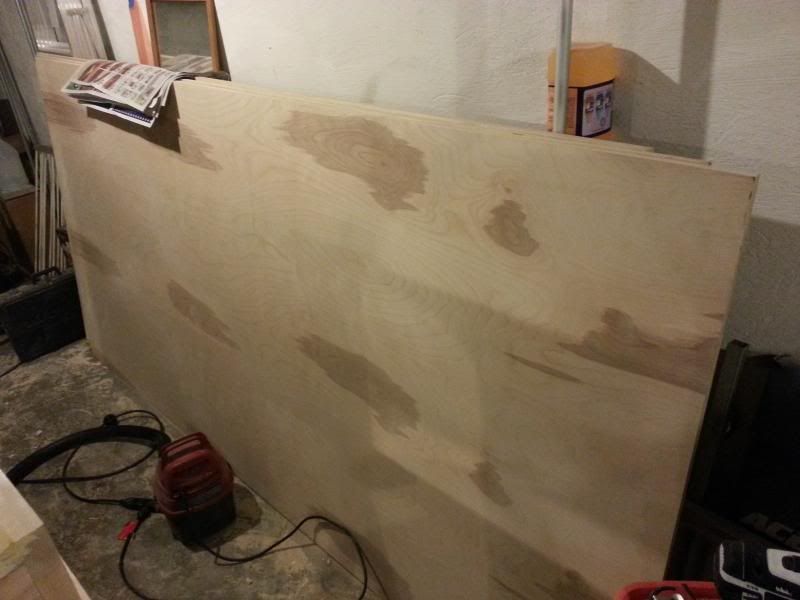 Here's how the three units look right now:
LH cabinet getting kreg pocket holes filled/sanded: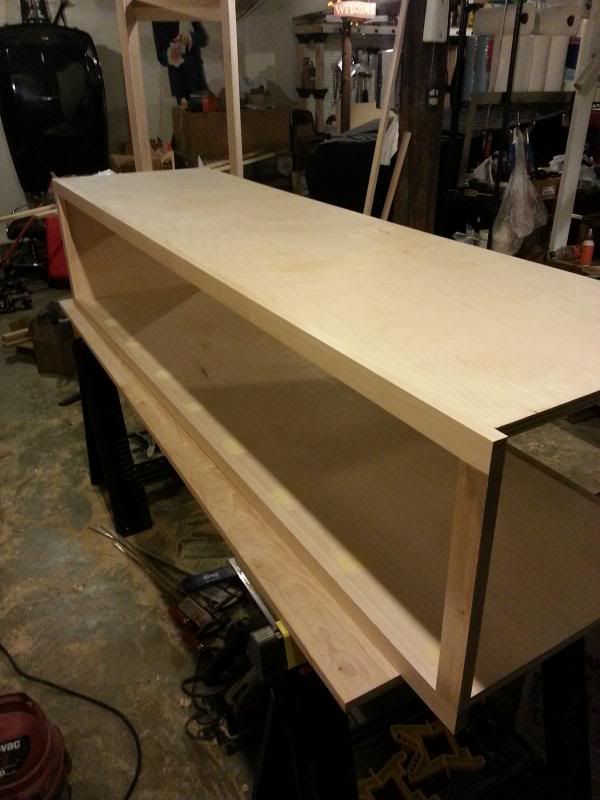 RH cabinet primed: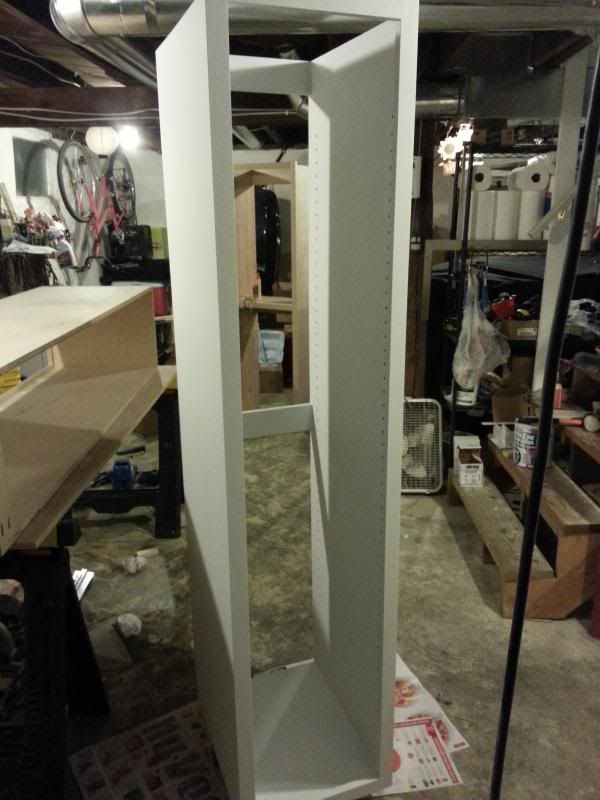 Rear cabinet: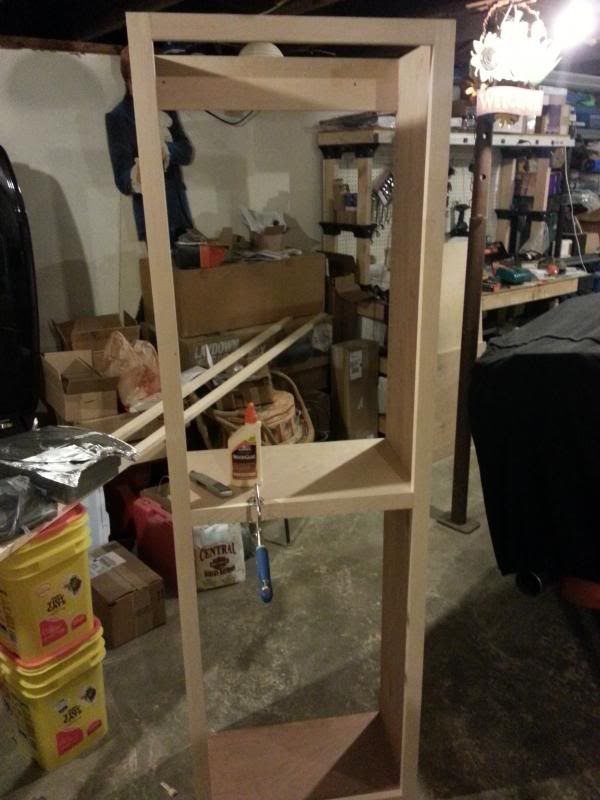 Sorry about the mess in the garage/basement. I told myself I was going to clean off the work bench prior to starting this project…but that just didn't happen.
Hopefully I'll have the other two cabinets finish sanded and ready for primer tonight. Hoping to be painted and hung in the closet by Thursday night. More pictures to come.
-- -Gib, Kansas City, MO. Amateur woodworker & owner of One Tiny House - http://onetinyhouse.blogspot.com/
---