After a seemingly successful beach driftwood project earlier this summer, I knew that the next trip to the beach would include a hunt for more treasures, perhaps even ones of the slightly buried variety. Again the family returned to Sargent and again the Texas tides did not disappoint.
My wife actually went to the beach with the kiddos a day prior to me and upon seeing her later that evening; she said "I saw a piece of wood you may be interested in." "Cool!" I said, thinking that I have at least one more pirate on my crew. Believing that perhaps other family members wouldn't laugh at me quite as much as I stroll amongst the debris, I looked forward to the next day.
I learned quite quickly that you do need to be pretty picky about the driftwood you do decide to pilfer from the waves' wreckage. Among all the (disappointing) litter and limbs, twigs and trunks, you'll occasionally catch sight of a milled piece of lumber. Then depending on its positioning you have to wonder; is there enough there to bother with? Is it rotted through and through or just in one spot? And more importantly, can I pull it from the beach's gritty grasp?
The other fun part is always speculating on the origin of the finds. The thoughts range from the simple—someone threw this down here instead of in the trash while they were visiting the beach last week— to the spectacular— this drifted over from an ancient rum running boat that capsized in the Caribbean Sea in the late 1700's after it was attacked by a giant squid. Thus, without the help of carbon dating equipment and with the aide of an expanded imagination, the spectacular usually wins out…. for me.
So yes, this trip provided a new set of discoveries. Surprisingly enough all three finds were all approximately 6 feet in length. One piece of shiplap type siding, roughly 7 inches wide, a 1×4 of either oak or mahogany and a heavy 2 inch by 6 inch (actual measurements) pine board that appears to have been in the water a long time yet seems to have help up well.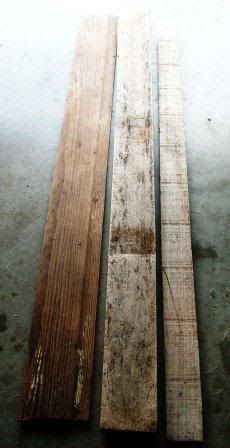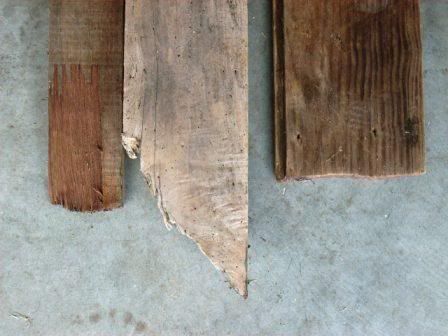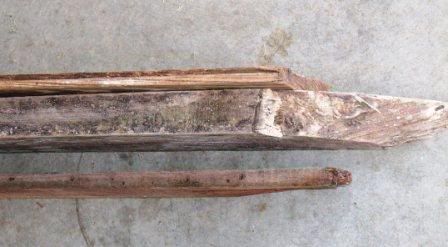 While I haven't decided what exactly I will make with these beach boards, one thing is for certain, there will be a story attached. Perhaps an idea will come to me after a shot of some 200 year old rum and some calamari, now, where'd I put that bottle I found……?
-- Rob (A) Waxahachie,TX
---