I gave up on finishing this checkerboard project in time for Christmas, and then I was out of commission with a bad chest cold for another three weeks. Once I was back to 100%, I got to work finishing my White Oak Bookcase project. Now it's time I got this one back on track.
The last thing I had done on this project was to glue up all the squares for the top. I did half of the board at a time and then used my biscuit joiner to join the two sections together.
I put in some time yesterday flush trimming the edges with my router and scraping and sanding the playing surface to clean up all of the glue lines. Tonight, I filled some hairline gaps with Medium CA Glue and sawdust that I had saved to make them disappear. It worked like a charm, then it was on to more scraping and sanding to remove of all the tape and CA Glue lines.
I'm not a big fan of my band clamp (an old Sears Craftsman model) for gluing up miter joints, so while I had the CA Glue handy, I built myself some miter joint clamping cauls for when I'm ready to glue up the top and bottom frame pieces. I used the Woodsmith Shop style that I've seen discussed here on Lumberjocks. They were super easy to make and seem to be a huge improvement over my band clamp. I'll post a photo of them when I use them.
I finished up tonight by cutting and gluing up a 3/16 band of Pau Ferro (Bolivian Rosewood) for an inlay between the checkerboard and the outer frame. I tried out some strips of cherry, walnut, and white oak that I had left over from my net building projects last Fall just to see how they would look. The cherry was nice, but to me it looked like there were too many types of wood. I decided it looked better with the Pau Ferro that I used for the dark squares. I'll get back to net making again soon to use up the rest of my strips, and I now have a few strips of Pau Ferro to work into my nets.
I'm planning to attach the White Ash frame pieces to complete the top assembly on Friday and get back to box building over the weekend. I have a Porter & Cable dovetail jig that I picked up several years ago and have still never tried. I've heard that they can be finicky, so I'm planning to get some practice before I attempt to cut the dovetail joints for the base that will support the checkerboard and house the storage drawer. I have a bunch of drawers to build to complete my router table, so I figure I'll start on those, and get practiced up before working with the White Ash boards that I've been saving for the base.
Here's a couple of photos of the top that I took tonight with the inlay strips glued up. I need better lighting in my Garage. I took one without flash and one with.
No Flash: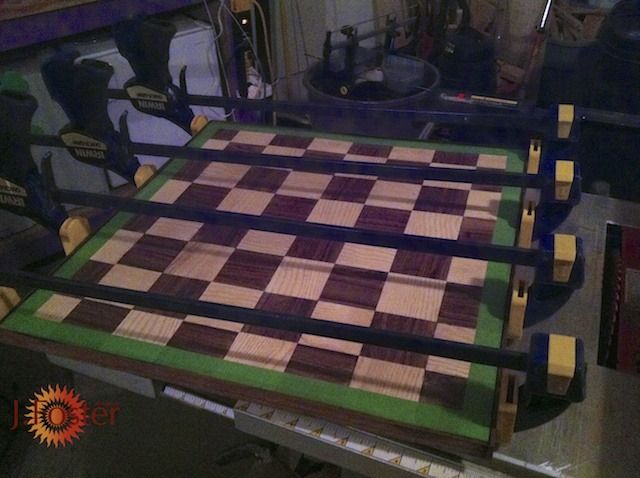 With Flash:
-- "There seems to be a black hole in my garage that swallows up pencils and tape measures as soon as I put them down."
---