This blog is now about a Work In Progress.
Well, its been a long time since I first posted this – but I have been putting together a little bit of a woodshop out in my garage. This has taken a lot of effort in getting the space cleaned up, cleared out and improved. I first built a set of large storage shelves for putting all (or at least most of) our storage bins onto. This created a lot of usable floor space. I also added insulation above the garage, and glued 2" thick foam panel insulation on the inside of the garage door (my table saw was great for cutting and shaping the pieces!). I built a wooden bike rack for the kids and grandkids bikes. I put in additional lighting, purchased pipe clamps, a new circular saw, and worked on clearing other junk out of the garage. This all progressed very slowly, and there is still a lot to do to put things in better order out there, but I am finally to the point of being able to get started on this project !
I modified the plans for the cabinet to fit my very beginner skill level and extremely limited budget – eliminating a lot of the trim pieces and planning to use plywood for the carcass and cover the edges with glue-on veneer strips. I decided to go with Oak for economic and availability reasons. One reason I have for cutting down the complexity of the project is that I know I am a beginner, and I want to get the most of the experience without wasting a lot of materials (& money).
So far I have built my very first cabinet carcasses, and I am learning a lot along the way. Here is a pic of the lower carcass: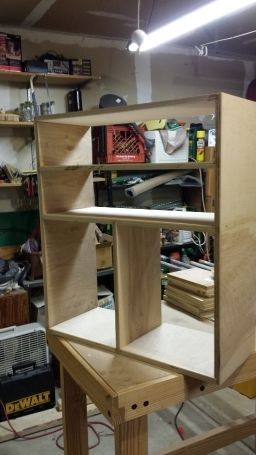 And this is the upper carcass:
I am working on the counter-top that will be on top of the lower carcass and under the upper carcass – but made a mistake in shaping the two side pieces (made from 1×3 Red Oak) and will have to purchase more stock.
-- There is no greater love than this, that a man lay down his life for his friends.
---