Hey everyone once again I'm super busy: Full time job, ebay business, and woodworking hobby, not to mention wife, two little boys, dog and my newest addition to the wood shop…. Peanuts the kitten who I hope will become a savage mouse slayer.
So I took some products to a local christmas show and…....... CLEANED HOUSE! Oh yeah I was a smash hit and even made the local paper. Here are some pictures of the event. I had, of coarse, Cutting boards, Lazy Susans, Wine balancers, and I sold two curly maple display cases. I'd like to Thank closetguy for the craft show inspiration (his blog is wonderful) and the business card idea worked great. I would like to thank Lumberjocks and my buddies here for the great ideas and helpful advice. I have spent all of Thanksgiving Holiday rebuilding my inventory for another event next weekend I hope it turns out as well. Later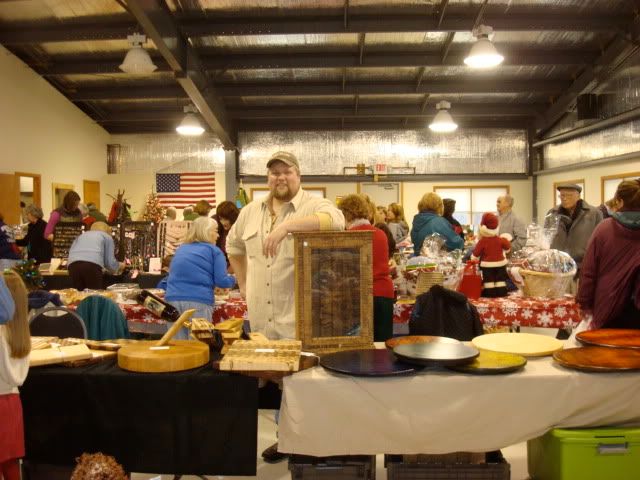 Cutting Boards

Lazy Susans

Display Case and Lazy Susans

End grain Cherry Butcher block, Wine balancers are Ambrosia Maple and some crazy ingrown bark Hard Maple.

Ambrosia Maple End Grain 14" x 19"

-- There's many a slip betwixt a cup and a lip.--Scott
---