This is SUPER slow-going…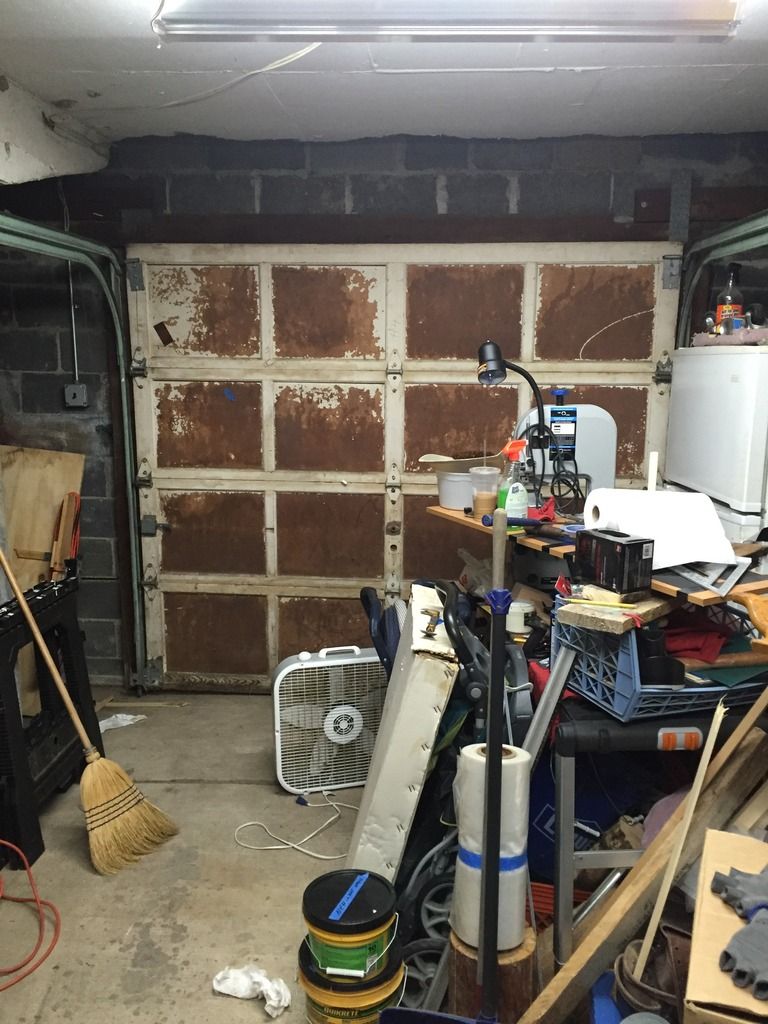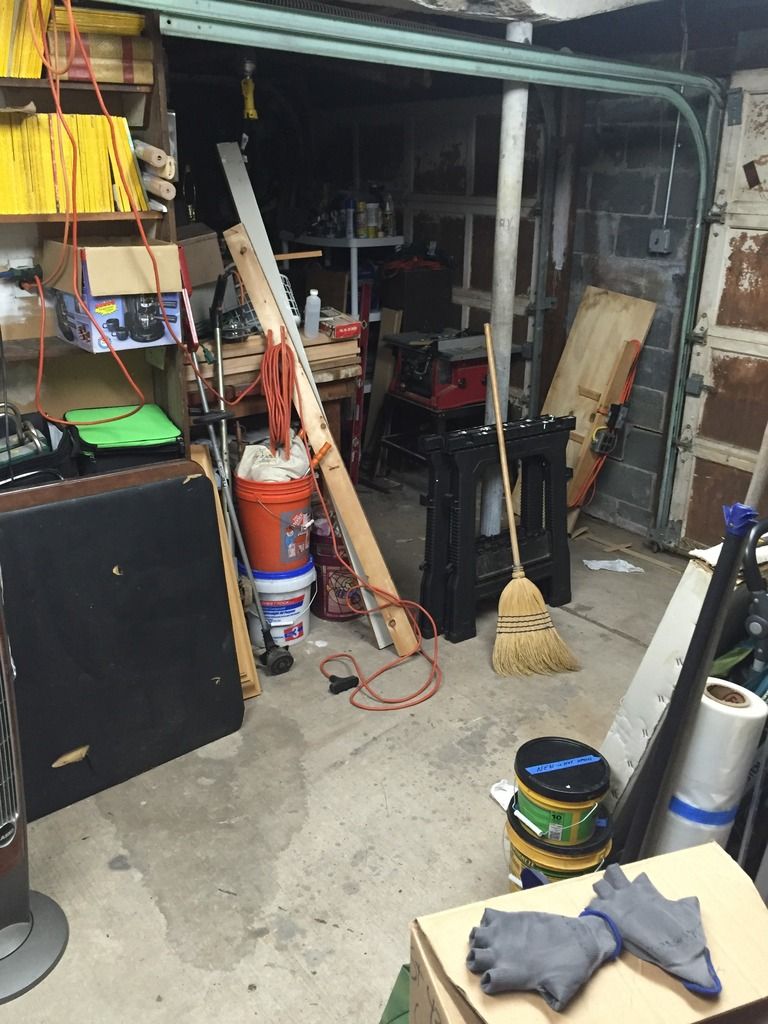 It is really difficult to see in pictures, for many reasons. Obviously, if someone is viewing the pics, there is only a cursory and "2D" perception of what is really around! But, writing as the person doing all the cleanup? I feel a massive and satisfying sense of accomplishment. And I am not nearly done yet!
Finally began removing lots of the items and storage boxes/bins from the garage; I have been staging all the containers in the appropriate places in the house:
- Christmas and Halloween decorations are on the floor beneath the attic steps, eagerly awaiting their resting place…
- There was so much (TOO MUCH) that pertained to summertime/beach season… I am talking bins and bins of stupid toys and items that I have no clue how they were accumulated! DOZENS of buckets of all sizes, and little kid shovels, and sand castle molds… beach and volley balls, tiki torches, badminton sets, croquet sets, horseshoe sets, pool toys, wiffle balls and bats… its all going out into the backyard shed for the season!
- a big box of hosting and party supplies which I wont post.. sternos and buffet racks, party paper products and games… it all goes in the relevant closet in the 'backroom' (den, basically) addition to the residence
So everything is finding its place!! The huge pile on and under and around the little work bench, right in front of the big overhead door, is the accumulated 'trade' fodder thus far. I'm not cleaning in that sense, as I have said before. At this point I am really just grouping things together. That pile will take a day in itself to sort.. it contains many hand tools (new and old like chisels, mallets, rip/crosscut saws, backsaws, etc), several power tools, my belt bags and dewalt bags with my oscillating tools, impact gun, sawzall, hammer drill, etc… That is also the area where I am temporarily putting building materials: cements, glues/adhesives, tapes, fasteners, rolls of 12 and 14 gauge wire, too many sets of ratchet straps, and the list goes on (and on and on…). Unfortunately, this pile is just of the tools and materials I had on hand, in my car, on a job, or found in the area I have cleaned thus far… Which means that the NEXT phase in this process is going to be a tedious and slightly overwhelming nightmare.
I have finally reached the point where the main area – rather, the area with the most continuous square footage – is nearly completed. This next section, which is really the other half/side of the garage, is going to take a very long time…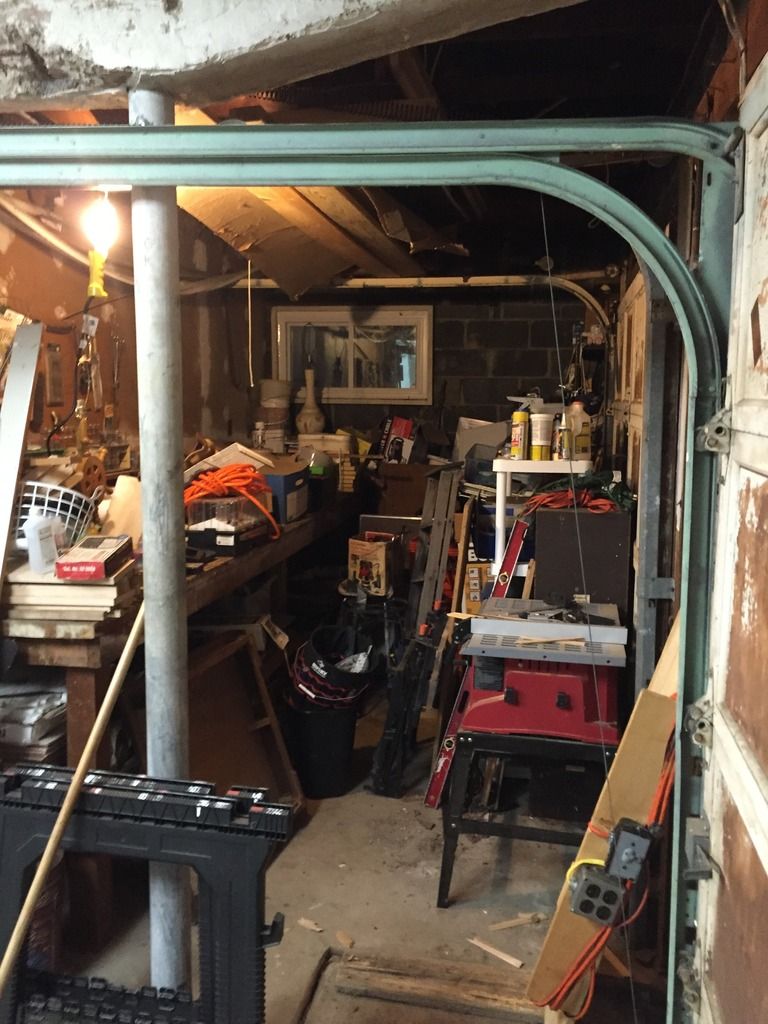 If you can't tell, there is another overhead garage door in front of this area… but the space is more narrow because there was an additional room built (the wall the bench is on is shared with the room). This workbench was here when we got the house – it is a little long @ 14 feet and a little high at slightly over 40 inches (which I like), overbuilt like a tank with super old and rustic 2×12's for the top and 4×4's for legs (which I also like), has a storage shelf beneath the bench top that runs the same length and width (which I REALLY like), but is a ridiculous and obscene 36" front to back width (which I hate). A bench that is built into a wall, with access on only one side, has no business being that deep. Luckily I am tall and have long enough arms that I can reach, but barely. The idea is to eventually do some nice built in storage along that wall – that way, the usable benchtop will become something more appropriate like 24 inches, and the storage cabinet install won't really have any negative impact.
This area is where all my father's, and my father's father's, and my mother's father's, and you get the point… this is where random and old (and quite likely some NEW) tools and items have gone to die for the last 33 years…....
I feel like the ratio of "trash to treasure" is going to change significantly for this section of the garage. Guys like us won't throw away most/many tools, especially if those tools are useful in any way. Axe heads, old draw knives, vintage turning tools, a massive old lathe missing its motor, my grandfathers sweet steel compass and protractor draftsmen's sets from the Philadelphia Arsenal….. theres literally no quantifying what I will be finding in this area. And since the ratio of things kept to things junked is swaying the other direction, its going to take SOOOOOOOO much longer to complete this facet of the garage shop!
COOL! That's it for now… tomorrow or Thursday I will begin tackling the workbench area of my garage… I will be leaving the pile of tools and materials alone for now…
Wish me luck. And also wish me NO MORE SPIDERS please god I'm such an arachnophobe…
-- PeterDominic1983 Lower Bucks, Bensalem, PA
---