Well! It has been almost two weeks since I last updated this blog… I don't typically slack like this, but I had to put the garage cleaning (and work in general) on hold.
So… after a visit to the ER, Xrays, an MRI, and several mind-numbing appointments with orthopedic specialists and a neurosurgeon, it turns out I have degenerative disc disease in my spine (pretty common occurrence) as well as bulging discs in my lumbar region… Most pointedly, my L4/L5 discs between my vertebrae are herniated to the point that they are putting significant pressure on my sciatic nerve.
I thought I had only pulled a hamstring or something! Instead of getting bedrest and immediate consultations from a physician, I continued to work, installing a whole kitchens worth of wall cabinets, doing a beautiful backsplash, and then wiring and installing some custom undercabinet lighting. This was not a good idea. It was definitely NOT conducive to a healthy spinal column!!
After this brief hiatus, I am now eagerly awaiting my appointment for a corticosteroid lumbar epidural. If this doesn't work, I will be forced to get some invasive surgery (laminectomy/discectomy)... basically the neurosurgeon will cut open my lumbar muscles, remove a piece of bone from my spine, move the sciatic nerve out of the way, and more or less "shave" the vertebral disc.
Gross. No thanks.
But I am finally back to getting this garage in order, despite all this grief and aggravation! The empty cardboard boxes and plastic containers are still piling up!! I actually got a wall cleared enough for a baker's rack… but, hey! There is a wall.. that I can touch… with space on it! Glorious!
I also found a massive container filled with medical supplies… My mother was an LPN then an RN and hospice nurse for a long time… This container had these catheter kit trays and irrigation kits. Since I have been trying to Craigslist some random things, I asked my mother if these kits had value. Turns out they have expiration dates because the sterilization process doesn't keep forever… So I couldn't sell them. BUT… but, but but… I opened one up and was pleasantly surprised. The kit is wrapped in a 2' x 2' square of white waterproof fabric, lined on one side by plastic… inside the wrapping, there are 2 more pieces of this waterproof white fabric, as well as a pair of purple nitrile gloves, a clear specimen container (with a label, if needed), and a syringe filled with saline…. Then I checked out the irrigation kit. This one had a big syringe (think turkey baster!) and a container the syringe fits into! Both the syringe and the liquid container were labeled for cc's or ml's…
Now I'm not a master woodworker by any means.. nor am I a professional painter/finisher. But I AM pretty damn clever and resourceful when I need to be… These kits SCREAM to me things like staining, finishing, shellac mixes, etc… I mean, waterproof white fabrics to finish projects on, complete with measuring and mixing containers and tools??? I could even see these being useful when using epoxy in some situations… Score. I'll toss in a pic of each.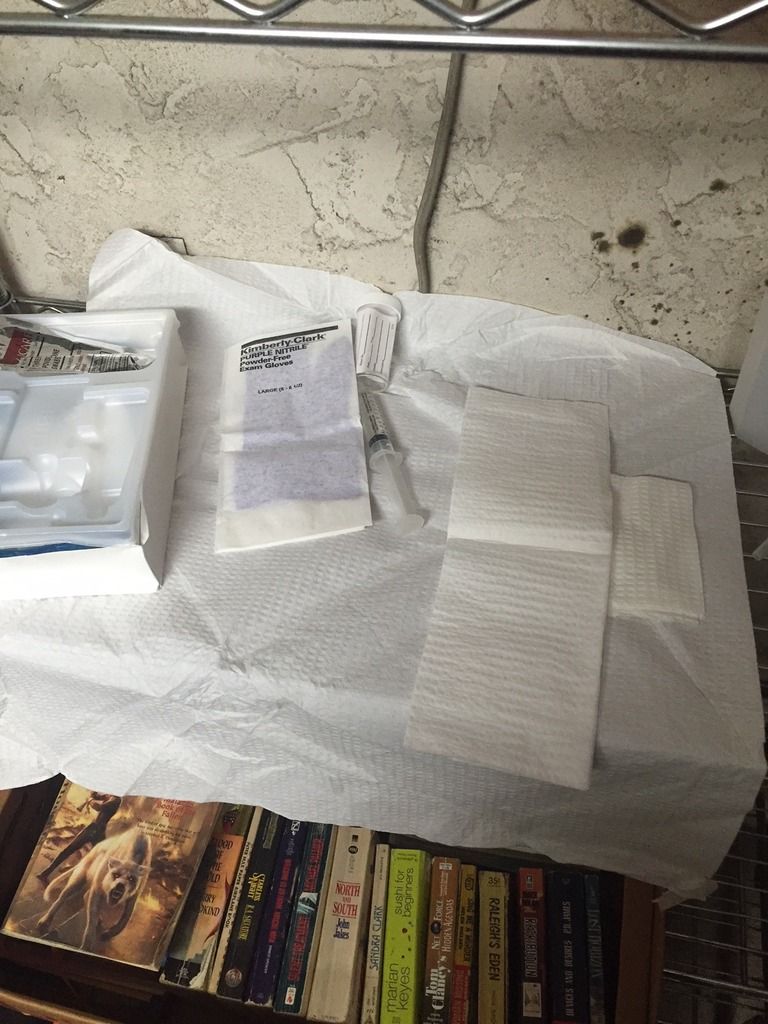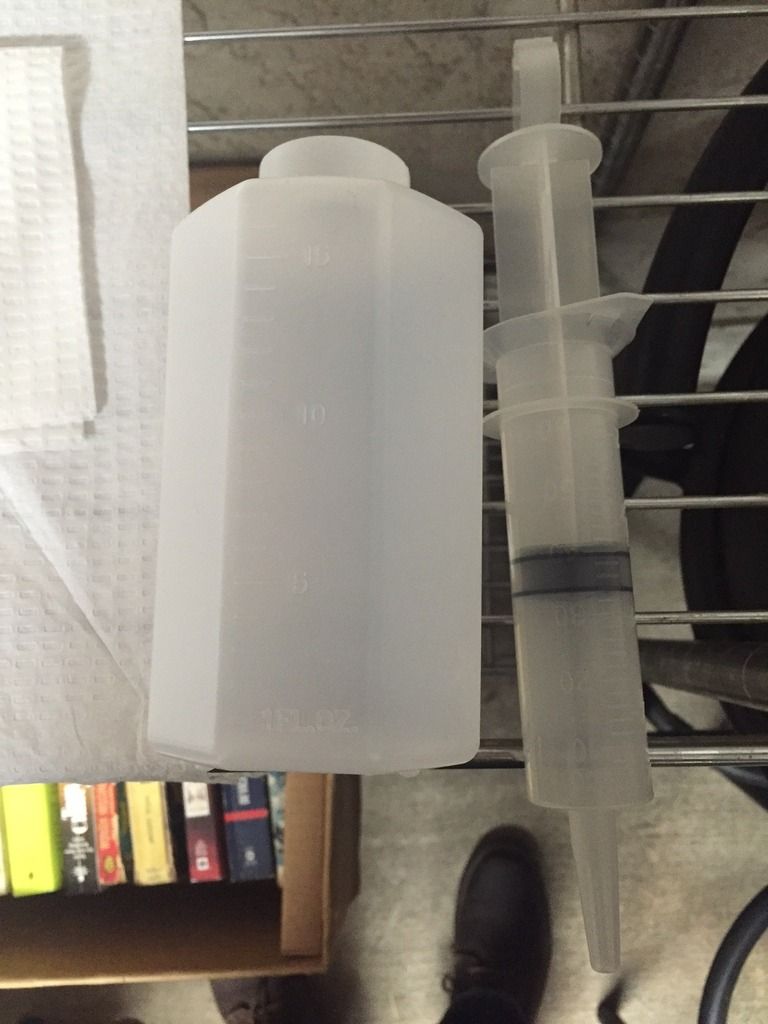 Anyway, quick pic of my gloriously visible wall… it has been a long time since I have even been able to see it, let alone touch it and use it for storage!!!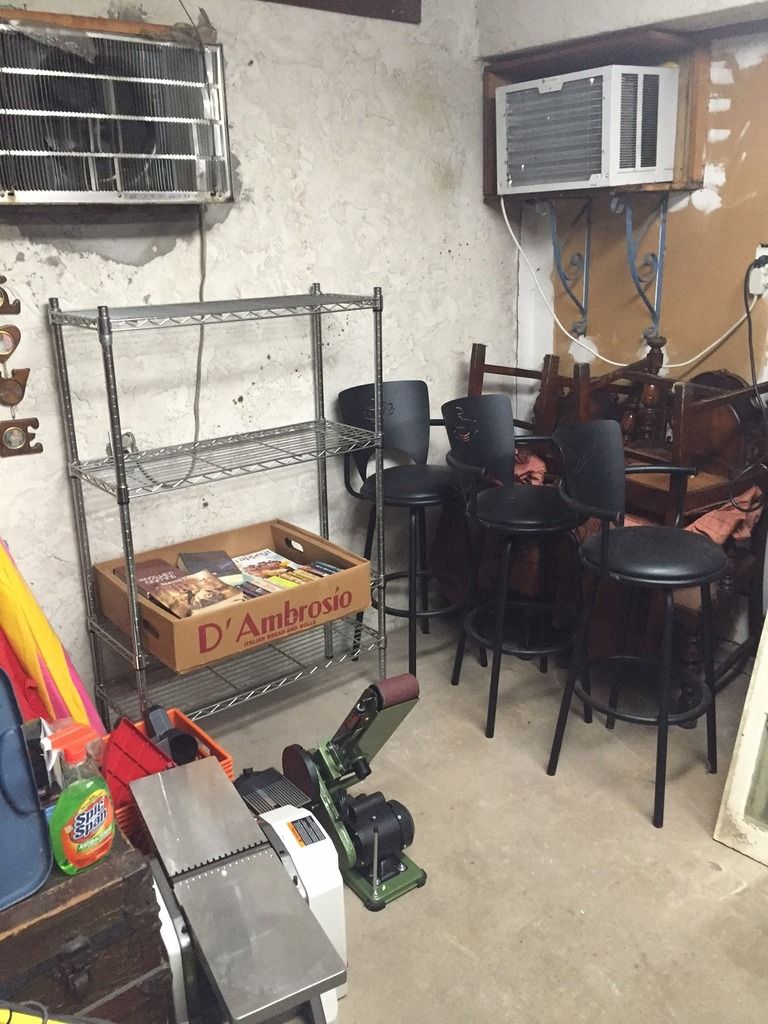 More tomorrow… I plan on updating my floorplan to include a wall with double pocket doors I am going to build. This way, I can still utilize SOME of the space for clean storage. The wall will separate stored items, as well as protection them from saw dust and other hazards!
-- PeterDominic1983 Lower Bucks, Bensalem, PA
---