To refresh one's memory check out WayneC's Blog at: http://lumberjocks.com/jocks/WayneC/blog/1439
This is my first attempt, so keep this in mind. I will only accept criticism to a point and I request that you please forgive any and all, punctuation, grammar or mispellings.
What I believe to be a Corsair Plane I purchase from a gentleman in a Southern Indiana Flea Market for the whopping sum of $3. So if this didn't work I am not out that much, right?
Anybody ever hear about a Corsair Plane?
Anyway here is was in the shape that I received it: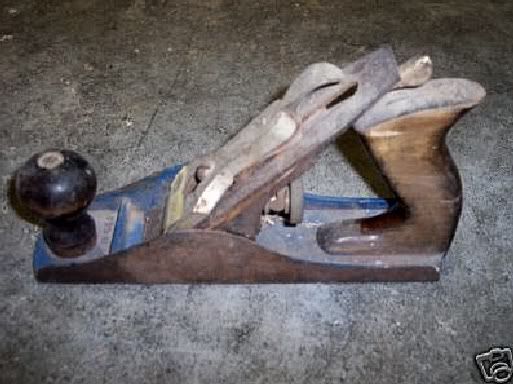 Everything was rusted tight. Nothing outside of the screws that took the handles off turned or moved. I do love the challenge!
Here are some of the parts:
Now then. I do not know what the time frame one should leave these items in a little vat of Citric Acid and water at all. Plus I was rather anxious to find what the finished product might be. Anyway I spent only about an hour, maybe less armed with the planer parts, a small container of Citric Acid powder, some 0000 steel wool, a flat screwdriver and my trusty pocket knife.
Wayne: should I have left the parts in the little concoction overnight? I supposed they might disappear if left too long….?
This thing was in really bad shape. I think the bottom of the plane was sat in something like a varnish.
Here the parts fresh out of the vat and dried:
I went and got a few of these little cans of Citric Acid in the canning section of a local farm implement store. Just imagine what this stuff does to you stomach! (Orange Juice)
Here's the final product: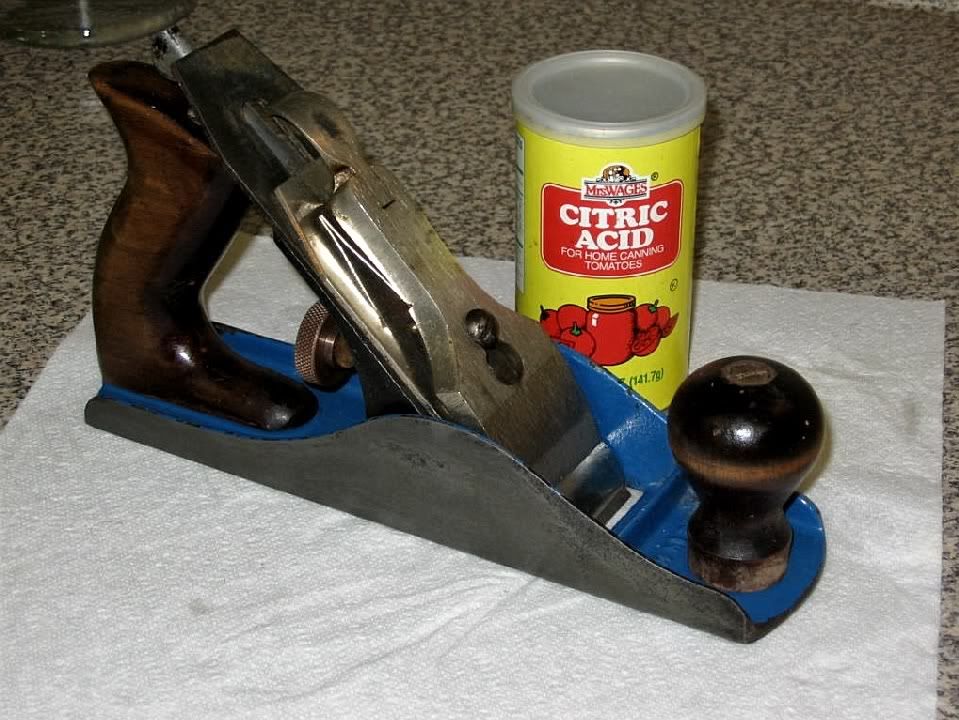 What do you think Wayne? I think it did well.
Wayne again I find me thanking you for you little information Blog on how to fix or otherwise renew old tools….Thanks!
———————————————————————————————————————————————————————————————————————
I have located a mail order source for this Citric Acid Powder for those who want to try. Maybe you have found this or another site but here it is: http://www.bulkfoods.com/
The cost is … $12.23 for 5 pound or 25 pounds for $58 and change plus of course shipping. (Over $50 total on items, the shipping is free)
Hope it works for everyone else as well as it has me.
-- Carpe Lignum; Tornare Lignum (Seize the wood, to Turn the wood)
---