I don't really think I could call it a Kiln yet, but it is helping the wood to dry a little quicker.
More than a year ago I started building a prototype solar kiln, but didn't finish it for various reasons. Among other reasons, we moved to the farm, and there are more pressing jobs taking up my time.
With all the logs I've been collecting and slabbing, I was running out of under-cover storage for air-drying, and anyway, my prototype kiln was never designed to hold this much wood, let alone the much larger collection of logs that are NOT under cover.


So one day my wife suggested I use "that corner room" which was not my intention, because that room will one day be renovated and rented out as a flatlet. So she says "It will be more than a year before we get to that point, so use it until then."
Behind that red door in the center is my new 5m X 6m drying room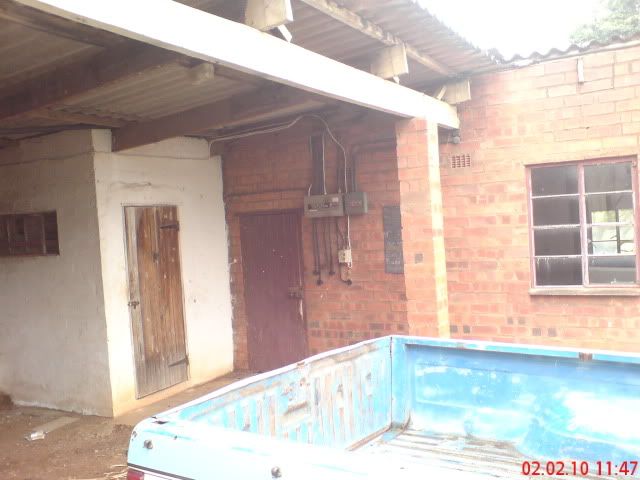 .
Needless to say, I didn't protest any further and took possession of it and started stacking slabbed logs. In that room is a heavy-duty ceiling fan that (despite appearances) still works. So I ripped out the [email protected] ceiling and insulation and attached a thermostat to the fan. Now, any time the temperature in the room reaches 32 degrees C the fan starts blowing. I've walked around in the room when the fan is working, and there is a healthy breeze blowing through the air gaps between all of the slabs.

It gets very warm in there on a sunny day, and I can smell the wood moisture in the humid air. This room is definitely going to accelerate the drying process and give me some beauties to work with.
Currently I have the following woods drying in my almost kiln:
True Yellowwood – Podocarpus Latifolius
Outeniqua or Sickle-leaved Yellowwood – Podocarpus Falcatus
Wild Plumb – Harpephyllum Caffrum
Eucalyptus – I don't know which one
.


.


.

Soon to be slabbed and added to the room are:
Flamboyant – Delonix regia
Kauri Pine – (apparently) Agathis Australis
To further accelerate the drying of the logs, I'll be painting the outside of the roof sheets black, and placing the broken windows. After I repair or replace my moisture meter I'll keep a weekly record of the moisture content of the slabs and compare them to some control slabs I'll keep outdoors for air drying. Once I have some tangible results for comparison, I'll post them for your info.
Cheers.
-- I may be schizophrenic, but at least I have each other.
---