I spent several days of the last few weeks slabbing a large Eucalyptus in a very public place (See my Rescued Wood Posts 8, 9, 10 11, 13), and many people stopped by to watch what I was doing, and to question me about my Alaskan Mill.
One of these spectators knows someone who had cut a heavy branch off a Yellowwood tree because it was threatening his home & business. (let's call him Jack) So, Jack is a lover of wood, but not a serious woodworker and he didn't want to dump some beautiful wood. Through his spectator friend he managed to get my phone number and asked me to come visit him to see if his Yellowwood pile was worth trying to mill.
We struck a good deal for both of us – I mill the wood and he gets one or two planks from the larger log after drying (I get all the rest)
Here are 3 of the 5 planks milled from the larger log with my Alaksan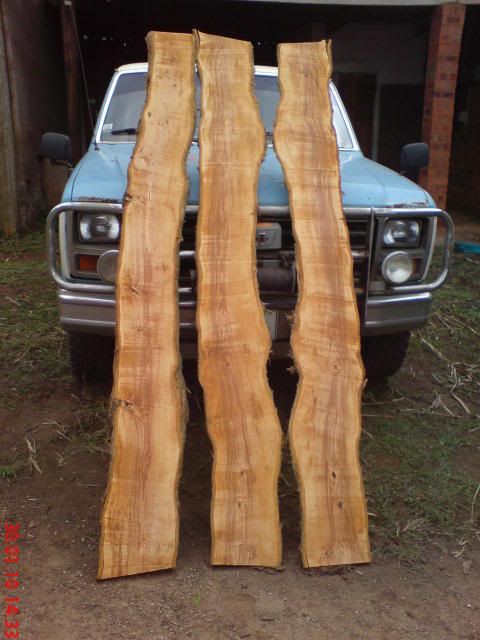 .
and these 4 logs in the foreground are the rest of my payment, plus whatever he doesn't take from the larger log, plus a dozen smaller off-cuts about thigh thick and just under 1m long.

-- I may be schizophrenic, but at least I have each other.
---