Our local tree feller called unexpectedly yesterday to ask if I would like some Eucalyptus that was going to go to the dump, but they couldn't bear to see such good wood go to waste. Obviously the answer was yes !!!!!!
So they brought me a trailer load of old dry trunk sections, some of which have started rotting on the outer sections. There is still some good usable wood inside, so it is on my list to do.
After I showed them the Yellowwood they brought me a couple of weeks ago, they asked if I'd like to visit them at their worksite today to check if I want some of the Euc they are busy felling. Two monster trees – one long dead and on still living – about 20-30metres tall. They are threatening to fall on a couple of businesses, and just had to come down.
Rather than have them chop the trunks into chunks they can lift, I had them tow the trunk sections up the steep slope into the park where I can work on them.
Here is the worksite. On other side of the felling operation, you can see the nursery that was the main property at risk, and to the right of that are 3 other businesses that were in danger.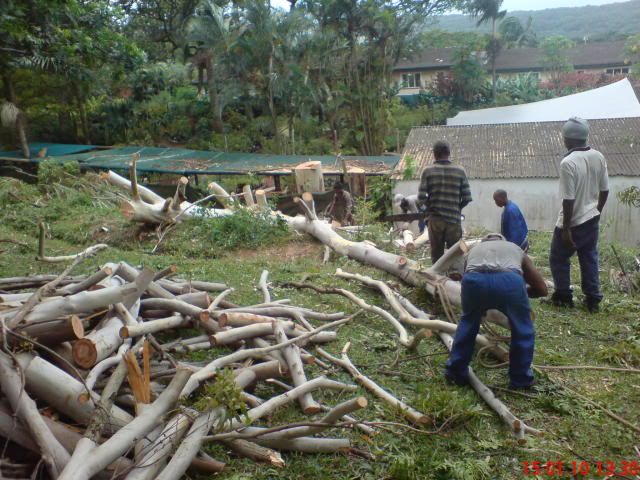 .
This is the second largest of the pieces I'll be slabbing for the next few days starting tomorrow. This is going to be a LOT of work, but worth it in the long run.

.
For those who don't know Eucalyptus, after milling it is known as Saligna, and is very hard with colours ranging from almost white through pastel yellows, pinks, blues, and even purples. It is an excellent wood for floors, decks, furniture, house trim, fencing, – basically everything. It is a pleasure to work with, and finishes up beautifully.
-- I may be schizophrenic, but at least I have each other.
---