Some of you may remember from some previous post…that I have a Steel City Bench top Mortiser. I love this tool and it works GREAT. About four months ago, Woodcraft had the Steel City on sale….so I decided to buy on for my dad for fathers day…weeks went buy and no mortiser…a few more weeks and still no mortiser. Finally I received a e-mail from Woodcraft saying that Steel City had missed "Three" shipping dates and did not know "When or even IF they would ever receive the bench top mortiser" (Even to this date, their web site shows the steel city…but says it is out of stock and not available for back order).
Woodcraft then sent me a e-mail offering me a choice of ether a refund OR a replacement with a "Delta" bench top mortiser….time was ticking and fathers day was aproaching…so I took the Delta. In a conversation with my father..he stated again how much he liked my steel city and would like to have one for a project he had coming up and wanted to know if he could borrow mine…..SOoooo I cleaned up mine and gave him mine, I explained what had happened and that I had bought him the same one and everything that had happened since. He of course said he would be happy with the Delta and for me to keep my Steel City…to which I insisted he keep it.
About a week later the new delta showed up…the box looked great, no dent's,rips etc..and as normal…I was to busy to open it up and put it together at the moment, (This has become a VERY bad habit on my part lately that I tend to stop doing !!) Fast forward to this past week, I was working on a clients project…and needed to make some mortise and tenon joints…so I set the Delta on a work bench to assemble it…I open the box, take out the first accessorys…then take out the first large piece of Styrofoam and guess what ???
You guessed it..BROKEN…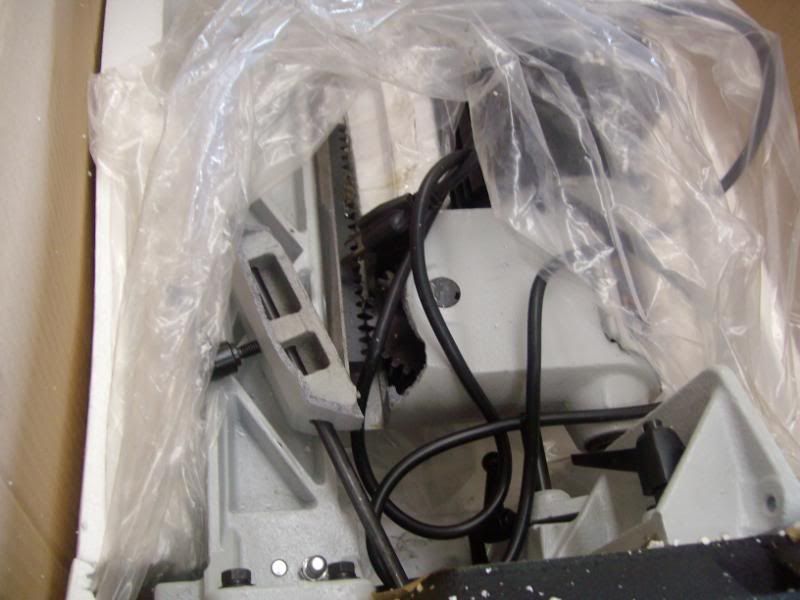 So I went in the house…called Woodcraft..thinking to myself "There is no way they are going to believe this thing has been setting in my shop for three weeks and I just now found it broke" And that I was out $269.00.
I called them, told them what had happened…they paused for a minute and said…"You need to talk to Mrs.XXXX because she is the one who handled the mess up the first time" I told her the same story…"No problem" she said…."Let me call you back in a few Min's. to see what we can do" Since they are no longer carrying the Steel City OR the Delta that they shipped me…She called back and offered me a three choices…1) a refund 2) wait three weeks for the new model delta they are going to start carrying or 3) My choice of a upgrade since I have been trying to get a mortiser from them since April and have had nothing but problems….So…monday they are shipping me a brand new Powermatic Benchtop Mortiser, Model PM701, AND I get to keep the bits they gave me with the Delta. As the title says…my day went from "Oh Crap" to "Oh Boy" in a matter of minutes !!!! It should be here next week and once it is up and running and I have given it a good work out…I will do a review over it.
-- Don S.E. OK
---