I have been taking some pics of some of my carvings to post…and since I finally got my desk top repaired and saved most of my pics…I am going to start posting some of my work. BUT…my most favored piece I EVER carved was destroyed today.
I posted a picture of a fruit bowel the other day that showed how I carved through the wood to help the animal carvings stand out. I have done this on a few pieces I have done…and my most favorite "WAS" a chess table.
I am a avid chess player…and wanted something special for my office. I made a round table top out of a huge piece of slab mahogany cut out of a old tree I had been saving for years…hand carved around the edges several scenes of chess pieces doing battle…and carved through the wood to set off each scene. For a table, I got a log of mahogany and carved a tripod leg that folded…(Every seen a chain carved out of wood ? Same principle) It had three legs top and bottom with a "Knuckle" carved in the middle…..so when folded out….it had three arms holding the table and three legs holding the whole thing up.
I then hand carved all the chess pieces. This piece was by far my most favored piece I ever carved and spent literally countless hours of work on it. Working in my spare time a few hours here…a day there etc etc etc. I probably took over a year of just "Playing" with it before I was satisfied with it.
It has sat in the corner of my Den/office for a few years now….and me and my son have played countless games of chess on it, and had more "man to man" talks over it than I can remember.
Well today my daughter and a friend of hers were playing on my desk top..and the story I was told was this…her friend was sitting on the corner of my desk and when she hopped down she stumbled and fell onto it….luckily she was not hurt…but the chess board was shattered into dozens of pieces and the tripod folding legs all snapped off at the knuckle. Over a year of spare time went into this…and it was gone in a moment.
As mad as I was…it was just a accident…so I just bit my tongue and said "Don't worry about it".....Right now it is sitting in a pile on my work bench…."MAYBE" I will be able to glue it all back together….but it will never look right or be the same again and right now I don't even want to look at it.
As I said…"A hair pulling NOOOOOOOOOO" moment
Here is the wreck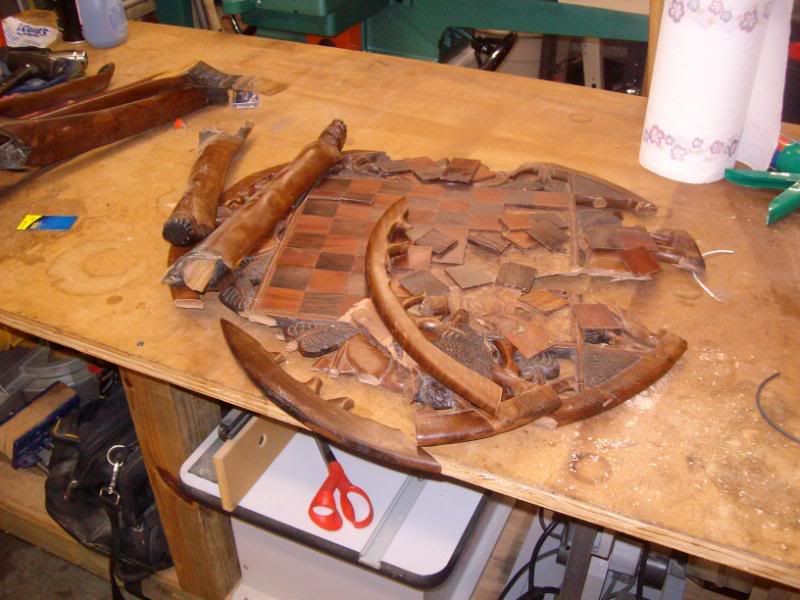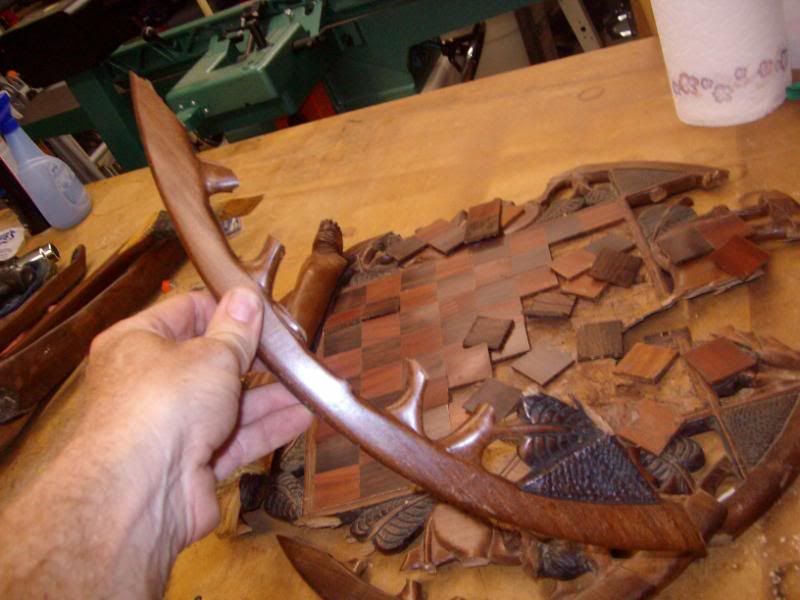 -- Don S.E. OK
---