I spent massive amounts of time using the most used tool in the shop "The Rocking Chair" to figure this one out! Now remember I'm a cheap-skate and had to come up with stuff on hand to build this!
While sitting and contemplating just how to build a table support, I noticed up in the rafters a piece of half inch square tubing that I had forgot I had. It was in the rafters because it was about fifteen foot long and bent in a couple of spots. I remembered putting it up there thinking someday I'll find a use for you. Finally found one, or at least for a foot or so of it. I pulled it down and started burning up brain cells and came up with this. I'm still not used to taking pictures of my build process. I didn't even think about showing how I bent the square tubing into an arch. Never thinking that seeing how it was done might help someone else. But, I cut a piece of half inch plywood into the shape I wanted, then clamped one end of the tubing to it and started slowly working it over the ply with a little hand pressure and a rubber mallet. Being very careful not to put any crimps into it. It's a sallow enough arch that it went pretty easy.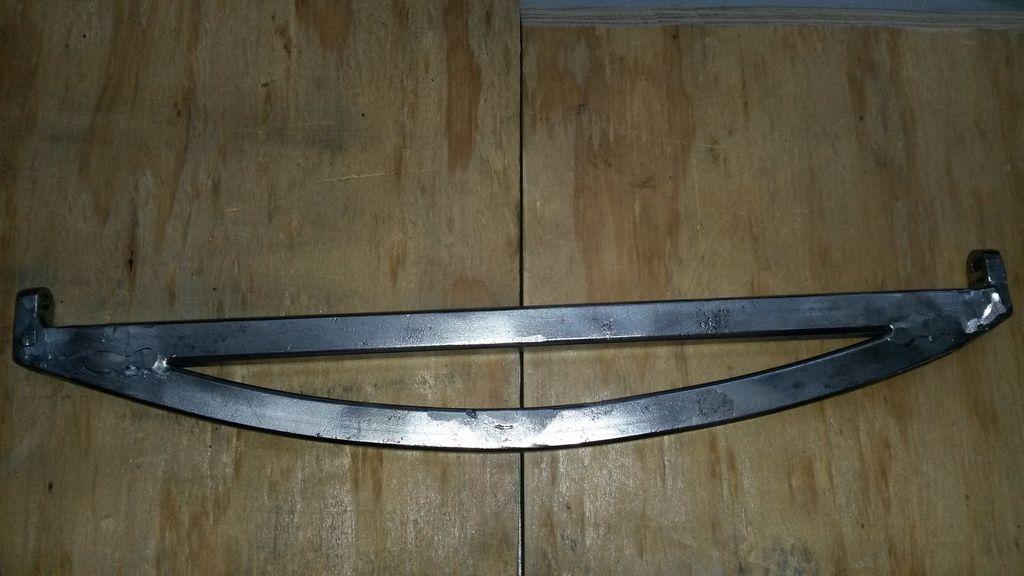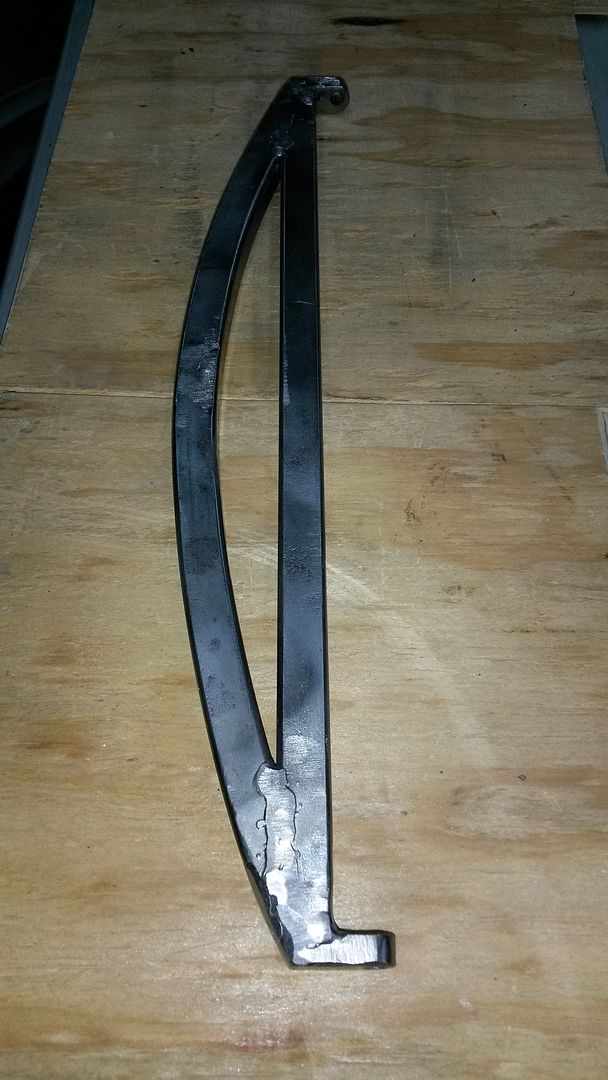 After getting the bend in it the way I wanted I welded on a top bar and put some tabs on the ends for the table to pivot on. So far, so good!
Now back to "The Rocking Chair" for more brain activity. I Built the table itself next out of three quarter ply and covered the top with some Formica which I had left over from some other project that has long since been forgotten. Being wood butchers you won't need a step by step of that!
Now I had to come up with something to hold that arch thing up. More time in "The Rocking Chair" studying the owners manual for a clue or two.
It was back to the scrap bin to dig out a few small pieces of metal. After cutting and bending, bending and cutting and some more time under the welding hood, here is what I came out with. I'd give you step by step directions but, I'd be here all night typing. One picture is worth a thousand words!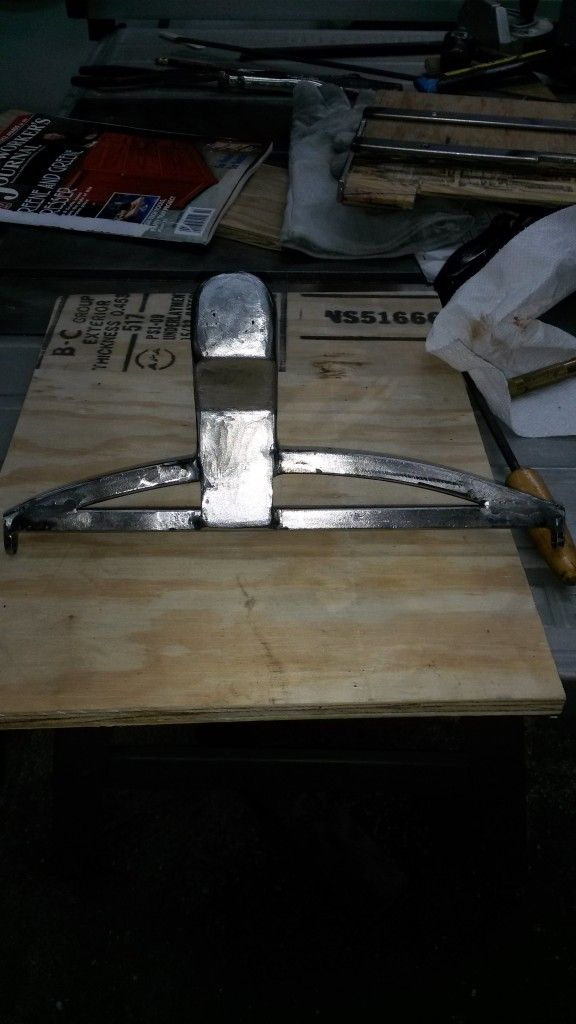 So two pictures, worth two thousand?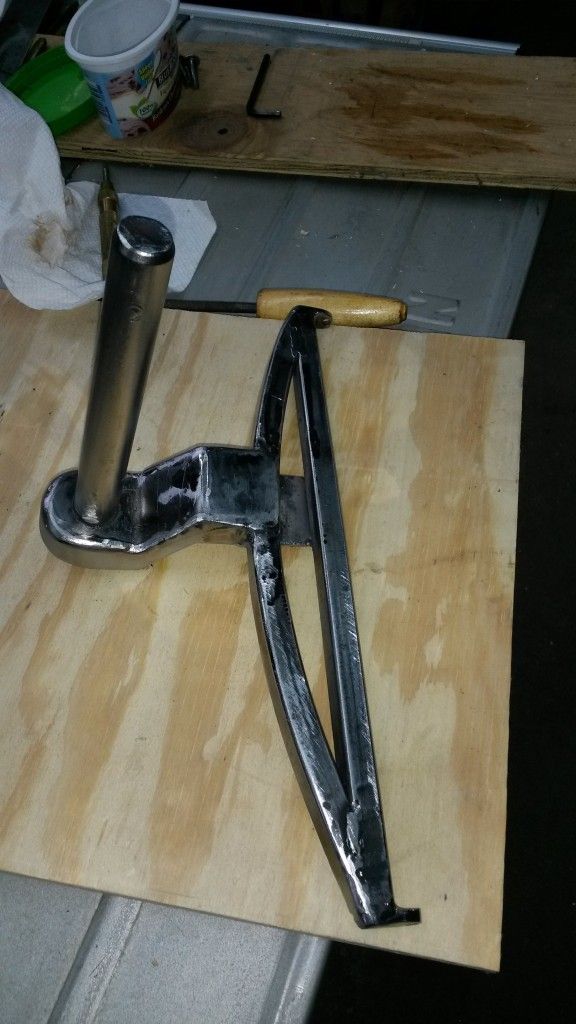 I spent a lot of time under the welding hood and at the grinder to get this shaped the way I needed it! After getting that worked out, it was to the table frame itself and how to put it all together. I didn't want to have to loosen a bunch of screws to tilt the table. So, I ran a nut up the bolts and chucked them into the drill press, a metal lathe would have worked better but, alias I don't have one. Anyway after getting one centered the best I could in the chuck, I flipped the switch and with file in hand started filing off the threads of the pivot bolts, leaving enough threads to screw them into the table frame but letting it all pivot!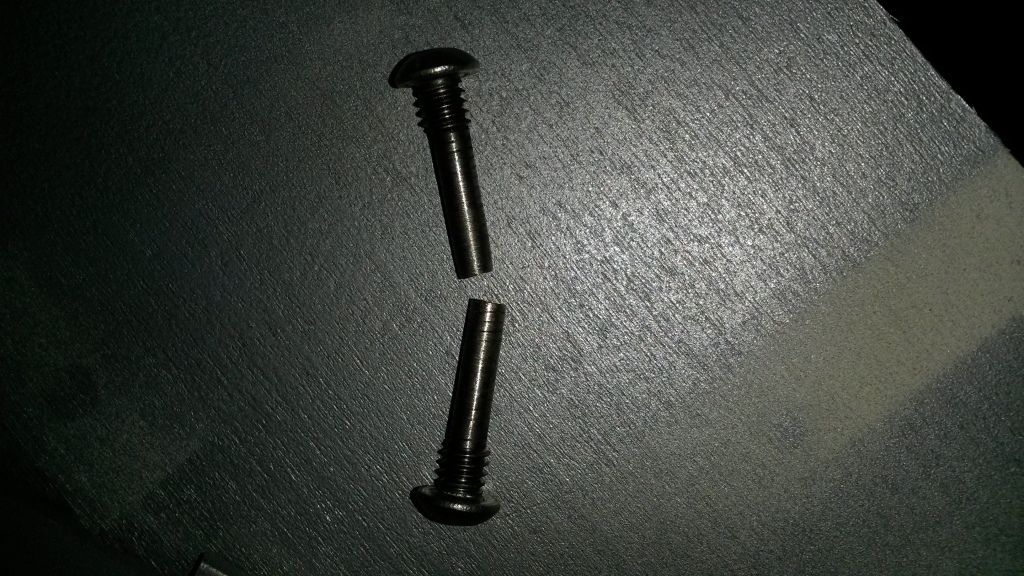 Now for the table frame itself! Again pictures are best!!!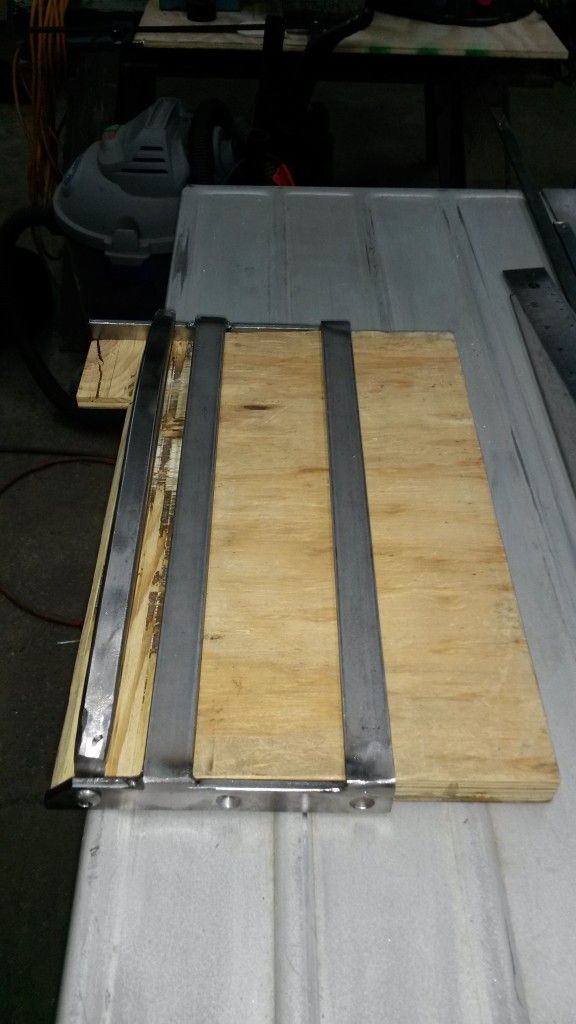 Now to just paint it all and put it all together.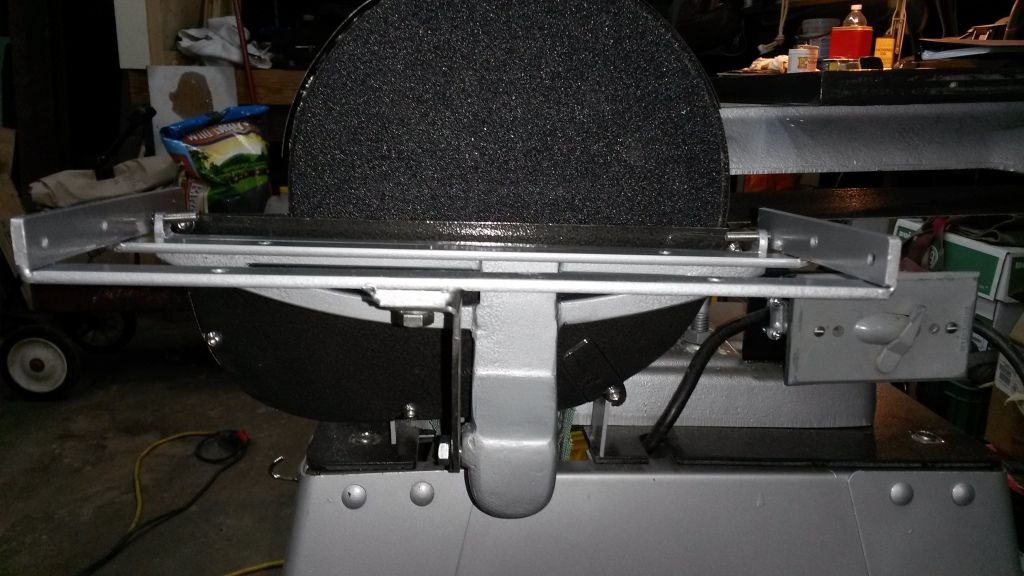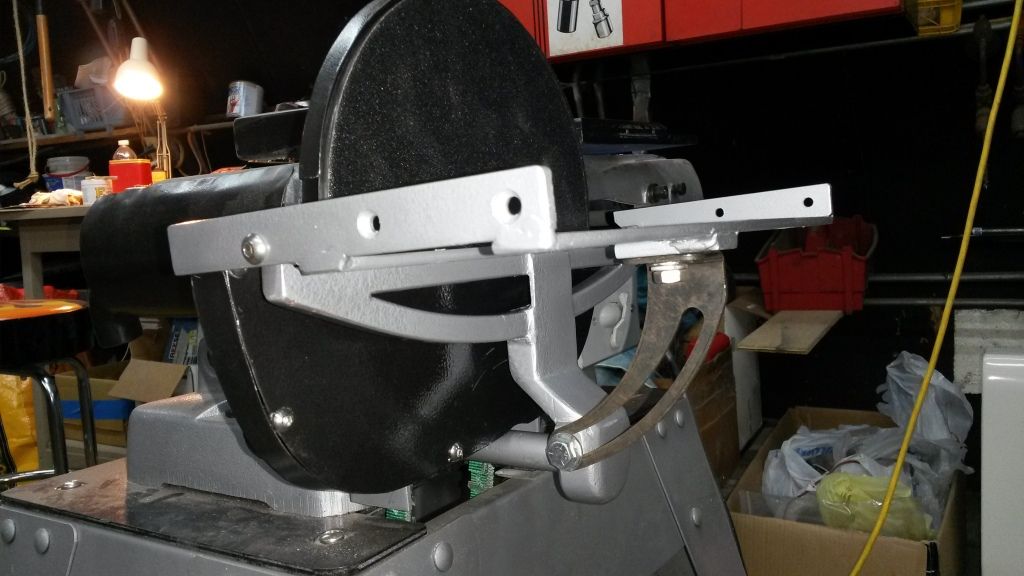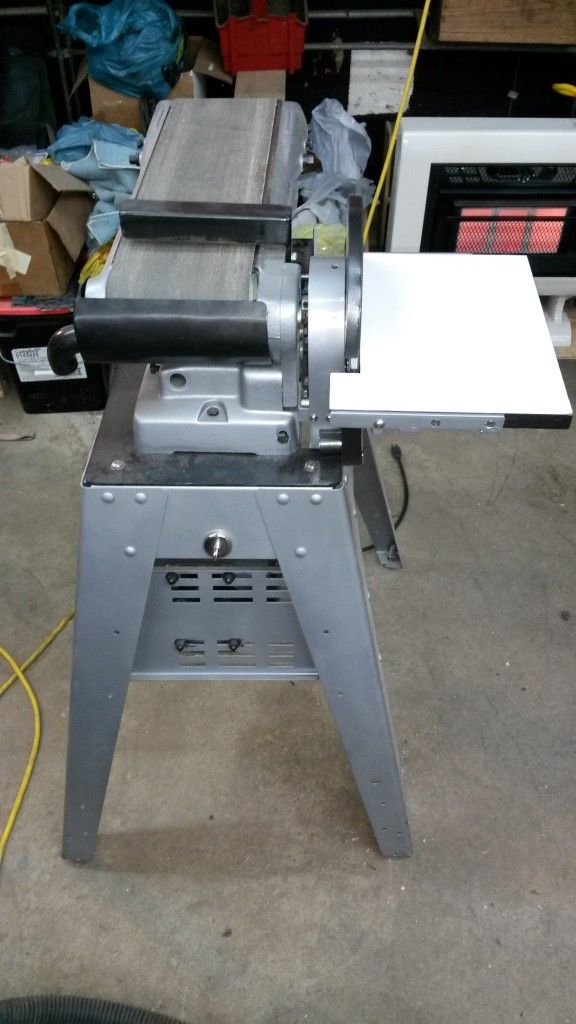 I plan on getting some miter track and cutting a dado into the table for it but, for now it works pretty darn good the way it is. And the whole sander looks a lot better than it did when I got it home.
I'm happy to report that when I hook up the vacuum to the dust port on the disc it catches 99.9% of the dust. I've yet been able to find any dust escaping while sanding on the disc. I just don't want to say it catches it all, I'm sure some somewhere gets out! Nothing is perfect after all !!!
Thanks for reading and following my progress!
I've had a lot of fun rebuilding the sander and have a fairly nice piece of equipment to use now and only have a little over $100 into it. That is if I don't count my time but, my time is something I have to use as I see fit!! I've also had fun and enjoyed sharing this with you all ! Please feel free to give your opinion or ask any questions you may have.
Keep the sawdust flying!!!!!
-- Rod P.........OLD GUY......Learning new things!
---